East Village Radio, 2003-2014
East Village Radio, 2003–2014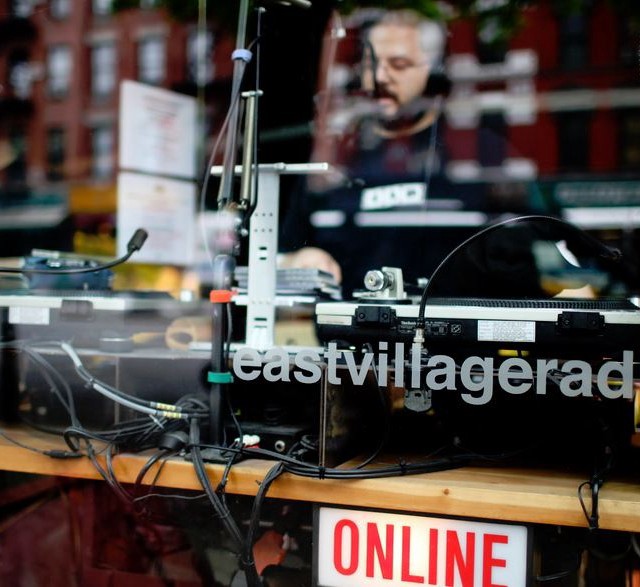 Another neighborhood institution marked for death:
The station ends live programming after Friday, May 23. The stable of eclectic DJs, with shows covering nearly every genre of music, will have the chance to broadcast a farewell show in the days ahead…
Popularity hasn't been an issue with East Village Radio, who counted more than 1 million listeners worldwide a month (this after starting as a short-lived 10-watt FM radio station in April 2003). However, under the Congressional Digital Music Copyright Act of 1998, Internet broadcasters must pay a digital performance royalty for every listener.
What went wrong? A lot of things, probably, but it didn't help that the small independent radio station operating out of a standing-room glass storefront on First Avenue had to pay some of the highest royalty rates in the industry, despite its interests aligning exactly, almost charitably, with the companies it was paying. Even with a million listeners and minimal overhead, breaking even became impossible. So I suppose what really went wrong is this: There no longer existed a way for things to go right.
From a short 2003 writeup in the Times, which was EVR's first:
Business owners who make it big often give back to their communities with scholarships, park benches, even parks. Not Frank Prisinzano. The downtown restaurateur best known for his mini-empire of Italian eateries has just given the East Village its own radio station…
It's no coincidence that this neighborhood is the location of three of Mr. Prisinzano's restaurants — Frank, L'il Frankie's and Supper — all of which occasionally broadcast EVR. "The East Village has been extremely supportive of us,'' said Mr. Prisinzano, who was a club D.J. in college and who opened his first restaurant, Frank, five years ago. "We wanted to return the favor to the neighborhood."
Frank is still open and delicious! EVR hosts, already, are delivering wobbly-voiced farewells. Listen here.
(Photo via.)