The Generation That Weaponized Feelings: What Was An "Emo"?
by Johannah King-Slutzky
Emo 4.0 champions Future Islands.
Recently I've found myself over-emoting in unclever ways. To keep a handle on things I have decided to call myself emo, although I never used that term as a self-descriptor when it was actually appropriate in the early 2000s. I didn't even learn what an emo was until the summer of 2005, at debate camp, when a boy with one of those pretentious monosyllabic names like "Chad" or "Brad" or something came into the lunchroom wearing a Death Cab For Cutie t-shirt and blew my mind. I'd heard of DCFC before but had subconsciously conflated them with Hootie and the Blowfish, which I recognized from one of Ross's fanboy diatribes on "Friends."
At debate camp you work in "labs," the sport's (industry's?) arch name for university lecture rooms where high school students in groups of 30 poke through databases like LexisNexis and Project Muse. After four to six weeks of this you graduate with tupperware storage tubs full of the evidence you've accumulated, which is literally thousands of pages or hundreds of work hours. FWIW, it is harder than college. The situation is ideal for iTunes library sharing, so without breaking the law I was able to listen to quite a lot of Death Cab that summer. It was also the year "Plans" came out, an album that The AV Club's Josh Modell called "gentle songs about death and longing" — totally emo.
"Emo" doesn't have a lot of structural integrity as a term or category, although it's definitely an "alternative" affective camp of some kind. Here is what Google Images thinks is emo.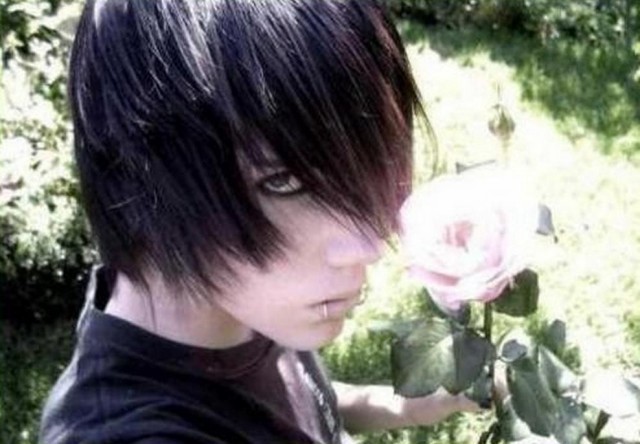 Broadly: long black sidebangs, eyeliner, dark casualwear, snakebites. There is also a strong thread of romanticism woven through the images — here, represented by the blooming rose; see also, same-sex kissing, intertwined legs.
Actually, this particular image comes from the Italian Wikipedia page for "emo," which brings me to my second point: the dark teen emo above is surprisingly international. The r/AskReddit reddit thread called "Teens of Reddit what's cool nowadays?" included participants from the US, Ireland, Scotland, England, Australia, the Philippines, Malaysia, Eastern Europe (no further specificity), Switzerland, the Netherlands, and elsewhere. Everyone had heard of emos and most associated them with black apparel and performances of depression/self harm, such as "fake cuts with red ballpoints." On Wikipedia there are entries for "emo" in Persian, Danish, Korean, German, English, Spanish, Chinese, Armenian, Esperanto, French, Indonesian, Italian, Hebrew, Japanese, Polish, Russian, and Turkish. This list is inexhaustive. I can, however, tell you for a fact that there is no "emo" entry in Vietnamese. It's not, though, that emo is exceptional in its multiculturalism. I checked: you'll find the same number of Wikipedia pages for other fashion-music hybrids like punk and grunge.
But the stakes aren't nothing, either. A 2008 Spin article described an emo-bashing trend in Mexico, featuring a "rock-hurling, bottle throwing melee" and a neon green protest sign that read "soy emo, y que?" The article decodes violence as a symptom of everything from political polarization to video games, but pins most of the blame on homophobia, which Spin claims is "especially rampant in Mexico's culture of machismo." Notably, the article lumps homophobia with misogyny without any explanation: "For many non-emo youths, the androgynous look favored by many emos leads to assumptions that they're all gay. That take was amplified by a Mexican VJ named Kristoff, who unleashed a profanity-laced tirade on the cable TV channel Telehit that labeled emos a useless bunch of pubescent girls." At a protest in March 2008, emos and queers actually took to the streets together in El Chopo. Anyway, the message is that sideswept bangs apparently have something to do with genitals, either as object choice or identity. The anti-emo ideologue conflates gay men with girls because he's fixated by submission and domination, which are commonly thought by bigots (and some activists!) to be disordered among gay men and women alike.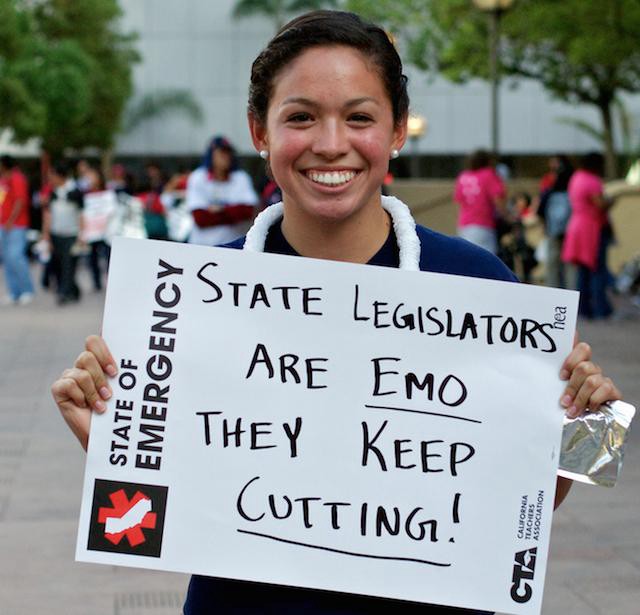 Not quite what I had in mind when I searched for "emo protest." Photo by Paul Bailey.
The castration anxiety around emos is surprisingly similar to that of the now-tired hipster bashing trend of 2007–2012. In 2008, GameAxis Unwired bemoaned the "emo-fication" of kids who wore "skinny jeans," "scarves" — keffiyeh, to be specific — and "Converse" shoes. Jeez, weren't they reading Hipster Runoff by then? (The site's founder and spirit animal, ironic hipster king "Carles," already a Gawker staple, was certainly big enough to be explored at length by the Village Voice in February of 2009.) Scarves and skinny jeans were primo 2008 hipster signifiers, so I am skeptical of GameAxis's authority as trend hunters, but the two subcultures do at least hunker under the umbrella of "alternative." Also, the challenge of both, as in Mexico, is faintly gendered. Quoting a friend, the author writes, "It's almost as if the kids of today chose to look like they'd just 'amputated their calves — just so they can fit into clothes two sizes smaller.'" Later, he calls them "poseurs." Emos, like women, represent artifice, uncontainable volume, and the literal cutting away of bulge.
But how did it come to this? As every single "Emo" Wikipedia entry will tell you, emo is a descendant of punk rock. These days, emo means Hot Chip, earlier, Death Cab; but in the nineties, it was more grungy and hard edged.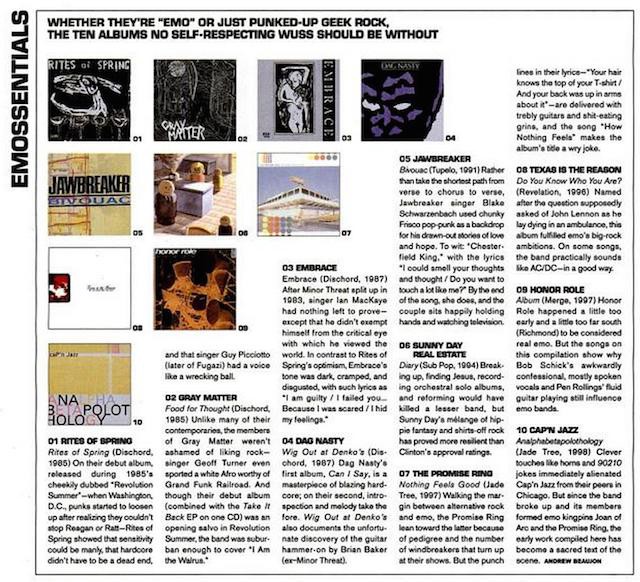 "Emossentials" primer cribbed from Spin, November, 1999.
As a music label, "emo" has been self-correcting for twenty years. In 1998 readers of CMJ were already pissed about the erasure of their emo bands like Rites of Spring (everyone knows that one) but also Jawbreaker and, who'da thunk, Weezer. "YOU HAVE NO IDEA WHAT EMO IS ALL ABOUT!!!!!" writes the drummer for Triphammer. (I had to count out his number of exclamation points: it's five.)
I just purchased the May '98 issue of CMJ New Music Monthly and I am appalled at yer lack of knowledge concerning emo core. Not only was the article horrible written [sic] but none of your so called "facts" about emo are correct. Considering I have been a fan of emo since 1988 and I'm in an emo band I feel it necessary to point out some minor errors in yer article. First of all, Rites of Spring were not the first emo band. Perhaps if you would pull yer head out of the asses of major labels and delve a bit deeper you'd find that Moss Icon was around a long time before Rites and they were playing emo, real emo, not the crap that yer rag considers emo. Second of all you neglected emo legends such as Samiam and Jawbreaker, bands who have more "emo" in their ear wax than all the other bands you listed in yer magazine….You have placed a very ugly black mark on the emo scene, and bands like mine and others are getting fed up with it. I can guarantee there's been at least a hundred people who believe your crap about emo. Of course these are also the kids fighting for Green Day tickets at Blockbuster.
The bands he cites are today mostly shuffled into "post hardcore."
Another problem is that members of nineteen-eighties and mid-nineties emo bands rejected the label "emo." Referring to the genesis of Rites Of Spring, music journalist Michael Azerrad calls emo-core "a term everyone bitterly detested." Even Jim Adkins from Jimmy Eat World rebuffed the term, stating that emo was "shit hitting you in the face, with a singer screaming and rolling around on the ground" and that his band did not qualify. Without positive self-identification, "emo" could mean just about anything. Spin, from whose January 2002 issue I was just quoting, even calls Weezer a participant in the movement. Actually, because they need to move paper, they call Weezer "New Wave of Emo (Nwemo, for short)." No thank you!
Perhaps the key to emo's transformation from punk rock to sad goth teen is in Adkins's "shit hitting you in the face." What's a mob to a king? What's shit to a punk?
In the early 2000s, music journalism fixated particularly on emo's perceived lack of muscle. For example: "A group that combines emo, the wimpiest of rock genres, with a capella singing, the wimpiest of campus activities, is just asking for abuse." And this in a favorable review! Fans of emo instinctively responded to this line of attack. The emo/acapella group in question developed as promotional tool a gang sign which, using four hands, spelled out "emo" with a heart-shaped "o." That's the "heart" (♡) of emo's anxiety — can sentimentality, which is weak, be its own weapon?
IDK, is this emo?
In song, sentimentality doesn't clearly delineate masculine from feminine or strength from frailty. In a Spin profile of Dashboard Confessional, 16-year-old fan Mary Jane Campbell declares, "I was brought up [to believe] that showing emotion is a sign of weakness…. Seeing music fans who weren't ashamed to cry in front of strangers was a huge release. My best friend and I would sing along really loud, until we collapsed." Emotion, which is wimpy, in song becomes loud and physically demanding. The scenester-y emos of the last ten years re-posed that paradox through self harm. Not to pathologize too much (what is this, Newsweek?) but cutting asks: can weakness be a tool for violence? Both in music and general culture, emo never dispenses with this anxiety, which, like the gang sign-promoting a cappella group's, is frequently expressed through paramilitary metaphor. The article on Dashboard Confessional is called "The Pied Piper of Emo: Dashboard Confessional is Conquering The Youth of America, One Sensitive Soul at a Time." Militarism is even in the DMZ-inflected "friendzone."
Perhaps emos dropped punk when sentiment became its own kind of aggression? I don't know how emo went from punk to nerd to maudlin-bat-creature, but I suspect it has to do with the weaponization of feeling.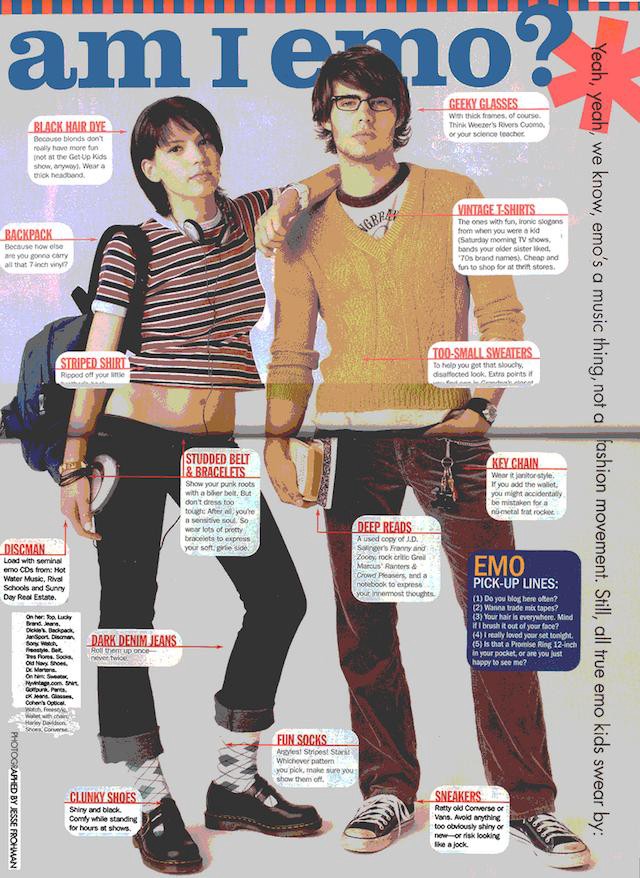 This used to be emo. From a 1999 copy of Seventeen.
ALSO: "Emo pick-up lines: Do you blog here often?"
Emotion is structurally dangerous in part because there's no appropriately gendered way to strenuously emote (although curiously, there are gendered feelings and emotions). In The New Inquiry recently, Hannah Black discussed two tropes of female attachment: the Overly Attached Girlfriend (yes, the meme) and the Tragic Heroine: "Overly Attached Girlfriend… is a contemporary spin on the ancient European slur against women that they desire too much. Now, at least in most mainstream discourse, feels-shaming is more common than slut-shaming: the shame of being too much or too little, too warm or too cold, too ambivalent or too certain." But is this problem specific to women? It's funny, most emo bands are men, but emo-as-lifestyle is gender neutral, and emo men are poked fun at and have to resort to contorted labels and rationalization to retain their masculinity, if and when they want it. Still, as a woman, there aren't a lot of Duckie distaff counterparts for me to model myself after. As Black pointed out, Overly Attached Girlfriend is Justin Bieber's "If I Was Your Boyfriend" with the pronouns reversed.
There is something pleasant and hard to nail down in being emo — the self-confirmation of performing one's own feelings, yes; but also the relief of being accepted or (more likely, if you're an emo) rejected for stating one's self plainly. And also there's the abasement-as-aggression thing, which is more complicated. Feelings are so good! Children have them. If you don't respond positively to my overflow of emotion you're probably an asshole.
Anyway, I'll love Death Cab forever.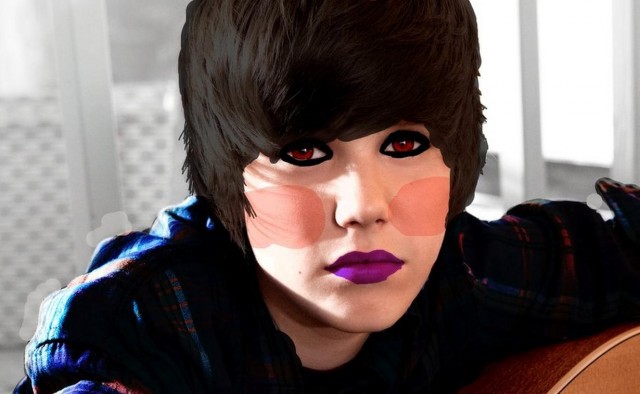 "Justin Bieber, The Emo Kid," by imuffinator, from Deviantart, where else?
Johannah King-Slutzky is a very professional freelance journalist; but also, inappropriately emotional. She tweets @jjjjjjjjohannah.