What Are You Reading? Part 8
by John Shankman
Over the next week for a sponsored project on behalf of Byliner, The Billfold's Mike Dang and our publisher John Shankman will be selecting stories from the Byliner platform and chatting about them.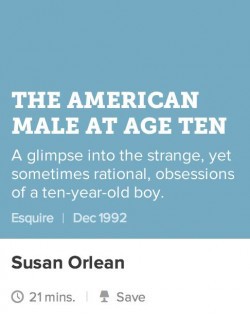 John: Mike, sir!
How do you do?
Could this be our eighth and final WHAT ARE YOU READING CHAT?
Is that possible?
Mike: Is it eight already? These have flown by!
John: Well, you know what they say about time when you're having fun…When this started I was IM'ing with no punctuation and now look at me.
Mike: Haha, maybe that makes me an influencer? A THINKFLUENCER
Omg, just kidding.
I'm not going to go there.
John: Dude, you are absolutely an indiellectual. Jury is still out on a thinkfluencer. But by nature all indiellectuals are influential so you are at the very least two of three.
Mike: I'll take it!
John: BOOM
Mike: Okay, so, for our final story, I chose a classic piece.
John: *drum roll*
Mike: It's a story by Susan Orlean, whom you've read before, yes?
John: Ah, yes
Mike: This story has a special place in my heart for a variety of reasons.
"The American Male at Age Ten"
She wrote it for Esquire, and it's just a really terrific profile of a 10-year-old boy named Colin Duffy.
John: i have to say, i have not read this piece
very interesting
so this is to say that she profiled someone the way, say, someone would profile an older person for a glossy magazine
Mike: Profiling kids is both easy and hard to do.
John: yah, seems atypical at the very least
Mike: Easy because kids are so honest — they aren't media trained so they're always on the record.
But hard because, well, they're also kids.
John: Any reason this story has a special place in your heart?
Mike: Oh so many.
One, it was written in 1992, right before I was going to be 10!
So this 10-year-old is me at the same time in history.
He, for example, likes playing Street Fighter II (which I was also into).
John: great game
M.Bison debut
Mike: Haha, yes. Also, he's into games at school like prison dodge ball and some games I've never heard of like blob tag and bombardo.
Which is funny to me because I also made up games with my friends when I was his age.
My favorite being this game called CANNONBALL.
Which I would totally play today.
John: intriguing
so this fella in the piece
how did he come across?
just a regular young bro?
why did she pick him?
Mike: Yeah, he could be, at that point in time, any 10-year-old in America.
He's a kid who like specific games for specific reasons. Who hasn't gone through puberty yet so doesn't know much about sex. Who spends most of his days hanging out with friends who are like him.
But the thing I liked about the story is that it evokes a specific 10-year-old from a specific period in time.
The 1992 10-year-old is unlike the 10-year-old in 2002, who I imagine is unlike a 10-year-old in 2012.
It's a different world.
John: A LOT MORE TABLETS
Mike: Haha. Yes. And the other reason why this story is close to my heart is that I read it in college when I was on the fence from going into the law field and pursuing journalism. It sort of pushed me into journalism.
John: wow
nice
Mike: So reading it now, also invoked that period in my life
John: awesome
do we know where that fella is now?
the boy profiled in the article?
Mike: I think someone followed up with him when he was older? But the story wasn't as good.
John: on that note. im going to be on my way to read that story.
it's been a pleasure, mike.
Mike: Yes, it's been fun!
Interested in reading more? Byliner has thousands of great fiction and nonfiction stories. Check it out here.