Rich People Looking At Art
by Ali Pechman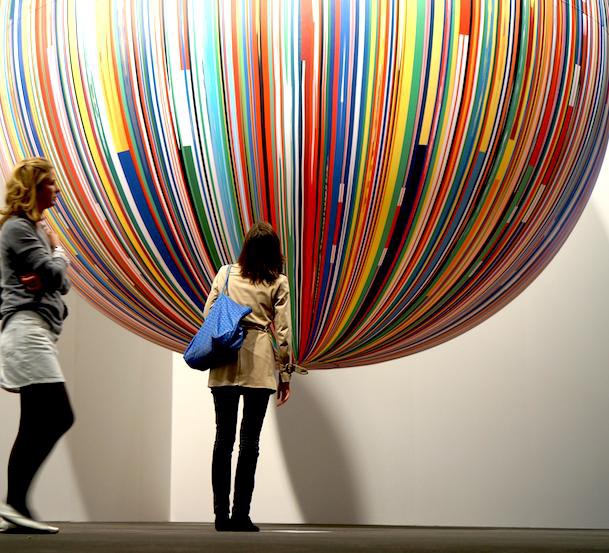 While the herds fight over art and VIP access down at Art Basel Miami Beach, a reminder that some things never change.
This was it, the start of the Biennale proper: the onset of party-anxiety and invite-envy, the fear that there were better parties you'd not been invited to, a higher tier of pleasure that was forbidden to you…You could be at a tremendous party, full of fun people, surrounded by beautiful women, booze flowing, totally happy– but part of you would be in a state of torment because there was another party to which you'd not been invited. There was nothing to do about it.
–Geoff Dyer, Jeff in Venice, Death in Varanasi
During the time I had spent in Miami many people had mentioned, always as something extraordinary, something I should have seen if I wanted to understand Miami, the Surrounded Islands project executed in Biscayne Bay in 1983 by the Bulgarian artist Christo. Surrounded Islands…had been mentioned both by people who were knowledgeable about conceptual art and by people who had not before heard and then could not then recall the name of the man who had surrounded the islands. All had agreed. It seemed that the pink had shimmered in the water…. It seemed that this period when the pink was in the water had for many people exactly defined, as the backlit islands and fluorescent water and the voices at the table were that night defining for me, Miami.
-Joan Didion, Miami
Sherman now noticed, over the bed, a small painting with a simple frame of blond wood. He took a couple of steps closer. It was a picture of a nude man, seen from the rear, outlined in crude black brushstrokes, the way an eight-year-old might do it, assuming an eight-year-old had a notion to paint a nude man…. What a piece of garbage… It was sick … But it gave off the sanctified odor of serious art, and so Sherman hesitated being candid.
"Where'd you get that?"
"You like it? You know his work?"
"Whose work?"
"Filippo Chirazzi."
"No, I don't know his work."
She was smiling. "There was a whole article about him, in the Times."
–Tom Wolfe, Bonfire of the Vanities
This personage wandered back to the divan and seated himself, on the other side, in view of the great canvas on which Paul Veronese has spread, to swarm and glow there forever, the marriage-feast of Cana of Galilee. Weary as he was his spirit went out to the picture; it had an allusion for him; it satisfied his conception, which was strenuous, of what a splendid banquet should…Suddenly he was aware of the prime throb of the mania of the "collector." He had taken the first step — why should he not go on? It was only twenty minutes before that he had bought the first picture of his life, and now he was already thinking of art-patronage as a pursuit that might float even so heavy a weight as himself."
–Henry James, The American
The Welly Brys, after much debate, and anxious counsel with their newly acquired friends, had decided on the bold move of giving a general entertainment. To attack society collectively, when one's means of approach are limited to a few acquaintances, is like advancing into a strange country with an insufficient number of scouts; but such rash tactics have sometimes led to brilliant victories, and the Brys had determined to put their fate to the touch. Mrs. Fisher, to whom they had entrusted the conduct of the affair, had decided that TABLEAUX VIVANTS and expensive music were the two baits most likely to attract the desired prey, and after prolonged negotiations, and the kind of wire-pulling in which she was known to excel, she had induced a dozen fashionable women to exhibit themselves in a series of pictures which, by a farther miracle of persuasion, the distinguished portrait painter, Paul Morpeth, had been prevailed upon to organize. Lily was in her element on such occasions. Under Morpeth's guidance her vivid plastic sense, hitherto nurtured on no higher food than dress-making and upholstery, found eager expression in the disposal of draperies, the study of attitudes, the shifting of lights and shadows. Her dramatic instinct was roused by the choice of subjects, and the gorgeous reproductions of historic dress stirred an imagination which only visual impressions could reach. But keenest of all was the exhilaration of displaying her own beauty under a new aspect: of showing that her loveliness was no mere fixed quality, but an element shaping all emotions to fresh forms of grace.
— Edith Wharton, House of Mirth
Every part of the great building was given over to the festivities. There was dancing in every room and in the basement as well. Corridors and stairs were filled to overflowing with masks and dancing and music and laughter and tumult…The walls were mostly hung with wild and cheerful paintings by the latest artists. All the world was there, artists, journalists, professors, business men, and of course every adherent of pleasure in the town…. Pushed hither and thither in the crowd I found myself in one room after another, upstairs here and downstairs there. A corridor in the basement had been staged as hell by the artists and there a band of devils played furiously…. By midnight I had found no one, and though I had not danced I was hot and giddy. I threw myself into the nearest chair among utter strangers and ordered some wine, and came to the conclusion that joining in such rowdy festivals was no part for an old man like me.
–Hermann Hesse, Steppenwolf
Right at the end of his life, [my father] suddenly, without realizing it, found himself in the fashion. The first sign of this was in 1935, when his Agag before Samuel was bought at a provincial exhibition for 750 guineas…. The purchaser of this work was Sir Lionel Sterne. 'Honest Sir Lionel,' said my father, as he saw the great canvas packed off to Kensington Palace Gardens, 'I should dearly have liked to shake his hairy paw. I can see him well — a fine, meaty fellow with a great gold watch-chain across his belly, who's been decently employed boiling soup or smelting copper all his life…. In every age it had been men like him who kept painting alive.' I tried to explain that Lionel Sterne was the youthful and elegant millionaire who for ten years had been a leader of aesthetic fashion. "Nonsense!" said my father…"Only Phillistines like my work and, by God, I like only Phillistines!
–Evelyn Waugh, Work Suspended
What he saw, meanwhile, with the help of the lamp, was the faded shadowy charm of a room unlike any room he had known. He knew that the Countess Olenska had brought some of her possessions with her — bits of wreckage, she called them — and these, he supposed, were represented by some small slender tables of dark wood, a delicate little Greek bronze on the chimney-piece, and a stretch of red damask nailed on the discoloured wallpaper behind a couple of Italian-looking pictures in old frames.
Newland Archer prided himself on his knowledge of Italian art. His boyhood had been saturated with Ruskin, and he had read all the latest books: John Addington Symonds, Vernon Lee's "Euphorion," the essays of P. G. Hamerton, and a wonderful new volume called "The Renaissance" by Walter Pater. He talked easily of Botticelli, and spoke of Fra Angelico with a faint condescension. But these pictures bewildered him, for they were like nothing that he was accustomed to look at (and therefore able to see) when he travelled in Italy; and perhaps, also, his powers of observation were impaired by the oddness of finding himself in this strange empty house, where apparently no one expected him.
— Edith Wharton, Age of Innocence
As when he was young, [Vronsky] showed some inclinations toward art, and, not knowing what to do with his money, had begun to collect engravings, he had tried his hand at painting. And now he took it up again and employed in it that unexpended superfluity of energy which demanded employment. He had the capacity for appreciating art, and he thought that this was all that an artist needed…He understood all kinds, and could get inspiration from art; but he could not imagine that it was possible to be entirely ignorant of the various styles of art and to draw inspiration directly from what is in the soul itself, not caring what may be the result or to what famous school it may belong. As he did not know this, and drew his inspiration, not directly from life, but from life as expressed in art, so he became easily and speedily inspired, and with equal ease and rapidity succeeded in making what he undertook to paint a very good resemblance that style he was trying to imitate.
–Leo Tolstoy, Anna Karenina
Two hundred or so restless souls, most of them middle-aged men, 11 of whom had been pointed out to Magdalena as billionaires — billionaires — 12, if you counted Maurice himself, were squirming like maggots over the prospect of what lay on the other side of an inch-thick glass wall just inside a small portal, Entrance D of the Miami Beach Convention Center. The Convention Center took up an entire city block on Miami Beach. An ordinary person could walk past Entrance D every day for years and never be conscious of its existence. That was the whole point. Ordinary people didn't know and mustn't know that billionaires and countless nine-digit millionaires were in there squirming like maggots… 15 minutes before Miami Art Basel's moment of money and male combat. They all had an urge.
The maggots!
–Tom Wolfe, Back to Blood
Our young man had not in any recent year failed to see the Salon, which the general voice this season pronounced not particularly good….The precinct of the marbles and bronzes spoke to him especially to-day; the glazed garden, not florally rich, with its new productions alternating with perfunctory plants and its queer, damp smell, partly the odour of plastic clay, of the studios of sculptors, put forth the voice of old associations, of other visits, of companionships now ended — an insinuating eloquence which was at the same time somehow identical with the general sharp contagion of Paris. There was youth in the air, and a multitudinous newness, for ever reviving, and the diffusion of a hundred talents, ingenuities, experiments… the white images, hard in their crudity, spotted the place with provocations; the rattle of plates at the restaurant sounded sociable in the distance, and our young man congratulated himself more than ever that he had not missed his chance.
–Henry James, The Tragic Muse
After pushing forward some contemporary masters in the early portions of their career, the picture-dealer, a man of progressive ideas, had tried, while clinging to his artistic ways, to extend his pecuniary profits. His object was to emancipate the fine arts, to get the sublime at a cheap rate,… With his mania for pandering to public opinion, he made clever artists swerve from their true path, corrupted the strong, exhausted the weak, and got distinction for those of mediocre talent; he set them up with the assistance of his connections and of his magazine….To those who complained that he had taken an advantage of them, he would reply by a slap on the stomach. Generous in other ways, he squandered money on cigars for his acquaintances, "thee'd" and "thou'd" persons who were unknown, displayed enthusiasm about a work or a man; and, after that, sticking to his opinion, and, regardless of consequences, spared no expense in journeys, correspondence, and advertising.
Gustave Flaubert, A Sentimental Education
Ali Pechman is a writer living in New York City. She has written about art for Artforum, Artnews, and the Paris Review Daily. Photo of work by Meschac Gaba by Didier Leroi.