"Weekend Of A Champion": Roman Polanski's Elegant Bromance
by Natasha Gural
Ziggy Stardust and the Spiders from Mars had long been the only documentary from my infancy that I can imagine watching over and over again, or even at all. I like my early 70s laced with enigma, androgyny and ambiguity and tightly packaged in flamboyant space frocks.
The thought of a non-fictional account of the Monaco Grand Prix shot two months after I was born hardly registers a yawn. I don't give a lick about the leisure class in couture leisure suits slurping vintage champagne and snorting copious amounts of coke as tiny cars whirl around in a circle spewing bravado in a contest of testosterone on overdrive.
Sure, there's the sex and drugs that permeates both worlds, but only Roman Polanski can infuse Formula 1 with the same ferocity as a rock 'n' roll suicide and reveal the dark beauty in what's become a mainstream spectator sport.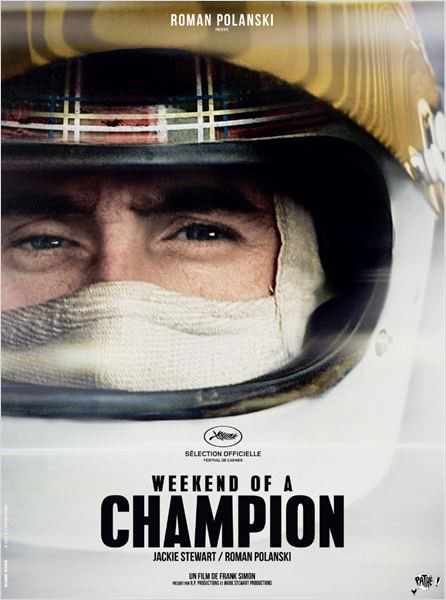 Weekend of a Champion opens tomorrow — Friday, November 22 — at IFC Film Center and the Film Society Society of Lincoln Center. Producer (and star's son) Mark Stewart and distributor Brett Ratner will make appearances at IFC's Friday showings.
I'm not certain I've seen any other films by Direct Cinema trailblazer D.A. Pennebaker, as it was the subject that drew me to his immortalization of that historic David Bowie show at London's Hammersmith Odeon on July 3, 1973. And I certainly wouldn't have watched the newly restored Weekend Of A Champion if anyone but Polanski had resurrected it.
Watching through the rain-pelted helmet visor that nearly blinded Jackie Stewart as his Ford-built Tyrrell scraped around sharp curves on a slick track whisked me on a steady but startling ride from the perspective behind the wheel. The scene was shot from inside the car that shamed Ferrari, including the one that left Mario Andretti stranded in the soggy qualifier for the 1971 Monaco Grand Prix.
Polanski captured the prowess that drove his close friend Stewart to an unexpected victory that May weekend 42 years ago. It was as if a red carpet had been rolled out for the newly minted master of Hollywood horror, who transformed the Formula 1 track into his studio long before sports networks began battling for what has ballooned into one of the largest global TV audiences.
"People thought we were crazy mounting the camera in the car," Polanski told a press conference earlier this month following the screening of the newly restored film. The documentary was originally produced by Polanski and directed by documentarian Frank Simon but was never shown in the U.S. and has remained unknown outside of elite racing circles.
The real madness, Stewart, now 74, told the press conference at SoHo's Crosby Street Hotel, was Polanski standing on the edge of the track, lined with a surplus of high-octane fuel, and unprotected by any barrier between him and the frequently crashing, careening cars.
In an era of F1 racing when cars routinely veered off the tracks and burst into flames without anyone to extinguish the fire or extract the driver, Polanski jumped from fan into the fray. Even if a driver made it out of his crumpled car, he had little hope of survival since the head doctor at the time was a gynecologist, says Stewart. Not a sport for pussies, as it were. "Roman would take the camera because he saw a shot he liked," said Stewart.
Polanski's cinematic eye gravitates more to the gaze of the racer than to the gore that was par for the course in 1960s and 1970s F1 racing. Save for quick shots of spectacular accidents, he avoids blood and guts and instead explores the emotional element, particularly when it comes to his relationship with Stewart. (The pair is inseparable for much of the time Stewart's not racing.) Much like Polanski's 1968 U.S. box office blockbuster Rosemary's Baby, the documentary fosters fear through pacing and narrative, not splatter and shrieks.
It's more than Polanski's skill or status as a filmmaker that makes Weekend Of A Champion worth watching. I'm no racing enthusiast like Polanski — who, at 80, still fires up a Ferrari when he's not skiing or filming — and before the screening I'd wished instead for a sneak peek at his forthcoming adaptation of Venus in Fur. That film stars his French starlet wife Emmanuelle Seigner and has just premiered in Poland.
Besides my surprise enjoyment of the racing scenes that hold up in 2013 thanks to lush cinematography and the timeless effect of high speed on the nervous system, I'm most intrigued by the film's exploration of Polanski and Stewart's relationship.
Polanski participated in the press conference via Skype from France for obvious reasons, which I won't delve into here. I can evaluate Polanski the filmmaker without taking into account his complicated (and sordid) personal life. The Fox News take on the screening couldn't get past Polanski's past, missing the point entirely with the headline "Convicted sex offender Roman Polanski returning to US via webcam."
Still, I cringed a little at the nonchalance, displayed in the documentary, of Polanski indulging in the celebrity-studded decadent soiree that overtakes the Monaco Grand Prix. This was less than two years after his second wife, Sharon Tate, was murdered in his home by members of the Manson Family.
But this discontent evaporated into a renewed appreciation for Polanski as a person. Suddenly he was this sweet schoolboy, shadowing his BFF/boy crush Stewart and unwrapping a relationship that many men (straight, gay or whatever) would never expose to an audience.
Luxuriating over room service breakfast in a Monaco hotel suite, Polanski sits across from Stewart as the camera caresses the lithe shirtless body of the Formula 1 champ and laps up a lingering look at his white cotton briefs. Rather than evoking an obvious homoeroticism, the scene illuminates the intimacy between two close friends both reaching the height of their respective stardom. (Not that it matters, but Stewart has been married to his childhood sweetheart for more than 50 years and she was by his side in the film.)
Polanski wasn't behind the camera for the crotch shot, but he chose to keep it in the restored version that he saved from the cutting room floor. Polanski learned four years ago that the negative of the film was going to be destroyed in the UK, prompting him to restore it. Submarine Deluxe acquired the U.S. distribution rights to the new version, which was a selection at Cannes. Brett Ratner's production company plans to make it available on Netflix.
There's a kind of innocence that comes from those scenes that's more than ephemeral. It's Polanski as citizen journalist, shadowing Stewart like an aspiring E! reporter. It's flawless cinéma vérité from the man who is best known for genres such as psychological horror (Rosemary's Baby), neo-noir (Chinatown) and thriller (The Ninth Gate), starring matinee idols not emerging athletes. Just as he breaks away from the comfort of a tested art form, Polanski breaks out of womanizing stereotype by flaunting his bromance long before that hideous term, coined by skate boarding journo Dave Carnie, ollied into the celebrisphere.

Far worse than any critics who dismiss Polanski as "controversial" were some screening attendees. A woman asked Polanski to advise students from diverse cultures because he is one of the few "truly international filmmakers." When another student prefaced her remarks with the same description I got suspicious. A quick iPhone check revealed this wisdom was culled from the second sentence in Polanski's Wikipedia entry. Then there was the woman old enough to be their grandmother who gushed — professing that Polanski is loved by all (ha!) — only to share her own telepathic experiences with cars and asking him to reveal three wishes.
Those with presumably the most useful insights stayed mum. Director Bennett Miller (Moneyball, Capote) just listened. Does he need career advice? Did he share a telepathic rapport with Philip Seymour Hoffman?
The restored film features a postscript with Polanski and Stewart reminiscing recently in the same hotel suite they shared as young men.
"I looked at the film after more than 40 years and decided I like it," Polanski said. "The pace was not satisfying so it needed some editing."
Polanski's image loomed on the giant movie screen, dwarfing Stewart who sat on stage with Ratner and moderator Eric Kohn of Indiewire during the press conference.
The same restlessness that swirled around a young Polanski like a halo ensnarling all that is wicked and wild of a life that read like made-for-TV-movie fodder is there, just buffered by a much softer light. The schoolboy side of the skirt-chasing prolific filmmaker is alive but tempered by an awkwardness that comes with the years.
There was a crash in the background and a glimpse of a woman's ass (not belonging to Seigner — hot wife number 3) as she fumbled around (maybe untwisting wires or tightening a plug) while Polanski darted in and out of the frame, only to fidget for a few minutes before settling down for the Skype call. I shot a short iPhone video of Polanski not yet tuned in and looking more like a lunatic than a legend, making me worry he wasn't firing on all cylinders. But Polanski is not your listless pop-pop who calls every third person "Maisie."
He's not only re-imagining but re-creating an era of glitz and glamour, death and danger that inspires passion enough to make it more than a period piece from a world of fashion that's generally better left to fade forever.
"I thought it was a very cinematic, very visual kind of sport (that) people weren't filming that much," said Polanski.
"The speed of the world has revved up much faster than it was," Stewart said. There is a "unity" that "we've lost." He expressed a longing for the "deeper" friendships that existed in the 70s.
Before my dirty mind could travel back to the crotch shot or I dismissed this banter as demented sentiment, someone asked if Polanski had seen Rush, Ron Howard's new film depicting the deadly yet glittery world of F1 racing in the 1970s. Polanski perked up.
"I have seen Rush," he exclaimed with what came off either as old man pride or youthful exuberance. "At beginning I thought I was going to walk out of there, but it gets better and better. I think this a great couple of actors looking like the people we know and it is a very good movie, actually."
Natasha Gural is an award-winning journalist and writer of many things including a novel-in-progress tentatively titled Lubachka, a factual tale of survivor's guilt based largely on her Russian mother's early childhood as a prisoner in concentration and labor camps in Poland and Germany. Follow Natasha on Twitter @natashagural.