Ask Polly: Am I Just A Booty Call?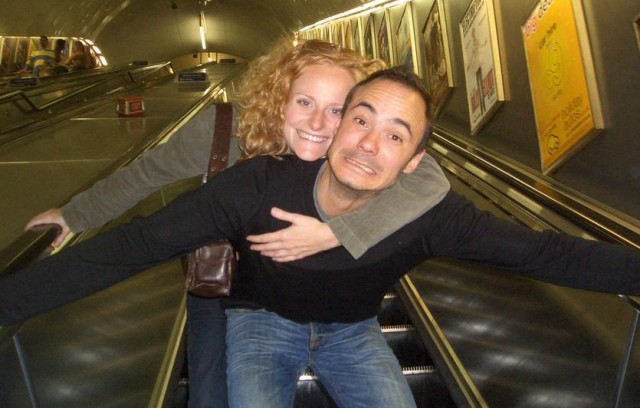 Dear Polly,
When is it too soon for an ultimatum? What is a good sign to leave something that's showing complications?
Although it is early, I have been seeing this guy for around 5 weeks. He lives down the road from me (1 block) but we ironically met online.
He is a 21-year-old bachelor, a major player who has never had a real relationship, not to mention he has been with more girls than my fingers and toes, doubled. He is a guy living with guys who has moved out of home less than 12 months ago. He is extremely passionate about his job, to the point it gives him anxiety. He knows he has to settle his bachelor ways down if he wants to do well and gain a respectful name in the industry he is in. He is Italian and very good looking and by all means has everything going for him.
Myself, 21, I moved away from a small town on the other side of the country to a major city just under 12 months ago. I have travelled to Europe and done countless things on my own. I have grown and my career and life is just beginning to blossom and I am at the point that I am ready to find someone to at least enjoy spending time and being young with. Commitment maybe on the cards but not until I am comfortable and it's at least reciprocated.
He and I first off exchanged numbers on the online dating website, then began talking — at the time I was seeing other people, nothing serious but I felt the need to meet new guys and explore my surroundings. He stuck around and even if it was a text a week, I would still hear from him. We got to the point where we decided we should meet, I suggested we have a coffee and he admitted he was socially shy and that the thought of having a coffee on a first meeting scared him. I reassured him and said I had done it a million times before. Leading up closer to our meeting, we exchanged photos of us and he called me gorgeous, etc. The D day came and I never heard from him. I mean, not even a blow off text. I didn't hear from him until Monday the following afternoon when his "phone apparently screwed up." Although I knew it was a lie, I decided to give him the benefit of the doubt and asked did he want to meet that night. He accepted and came over.
I reaffirmed to him that if he were to come over, he wouldn't be "getting lucky." He said he didn't have that in mind. He was just happy to get to know someone new. We talked and got to know each other. He was quiet and wouldn't look at me and I thought he wasn't interested until he locked eyes with me and we kissed. He told me about him wanting to settle and have a relationship, that he wasn't one to kiss and tell and he wasn't the most perfect of guys. None of which bothered me as I know plenty of imperfect men. We hit it off really well. I received a message from him the following day, "I felt I got extremely lucky albeit you saying I wouldn't get lucky when I came over."
We met up at my house two days later and the same thing followed. I would say that the sexual tension was building up from there.
The following week we had sex. That became a regular pattern, hanging at my place. I felt like a convenient booty call. He did say he felt lucky because I was like the girl next door. The following week, I house-sat for my friend and we were supposed to see a movie but his work got in the way. Later in the week, his family was another excuse. All apologies were lengthy text messages, but I couldn't help but feel a little skeptical. Then he came over after dinner with his family the last night I was house-sitting and stayed the night. We slept, talked and cuddled all night and he left midday the next day.
Then he became inconsistent with his texts, saying he has been busy with work etc. We caught up last Wednesday and went for a walk to the park, where we talked and cuddled. Having not been physical for three weeks, there was a lot of sexual tension and with his housemate waiting for him in the car out front, we sneaked into his house for a thrilling quickie (my first time at his house). After that we made plans to see a movie Sunday night.
Sunday comes, and I had not heard from him for almost 3 days. He texts me at 6 p.m., telling me he had been out with his brothers, out of cell reach and that he was with his parents but might be able to come over later. I advised him I wouldn't be available and maybe another time.
He texts me the following day, asking to catch up, I had a free night after dinner with a friend and he came over. I decided to pop my sexy night wear on and give him a little surprise as I was in high spirits after a bottle of wine at dinner. We have sex, we kiss, talk, spoon. After a couple of hours he leaves. He cuddles me and kisses me saying I'll text you sometime in the week.
By then, I was fed up…
I messaged him this:
First text:
Hey. How was your day?
Last night was so much fun and I am genuinely enjoying getting to know and spending time with (and being cheeky with) you. I was wondering though if we could possibly try something different outside my four walls next time we hang out? What do you think?
Sent at 4pm
Second text:
I just want to make it clear, I am not asking for a date; it would just be nice to have a drink or a coffee with you because right now I just feel like a booty call for whenever it is convenient for you. I want to make it clear that this is not what I am after and before I begin to really care about you, I think I should save myself the heartache and maybe let you find a girl who is just more suited for what you're after right now.
Sent at 8:16pm
Third text:
I am sorry. I just wanted to express how I feel as I would much rather not get hurt and I would rather be open and honest with you.
9:50pm
I have heard nothing. Now all the signs are pretty clear he's playing me big time, but did I do the right thing in giving him an ultimatum?
Sincerely,
Square Pegs, Round Holes
Dear SPRH,
The term "ultimatum" doesn't really apply here, but you certainly did the right thing in asking "Can we see each other during the day, in public, or are you a vampire?"
Moving forward, though, you have a very specific sort of a problem. Your problem is that you're a very attractive woman with an easy-going nature and a great phone for tapping out very long texts. This combination of factors is going to bring you a whole hell of a lot of agony if you're not careful.
Before we delve into how you're going to avoid said agony, listen to me very closely: We're going to talk about some of your missteps, but that doesn't mean you should feel bad about them. Almost every woman alive has made the exact same mistakes fifty million times. You shrugged off his initial blow-off. (Cue giant memory reel.) You encouraged him to meet you at your place instead of out in the world somewhere. (Cue larger, X-rated reel.) You proceeded to meet him in private repeatedly, never insisting that you two hang out in public like someone he actually takes seriously or gives a shit about. (Cue firing of old familiar insecurity synapses.) And then, horror of horrors, you asked for more from him, but via text! And you kept explaining yourself, via text! (Cue sound of nails being hammered into coffin.)
Dudettes of the universe, listen to me. Never ever fucking explain anything, ever. Cue up "Hush Now, Don't Explain" as sung by Billie Holiday. Make that your goddamn jam for life, people.
But, Round Hole, you're doing the universe of Dudettes a giant service by submitting to us your actual texts for close critical examination. Right now I want to zoom in on a particularly interesting passage in Ill-fated Text #2:
"I just want to make it clear, I am not asking for a date."
Q: What is wrong with this statement? A: THIS STATEMENT IS FALSE. Unless by "Let's try something different outside my four walls" you actually meant wrestle wild boars or make mud pies in your back yard, what you're asking for is, in fact, a date. You want a date.
So what happens when you ask for a date but then you back up and claim that's not what you're asking for? 1. You sound crazy. 2. You sound like a liar. 3. You sound like someone who doesn't know how to stand up for what she wants. 4. You sound like someone who settles for less than what she really wants, then gets crazy and lies when settling for less starts to fail you. 5. You sound like someone he could very easily take advantage of, in private, indefinitely. Easy in every sense of the word, but not in an exciting sort of a way. (Not that he matters, mind you, because he's not your guy. He is yesterday's bad news.)
Now, keep in mind, I'm not saying you did something outrageously fucked that none of the rest of us single women and former single women haven't done so many times it makes our feet itch just contemplating it. No! You did something very, very normal. Everyone has a stint as little miss "It's not like I want a boyfriend or anything" and "Dating? What's that? That sounds silly, tee hee!" When you make the words coming out of your mouth sound cool and casual like a Liz Phair song? OK, fine, a Ke$ha song? You pay.
Instead, tell people exactly what you want. Here's my revision to text #1: "Last night was fun. Let's go have dinner on Wednesday. Are you free?" Message received. Outcome in this case? No different. But — bonus! — you don't have to feel like a sea slug on the bottom of the ocean floor over it, because you didn't sound needy or liary or crazy, and you didn't leave the tiniest door open for someone to slide their piece-of-shit Square Peg back into your Round Hole again.
You know what "I'm not asking for a date" does, though? It encourages neighbor guy to PUNISH you for requesting a date by avoiding you for a few days or weeks, but it also guarantees that the next time Dipshit gets horny, he's back at your door (after he's done having fun somewhere else with people he doesn't mind seeing during daylight hours) (like, um, his actual girlfriend?). Don't think for a second that this thing is over in his mind. Once you make it clear that your Round Hole is open for business 24–7, you'll never shake off the nervous pussy hounds of the world.
You're in danger of being used over and over, and feeling like you're nuts and the problem is you. You, of all people in the world, must pay very close attention to how much a guy actually likes you. Yes, I know you long for sex just as much as any guy. We all do. But do you truly want to be giving it up, then sending needy texts and then claiming you don't want anything, JUST PLEASE TEXT ME BACK ALREADY? Do you really want to feel like the hot slut down the block who's never met his friends?
Even if you take the attitude of "I'm in control of this. I don't care what guys think, I want sex and I'll get it whenever I want it"? You've still got to assume that guys think you're a piece of ass. Which absolutely wouldn't matter if their perspective hadn't been used to make women feel like second-class sub-human half-persons for several centuries running. But these things do not occur in a cultural vacuum. If you're treating him like a piece, and he's treating you like a piece, and you tell your friends, "He's kind of a snore, but great in the sack " and he tells his friends, "She bores me, but she sucks a mean cock," well, in theory, that should work just fine. On the planet Earth, in the country United States, though, you're the one with a problem. He overhears you objectifying him? He feels proud. You overhear him talking about how you polish the family jewels like a pro? You want to kick his teeth out AND you feel like a dirty little Hoover who doesn't even deserve a real-live boyfriend. Sorry, but you do feel that way and you know it, and if you didn't you'd be some kind of an alien life form who doesn't feel real feelings.
OK, fine. If you NEVER EVER feel demeaned by such talk, and you REALLY TRULY DO NOT WANT A BOYFRIEND OR A DATE, then that's a whole different story. Clearly, I have no personal beef with promiscuous women. The world is packed full of proud current and former sluts. We keep the wheels of modern industry turning, as a matter of fact. (Can we please reclaim just that one word, slut? Please? Don't make me give it up.) Because sluts' dreams really do come true. Believe it. To loosely paraphrase a wise man from "Deadwood," those who seek to denigrate us suck cock by choice.
Nonetheless, if you want a boyfriend, or just a date? Never, ever pretend not to. There's no shame in asking, flat out, to be treated like a human being and not a secret, hidden stash of late-night ass. (And no shame in BEING a secret, hidden stash of late-night ass, if that's your dream. Many of us dreamed that dream in time gone by. Hopes weren't the only thing that were high, either, me mateys!)
So here's what you have to do, Round Hole:
1. Resolve to never, ever meet someone for the first time at your place, OR to spend time with a guy who asks to meet you at your place instead of out in public. It's not even SAFE to meet some creep at your place for the first time. Go out on at least three dates in public without sleeping with him. Get to know him. Listen to what he says about himself. Pay attention to how closely he listens to you when you talk. If he's in the least bit distracted, make it 4 dates. On the fourth date, please ask yourself, "Is this guy even interesting? Is it worth my time to sleep with him and get all attached to him, when I'll have to listen to him speak like this, on and on and on about shit I actually don't consider all that interesting?" These are questions that plague his brain within seconds of meeting you. The least you could do is ask yourself the same questions eventually.
Now, I'm not saying that every woman alive should wait for date #3 to sleep with a guy. But those of us who have trouble waiting? And then we wonder why guys treat us with vague indifference, like we're a half-eaten bag of chips that fell in their lap and they weren't even sure if they were hungry in the first place? We need to cut the "I'm too awesome not to do whatever the fuck I want!" routine and start protecting ourselves from ourselves a little.
This especially applies to you women who like to drink a lot, play pool, watch random bullshit on TV, shoot the shit, play videogames for hours on end, tease, insult, hit the bong, go with the flow, etc. You're in as much danger as Round Hole here, because men are going to want to have you around for both the good hang AND the bonus sex. BUT: That doesn't mean they actually love who you really are deep down inside. Know what I mean? I think you do. Let this be your mantra: THREE DATES. Three really good dates. If you want to fuck around occasionally, fine, but you've been warned.
2. Resolve to never send more than two short texts in a row without a response, and never, ever send long Big Important Question texts. (This is to protect your emotional state, not his.)
While we're at it…
3. Do not seek answers. If you know the guy is super flinchy, why bother? You can simply ask for what you want. Don't ask how he feels. He's either going to step up and show you how he feels, or he's going to skank around looking for round holes elsewhere. You don't need to add extra-demeaning rejection and IGNORE on top of the ignore you're already getting. Protect yourself. Don't hang yourself out to dry. That's you being mean to you. You're worth more than that.
4. Don't explain yourself in elaborate detail. God, if I could take back my long, long emails about everything my heart ever desired! Oof. Half the time, all I needed was to say, "Do you want to get together Friday? Because this is starting to seem half-hearted, and I'm not all that interested in half-hearted, half-assed dalliances at the moment. I have other candidates waiting for your spot." Ok, that last part could, in some cases, be a lie, but it's a lie that says, "Of course I'm in demand, dummy." So it's worth it.
And you know what? Other candidates ARE waiting for his spot. Maybe those other candidates don't know it yet, but they will, once you reinstate your online profile and you start to make it crystal clear that you are not interested in any screwing around, half-assed, round hole routine. Instead, stick with having coffee.
But put on your skeptic's cap. It's not just about "Is this guy a player?" It's about "Does this guy actually like to listen to ME when my mouth is moving? Does he want to know all about ME? Is he anxious to know if I'm dating anyone else? Does he want to do things together during the day? Does he find me singularly interesting and special?"
And even if he does like you, don't dive right in immediately. Spend time together. See how you feel. Maybe you want to jump his bones, but does he really seem like a good guy? Does he have any friends? Does he like to talk about emotions at all? Is he someone your friends would like?
Enough with the vampires. You don't need ultimatums, you need hard and fast rules for yourself, to keep from getting entangled with bullshitters. The world is filled with them. You should hold out for better. And when you don't, you should at least know better. Because once you walk down the path to Booty Call, you can't just text your way into a different category.
So that happened. It sometimes does. But now let's try this a different way.
Polly
Are you in a relationship that grew out of a booty call and you wonder if he or she was ever really in love to begin with? Then write to Polly already.
Heather Havrilesky (aka Polly Esther) is The Awl's existential advice columnist. She's also a regular contributor to The New York Times Magazine, and is the author of the memoir Disaster Preparedness (Riverhead 2011). She blogs here about scratchy pants, personality disorders, and aged cheeses.