Scandal! "Today Show" Kicks Adorable Teenage One Direction Fans To The Curb
by Carmen Johns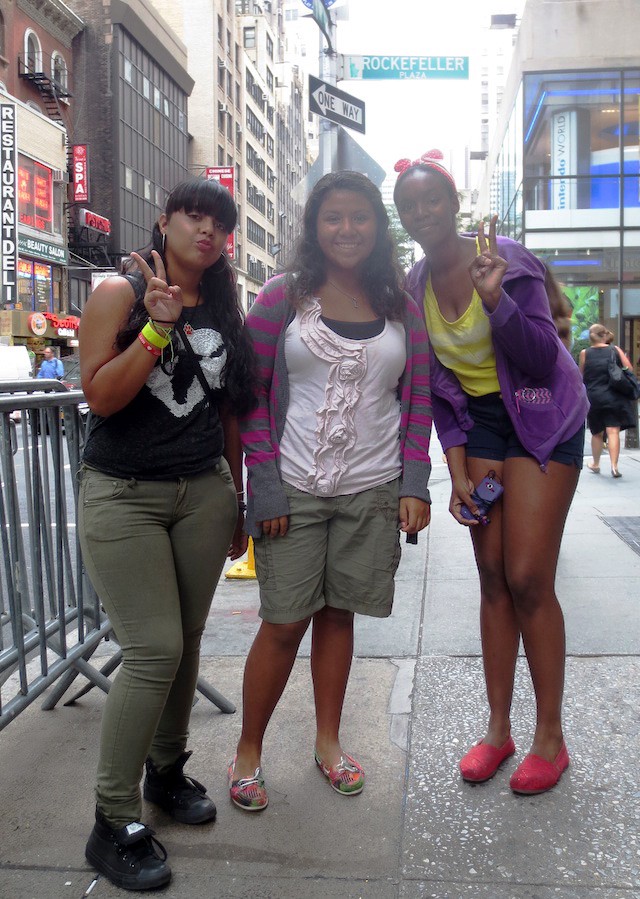 Kathleen, Michelle and Jade
I am kind of a superfan of superfans, so you can imagine my excitement when my friend sent me this yesterday:
Crazy! One Direction fans are already camping out a week prior to the free concert. pic.twitter.com/1c292Rb4zz
— I Love Free Concerts (@FreeConcerts) August 18, 2013
Apparently these girls were camping out to see One Direction perform on the "Today Show" one entire week in advance. I headed straight to Rockefeller Center with my friend and photographer, Noah.
We walked around looking for that head of very blue hair and street-camping gear, but had no luck. A security guard pointed us to a line for One Direction with three brand-new girls who filled us in on the WEIRDO, SICK DRAMA of this line — and supposedly all "Today Show" lines.
Those first two girls were no longer camping out because they were asked to leave by NBC security guards and told that they could come back on Wednesday. But even though they were made to leave, a piece about them appeared on the "Today Show" website (omitting the fact that they'd been made to leave). The 15-year-old ladies who were now first in line — Kathleen, Michelle and Jade — filled me in on all this. They feared getting kicked out of line as well… which they were, by about 7 p.m. last night.
According to a Tumblr message I received from Jade:
"Ok, so this security guard came and saw us camping out and told us we had to go. And we asked why and he just said because we had to wait until Wednesday night and there were about I say 20 people who were there and one mother was from Connecticut and she had a baby with her and they still said no. And the only reason why she and another mother with her child from New Jersey came was because Matt Lauer said if you wanted to see One Direction come now, so they came. We even went to the NBC studios and the people told us the same thing. All of us had to go home and if we stayed we would've gotten a ticket and not been able to see the show."
This treatment of fans by NBC is nothing new, according to New Jersey mom Eileen Bonsignore, who took her two little girls to camp out on Sunday and Monday night for 1D's previous Today Show performance on Tuesday, November 13, 2012. At 4:30 she describes, as she puts it, "the worst abuse of authority she has ever witnessed."
An NBC employee "in a suit" came out and told them, "None of you were invited here, buy you all showed up anyway." These fans, too, got special treatment for camping out in the form of a One Direction camera guy filming, interviewing them and even taking a picture with them (14:23). After that, they proceeded to get kicked out by NBC suits, though they'd camped out on the streets to insure they were first, and got there first when they were allowed to form a line. To add insult to injury, a huge number of NBC employees and their children cut in front of them before the show, so many that they ended up all the way in the back. "[My kids] missed two days of school, but they learned a valuable life lesson from NBC," said Bonsignore. "It's not how you sacrifice, it's not what you do. It's who you know that gets you places."
Is this any way to treat your fans? Especially during "Fan Appreciation week"?
Let's hope this week's 1D fans are treated better than last year's.

Here's our conversation with Michelle, Kathleen and Jade while they were at the head of the line.
The Awl: What happened? What's the whole story with the first girls who got here?
Michelle: They came um on Friday I think?
Kathleen: Friday, and they were interviewed by the "Today Show" and they were like, on their website and everything and they made like a whole big deal out of them, and then when did they end up leaving? I think it was today probably because these two other girls were here and I asked them like, "Where did everyone go?" And she said the supervisor came and told them to come back on Wednesday. We really wanna see the boys and we don't wanna come back on Wednesday and have this big line because we've been planning this for so long. Like, we're dying to see the boys and like, I dunno we just wanna stay in line and see what happens.
The Awl: How long have you been planning on coming here?
Kathleen: Since the beginning of the year.
All: Yeah!
Kathleen: Since like, March? Like, I found out a really long time ago and I've been planning this for like, half of my summer. No, like, my whole summer I've been looking forward to this!
The Awl: Do you get made fun of at school or by your family members? How do you respond to that?
Michelle: Sometimes. I try to tell them like, well you were probably the same way if you had a big crush on someone, a band or something. So, they try to support me, like my mom she tries to. She took me to the concert in June?
Jade: I mean for me, I'm kinda ethnic so, you know everybody listens to like, rap, R&B; and I'm like… I like my own style of music and One Direction just happens to be pop and they're a boy band so you know boys obviously are gonna be like, "you like that boy band? ew" But like, I mean my family kinda supports it and my brother listens to them and I mean, he's a boy, so…. I've made so many friends because of them. So, I'd rather the friends outweigh the bad things.
Kathleen: For me? I don't really care if people make fun of me and One Direction, I'm a proud Directioner, I don't care. But my family? Of course they tease me because I'm like, "Oh my God yes that's my husband, don't make fun of me." They know how much they mean to me, especially my mom…. Like the boys in the school, I don't really care. They're like, "You still listen to that gay boy band?" and I'm just like, "Shut up, no. They're perfect, they're not gay, what are you talking about. You're just jealous." I don't let it get to me because we all have that person we all look up to, and that happens to be me with One Direction.
The Awl: Who's your favorite and least favorite member of One Direction and why?
All: Woah! (giggles) Woooaahh.
Kathleen: I dunno if you can pick a favorite, but you — we aaallll know we have that one special feeling for one of them. You can't just be like, "They're all my favorite!" For me it happens to be Zayn Malik. But I would NOT choose a least favorite, that's just weird. That's like a mother choosing for a favorite son and like, "What's your least favorite son?"
Jade: My favorite had to be Zayn because of his voice and his looks. He's the prettiest of the band, his high notes are AMAZING ad he makes the song (clap) the song (clap).
Kathleen: I don't think any Directioner has a least favorite. And if she does, she's probably not a real Directioner.
The Awl: What is a Directioner to you guys? A good Directioner.
Jade: A dedicated teenage girl who's on Twitter, Instagram, Tumblr, any social network, that stays inside and eats pizza every single day of their life, and cries when they see pictures of the guys, and dedicates their life to these boys!
The Awl: What do you think of Justin Bieber?
Jade: Justin Bieber is…he just needs his mother. And he needs to go home to Canada and eat Canadian bacon and stay there.
Kathleen: He need to go like, do some yoga. Relax.
Jade: He needs to go to K-Mart and get a new pair of clothes cuz I can't take the baggy pants!
Kathleen: I can't even discuss his new outfits because, I swear to God if I ever see him next time I will just like pants him. You wanted to sag? You gonna sag to the fullest! I mean, I'm like talking crap about him right now but I was actually a Belieber before I was a Directioner.
The Awl: What happened?!
Kathleen: I'm still a Belieber but right now I'm just very disappointed in him. I love him and I think he's working hard and he's still nice to Beliebers. I loved him since he came out with "One Time," I fell in love with that fifteen-year-old boy singing with his little squeaky voice that everybody makes fun of but I thought it was awesome. I think he needs more guidance. He needs like, somebody to be like "Justin, stop doin' that." I don't want him to get lost cuz right now I think he's in a bad place sometime and I want somebody to be there for him. Do you see what happened to Lindsay Lohan? I don't want that to happen to him because I love him so much.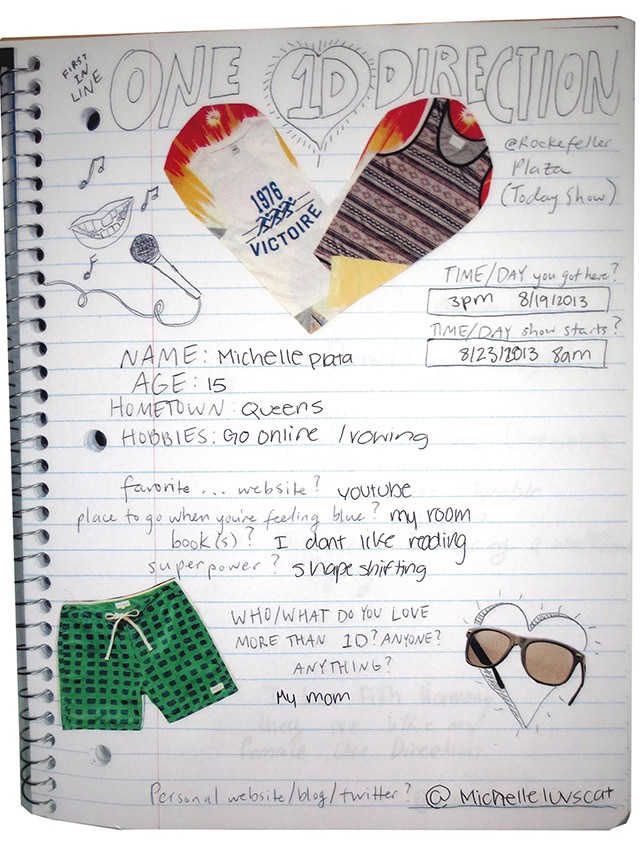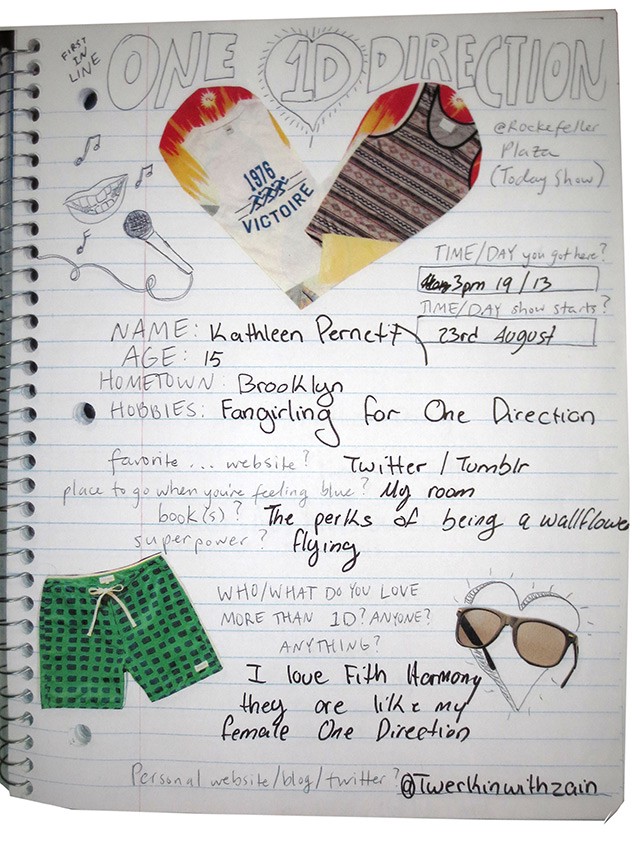 Carmen Johns is an Awl summer reporter.