German Terror Turtle Still At Large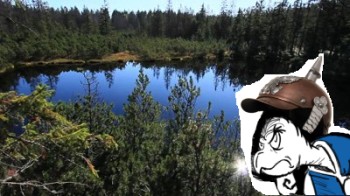 "Even at night, the Bavarian village of Irsee isn't able to settle down. The town's mayor, Andreas Lieb, was at the nearby lake Oggenrieder Weiher on Tuesday evening when he came across four people busily working away in the darkness. Lieb promptly asked the unwanted guests to leave. 'They were pros,' says Lieb, adding that they were equipped with high-powered flashlights and protective clothing. The night-time visitors were attracted to the lake due to an incident that occurred there last week: An eight-year-old boy's Achilles tendon was severed while playing in the water — and experts believe that the injury was caused by an alligator snapping turtle."
 — It remains on the loose! Above, the only known photo of the beast.