There's No Place Better To Be Than The Tour de Fat On A Saturday in DC
by John Shankman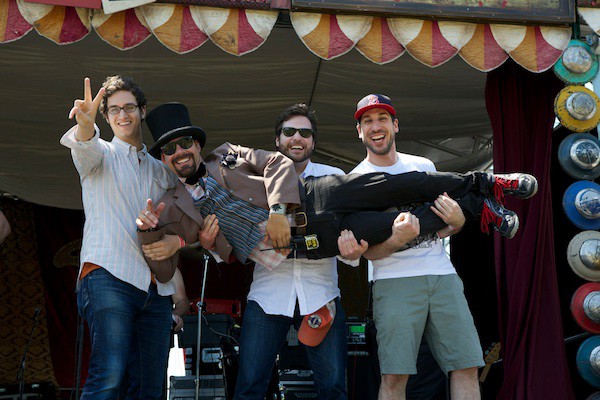 When we last left you, we were preparing ourselves for a journey to New Belgium Brewery's Tour de Fat event in D.C. As with all journeys, one can only find what's two steps ahead by taking the next step. We've taken steps, train rides, photographs and, most importantly, bike rides and are now back to report, as promised. We know you want the TRUTH BEHIND THE TRIP.
To enjoy the Tour de Fat one must like at least one of the following: Juggling pancakes, all-lady drum bands, quality brews, artisanal sausages (or food trucks, generally), wacky costumes, meeting people who are talking heads on cable TV political news shows (TdF D.C. only), performance art, music or nice people. And, oh yeah, bikes. If you do not like those then perhaps the Tour de Fat is not for you. In truth, the event reminded me of a jam band festival before all the mellow-harshers started joining the scene. Perhaps it was reminiscent of a Gathering of The Vibes circa '96 (with better beer, more bikes and cooler "costumes").
And while I could regale you with tales of the journey via the written word, I do believe a journey-in-pictures would be more fun. If you would like to learn more via text-based mediums though, please email Michael Macher, The Awl Associate Publisher.
All photos are by Jono Bernstein, photo crusher, producer and general all around good guy.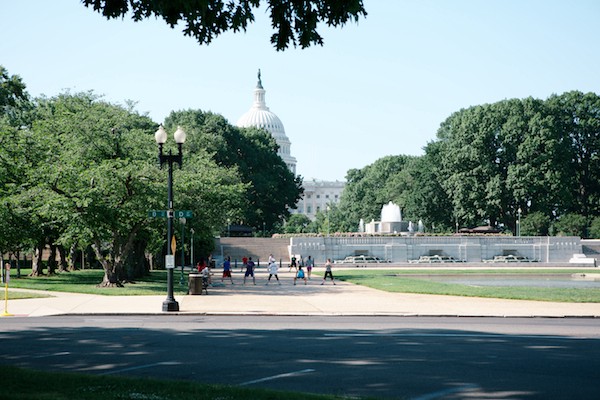 In our nation's capital early enough on Saturday to catch the fine folks of Capitol Hill staying fit.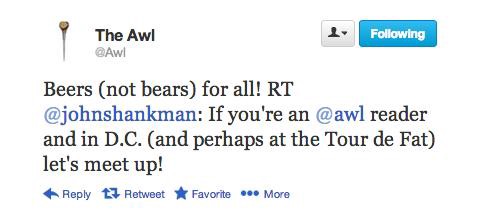 Bat (bear) signal. Also: My idea of "narrative."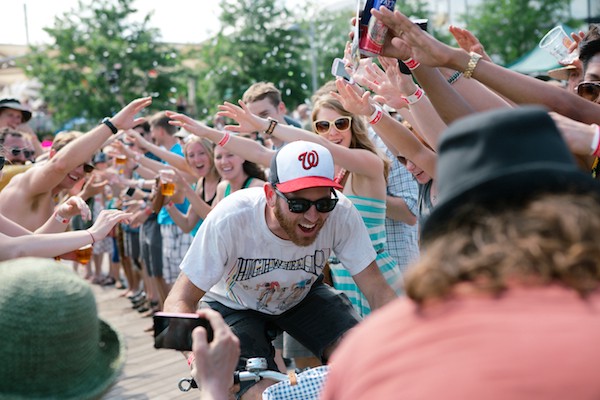 The festivities kick off with a bicycle parade. This is the look of pure joy. While joyous, he is not fully in form. Riders are encouraged to wear wonderful costumes [see future pics].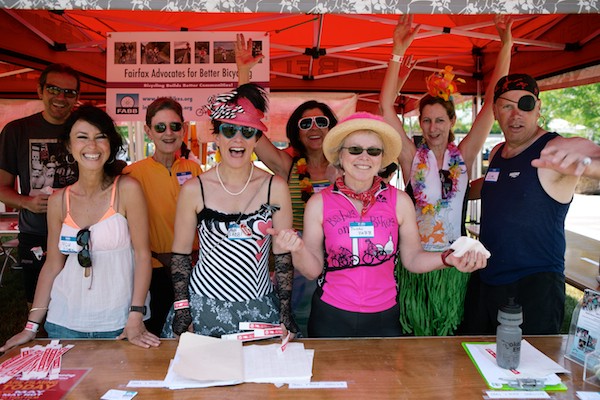 Here it is worth noting that the Tour de Fat is not pure hedonism. These fine people in addition to checking us in and having fun at their jobs are volunteers. All proceeds from sales at the TdF are given to bicycle-related non-profits. The DC Tour de Fat benefited the Washington Area Bicyclist Association (WABA) and Black Women Bike DC.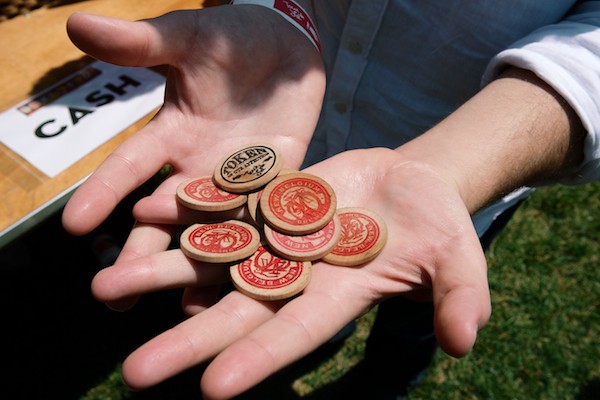 When we left the Internet, we had to trade our Bitcoins in for U.S. currency. While at the Tour de Fat a currency trade is again needed. This is the coin of the land.
With pockets full, we were ready to explore.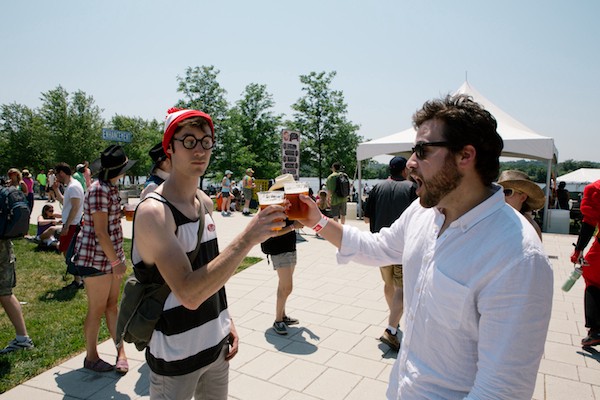 Holy cannoli. We found Waldo. Cheers, soul brother.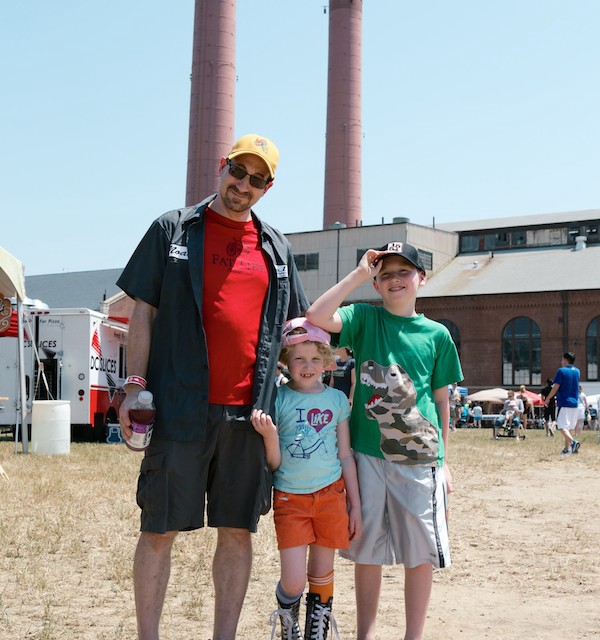 Indeed the event is a family affair. Here we meet a nice one.
Noah, Elly & Leo
How did you find out about the Tour de Fat
Noah: "This is our second year. I'm tangentially involved with WABA so I'm on the email list. We came down from Alexandria."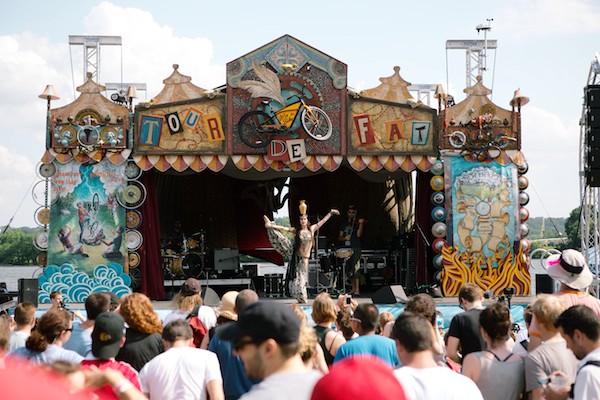 This stage is the festival hub, full of curiosities, obscurities, and #rare performances.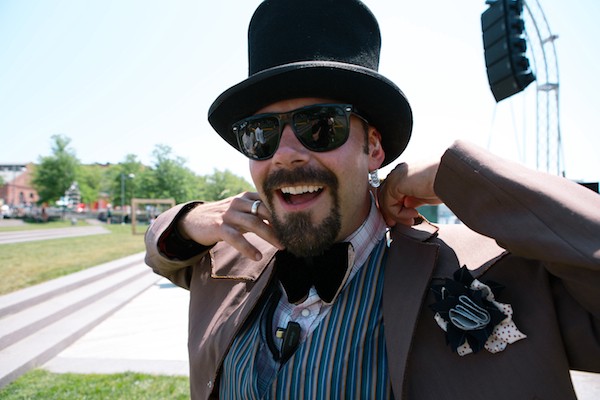 Here we meet up with the Master of Ceremonies, Mateo. He is easily the best dressed man in DC.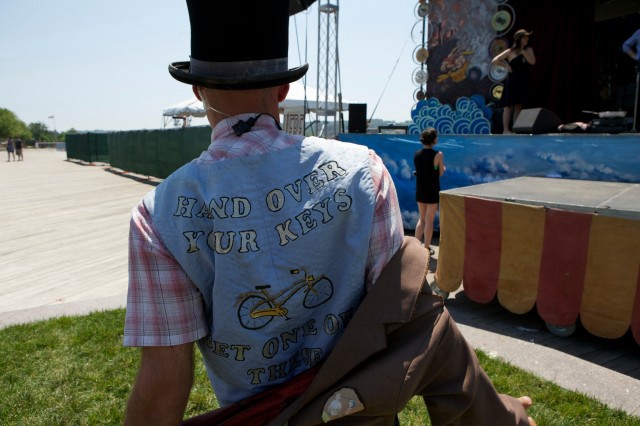 His outfit becomes exponentially more awesome the more layers he sheds.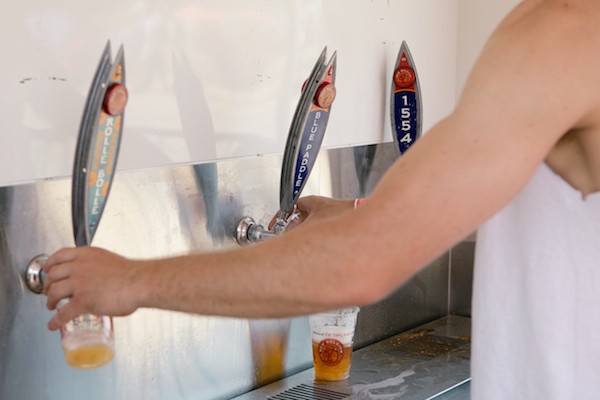 Heady brew break. Whuuuuttt.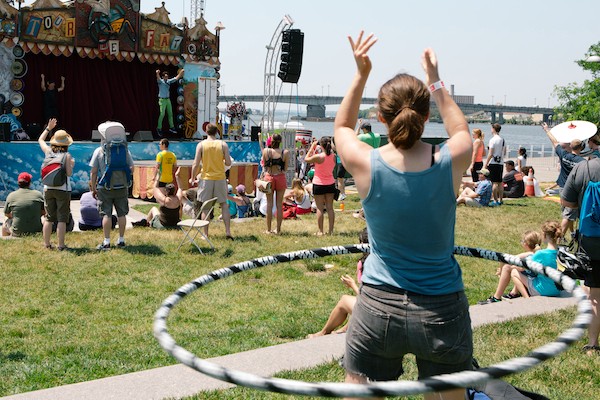 "Kids stop hula hooping, it leads to nothing."
— Scott Neary, Pancake Juggler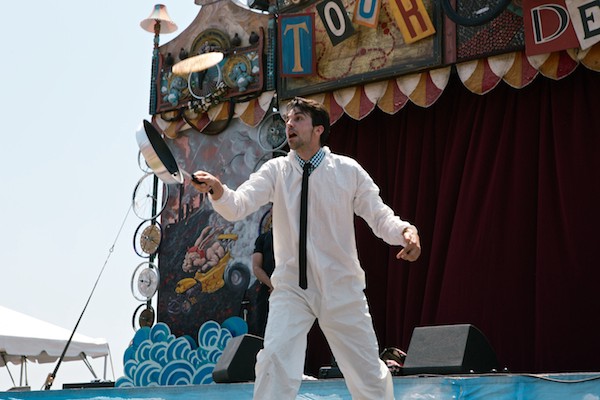 Scott Neary, Pancake Juggler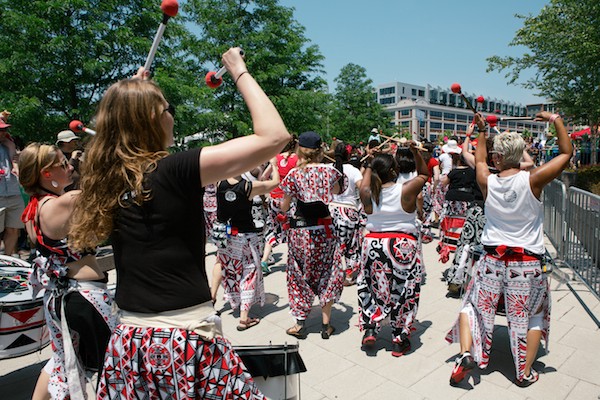 After the infamous Pancake Juggler's performance, we were treated to a performance by Batala Washington.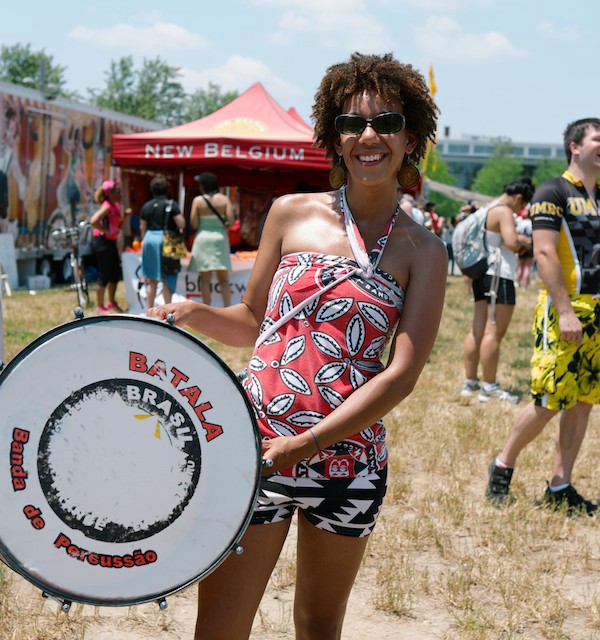 Jessica
Tell us about the group you are in?
Jessica: "We're Batala Washington. Batala is a worldwide organization and Batala is the first in the US. It's also one of the few that's all women. All of the Batala groups share the same costumes and music so you can join a Batala group wherever they are when you're traveling."
Have you always been musical?
Jessica: "I was the kid who faked playing the recorder in 8th grade."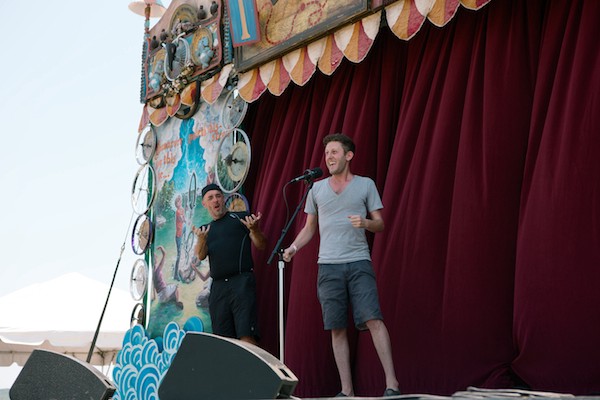 The Moth — a group that aims to ressurect the art of oral storytelling — also performed. This man told a story about how he didn't learn how to ride a bike until adulthood. The sign language interpreter was also great.
And finally, my pocket buzzes.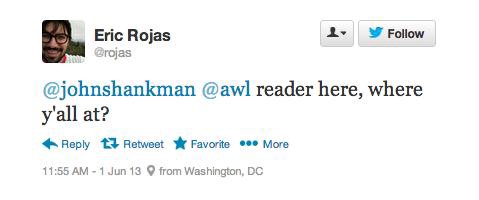 Victory was upon us.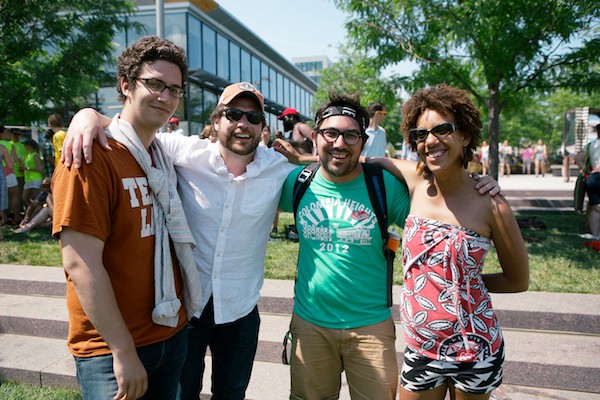 We said see you later…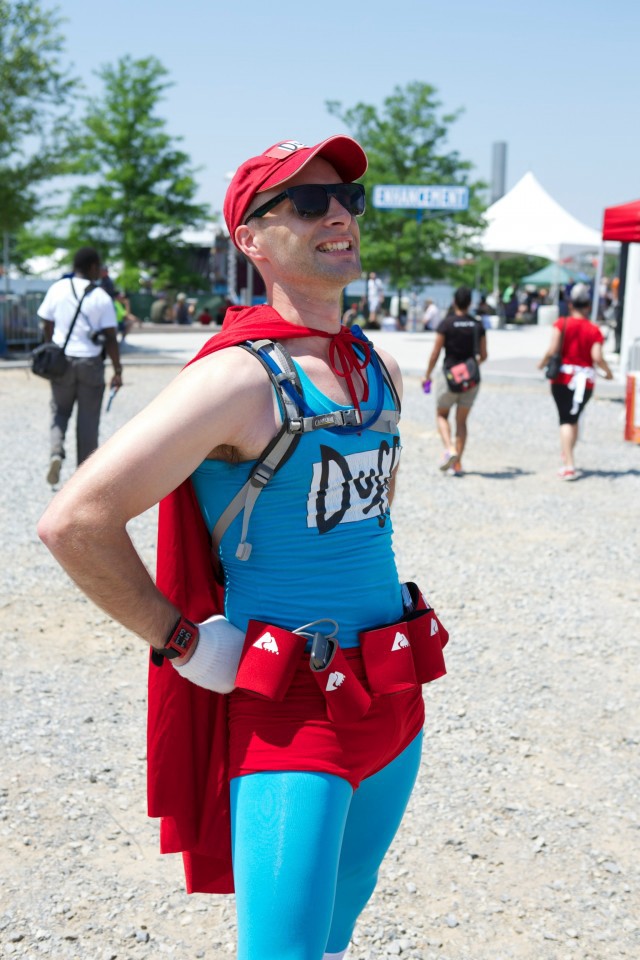 …to our new friends.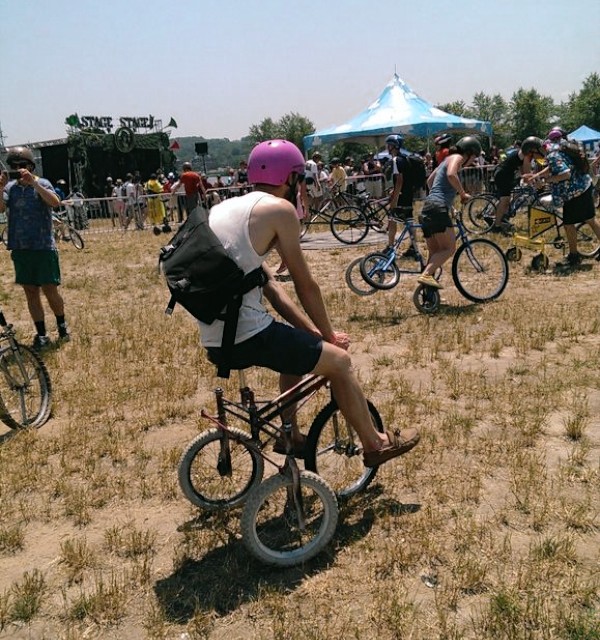 And rode off into the DC sunset.
This post is brought to you by Fat Tire. Pairs Well With People.