Behind the Scenes with Culture Hero Andre Gregory
by Rumaan Alam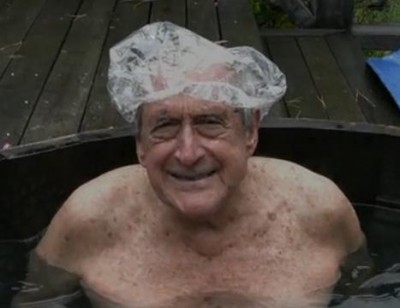 The director Andre Gregory is turning 79 next month and still at work. Two plays will appear later this year; Jonathan Demme's film of Gregory's production of Ibsen's The Master Builder is in the offing. Gregory is the subject of a new film, Before and After Dinner. The director of this documentary, Cindy Kleine, was granted what feels like unfettered access to the subject, who, in addition to being a fellow director, is also her husband. We spoke with her by phone the day after the film opened in New York.
"I didn't want to make some kind of traditional biopic or television-style documentary about a great artist," Kleine said. "And I certainly couldn't do that, as his wife. I make personal films. So I knew it was going to be a personal film. And I wanted to, at the same time, depict a good marriage in a film, because I'd almost never seen a good marriage depicted in films since Mrs. Miniver, made in 1942."
Before and After Dinner plays at Film Forum through next Tuesday, April 16th. EXTENDED! Through April 25th.
The Designated Mourner returns to the stage on June 21st; Grasses of a Thousand Colors follows in October.
Kleine's film isn't the sort of thing you'd see on American Masters. A mix of to-camera interviews, archival footage, and fly on the wall camera work, it's not a slick film, because it's more interested in personality than polish. The film is slippery, which in the end nicely suits its subject — which is not Gregory, who is quite forthcoming, but truth.
"The more I saw Andre's work in rehearsals, and work in the world, the more I felt surprised that nobody had documented it before," Kleine said. "He sort of has flown under the radar for so long, and not been acknowledged, in a way, by the traditional theater community, because the work is quite avant-garde. But I felt like it was time to really make people see and understand what this incredible work that he does is, and what a director does. Because I think it's true — people go to the theater all the time, and they say, 'Oh, I love this play,' or 'I love that play,' or 'I love the writing,' or whatever. But it's very hard to understand what a director actually does. And in his case, even more so, because what he does is so different from what anyone else does."
Gregory is often called experimental, which makes you imagine oblique language, heavy-handed symbolism, inexplicable nudity. Gregory's storied 70s-era adaptation of Alice in Wonderland — snippets of which appear in Before and After Dinner — might have adhered to some of those stereotypes. His work that's been captured on film (the way most audiences know him as his theatrical productions often play to very small crowds, sometimes by invitation only), Vanya on 42nd Street and My Dinner with Andre, both by Louis Malle, belies this reputation. Vanya is moving in a way that must be close to what Chekhov intended. The only thing that feels experimental about it now is Brooke Smith's classic 90s printed-dress-over-long-sleeve-top ensemble.
What's experimental isn't Gregory's product; it's his process. Before and After Dinner shows us Gregory and team feeling their way through The Master Builder. Despite its title, Kleine's movie is a compelling teaser for the Ibsen more than it is a key to understanding My Dinner with Andre.
"I wanted to shoot the rehearsals and put in the archival bits, because nothing he does is documented," said Kleine. "And that's true in most work in the theater, whereas with film, there's this both thrilling and terrifying thing where once you cut it and finish it, then it goes up on the screen, or it goes onto DVD, it's done. I find the fact that he sits and watches the actors rehearse the same play over and over and over… I mean, I would be asleep. The actors are totally brilliant, but I just wouldn't have the patience. And he sees it as new every time, because, as he says, it is new every time they do it, because they're doing it in a different moment. And he's endlessly — you see in the film — he's endlessly interested and fascinated and engaged. His mind never wanders. It's like what I've always wondered about therapists and psychiatrists — how do they sit there and listen to people for that long and not get bored and not forget what they say?"
As scenes from Ibsen's drama are played out inside the apartment living room where the company is rehearsing, we hear Gregory, cooing appreciatively: "Beautiful. Great. Great." Before and After Dinner gives us only fleeting scenes from that play, performed by actors surrounded by the less-than-photogenic detritus of actual life. But even divorced from their larger context, these moments are surprisingly moving. Larry Pine, who has worked with Gregory for years (a casting director's beau ideal of a high-ranking government functionary, which he plays in both "Homeland" and "House of Cards") relates an anecdote in which Gregory had an actor wait in silence for more than an hour before beginning his performance. It worked, Pine said, and the performance was perfect — and gone now, as is the nature of live work. Gregory approaches directing with the patience of a novelist. "Certainly there's a parallel in how long we work on things," said Kleine, who started work on her film in 2009, "and how we both feel that in order to complete something in the finest way, to bring it to light, it really takes that kind of time. And that's completely anathema in the world of both theater and filmmaking."
Early in the movie, the camera catches Wallace Shawn, Gregory's most well known collaborator, in an unguarded moment. Shawn gets what seems like angry, though perhaps you'd have to know him personally to read the actual emotion as he scolds the camera and, by extension, the director.
"He's a person of great privacy," said Kleine. "And I know him well enough to know that. And so before I even started shooting the film, I went to him to ask his permission, to ask him to be in the film, because I knew I couldn't make a film about Andre without having Wally in the film. That would be impossible. He's like his other half. And he's in the play, and I knew I wanted to shoot the rehearsals of the play, and I knew that was something that Wally's never, ever allowed anyone to do. So we had many conversations, many long conversations, and really talked through his feelings about it. And basically, that boiled down to him saying, 'If you were anyone else, I would say no. I'm not comfortable with the idea of being in a documentary.' And this, I completely understood: he said, 'I find it to be a lie, in a certain way, to pretend that a camera is not there.' None of us are going to behave the way we would in front of a camera the same way we would if the camera wasn't there, in other words. There's always going to be some alteration. It's impossible to be completely yourself, and not be aware of the camera on you."
The presence of documentarians alters the reality they're trying to capture. "I said, well, but I don't really care if you pretend the camera's not there. You can address the camera if you want to. You can just talk to the camera. That's fine. And that made him feel comfortable enough to move ahead. And then he continually did that. He just would address the camera, which I loved. To me, that brings a whole other layer of kind of honesty and inquiry into, you know, what is a documentary? What is truth? What is honesty?"
My Dinner with Andre seems like it's hard to understand. Because Andre is playing Andre, and the titular "me" is Wally playing someone called Wally. What they relate — Andre's sojourn with radical theater director Jerzy Grotowski, Wally's career as a then-struggling playwright and actor with a girlfriend named Debbie — hews closely to the truth. It feels like a documentary; it feels like the truth, though both men maintain that it's art, not life.
Before and After Dinner teases that out further. Is the Andre on screen truly Andre? "I was interested in making a film about a well-known person's public and private persona," said Kleine. "Andre and I will be out in the world for dinner, and somebody will come over who kind of worships him and saw him in My Dinner with Andre, and the film changed their life and all that. And I watch people treat him with a kind of awe, like they would a great rabbi or priest or something. I guess this is the documentary filmmaker in me, but I'm always kind of interested and slightly amused, because I see him at home, at every moment, where he can be completely goofy, and silly and running out of the house to a meeting, and I have to tell him, 'Honey, you have your slippers on.' It's always amusing to me that everybody who's in any way well-known, and that includes really famous people, they're just private people in their life, you know?"
One of the documentary's best moments is Gregory, naked save a shower cap, lounging in a hot tub, mugging for the camera. "I do see it as a metaphor for his really unguarded nakedness, both as a director and as a person," said Kleine. "And he just has no self-consciousness. It's amazing to me. I've never met anyone else like that. I'm not going to say he doesn't have self-doubt, because privately, he certainly does, like we all do. But he just is very secure and comfortable in himself, and just will do whatever he feels like doing, and he doesn't think 'Is this embarrassing?' It's so unlike anybody I know. Certainly myself. So it became a really important moment. And then, you know, the humor, for me, in it — it just completely cracks me up." We know of Gregory's biography from My Dinner with Andre, and learn much more in this film — about his upper crust upbringing, his tyrannical father, who may or may not have been an actual war criminal, the investigation into which forms the dramatic arc of Kleine's movie. Here, Gregory is naked in every possible way.
Kleine isn't literally naked in the film, but there is an excellent slideshow of all her former boyfriends, a parade of personal snapshots of beautiful shirtless men, at least one of whom is a decade younger than her. Gregory is more than two decades Kleine's elder, but their relationship is an inversion of what we expect from our May/December romances: the younger woman with a rich romantic history meets an older man who despite his charm and professed love of women is practically virginal. Kleine's project seems crazy; who would want to scrutinize their spouse this closely?
"It actually has made us much closer, because it's been the first true collaboration," said Kleine. "We've always helped each other with each other's work. I've always gone to rehearsals that Andre's doing, and he's always looked at cuts of things, since we've been together. And we've talked about work. But we've never actually collaborated like we did on this. And it was strange, at times…. There are always going to be tricky, difficult issues in any marriage, and I feel like as long as you can laugh at them, that sort of gets you over it. But in the end, he loves — you can tell — being on. He loves telling stories. He loves being on camera. He loves being in the spotlight. I mean, this is his favorite movie."
More than once in this film, Gregory refers to himself as a shaman. It's a word appropriate for a man who's clearly studied various mystic traditions and relies on storytelling to enchant as much to entertain. He tells of running into Spaulding Gray in a Los Angeles hotel. A parallel between the late Gray and Gregory (beyond how both managed to maintain careers in Hollywood while continuing their own idiosyncratic work) is the extent to which their art and their biography are braided together. Gregory speaks of how he's drawn to material that reflects some truth of his own life. Alice in Wonderland was about making your way in a world where every person you meet is, in his word, a mindfuck; one can imagine why Gregory was drawn to The Master Builder's tale of an old man yearning to feel young and great.
Gregory turns in a shamanistic performance as John the Baptist in Scorsese's The Last Temptation of Christ, and in Before and After Dinner recounts his audition process. He tells of going into a trance, stripping naked and raving during a private meeting with the director. Then Kleine produces the tape of that meeting. Gregory's audition is killer, but he's not naked and not raving.
"Andrei Tarkovsky, who's my favorite filmmaker, said, 'Never try to convey your idea to the audience. It is a thankless and senseless task. Show them life, and they'll find within themselves the means to assess and appreciate it.' It's an amazing quote, and I think that applies certainly, to My Dinner with Andre, and to my work, too," said Kleine. "We were seeing, in editing, the structure of the film as a spiral. The little turns, the little twists that go around the screw, let's say. So we would start one line of story, and the minute you think, 'This is going to be a personal film this woman is making about her husband' then suddenly you're in these rehearsals, and it's a film about this man's work. And then, when you think that's what it's about, it suddenly becomes this film noir detective story. But the threads keep coming back, like the threads on the screw. It keeps circling around back to the other stories. So at that point, what I was interested in was to address the nature of memory and storytelling, and the question of what is the truth. What I was trying to say is, there is no such thing, really, as truth. Like, Andre's truth is just his sort of myth, and his story, the way he remembers it. But we all have that," she said. "We each have our own myth that we kind of invent."
Rumaan Alam lives in New York and complains at @Rumaan.