Smell Like A Man
by Kevin Depew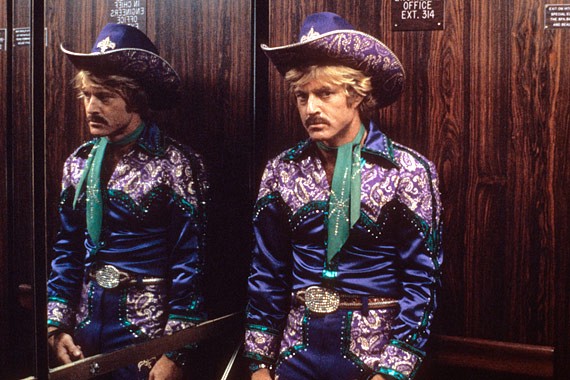 Brut by Faberge, age 8: Knotty pine laced with sandalwood and hints of rubber as Richie mashes my face to the floor of the school bus with his sneaker. He's searching through my book bag for the offending small green Brut sampler bottle I've stolen from my dad. He finds it, holds it up triumphantly, then runs up and down the aisle spraying it on the girls. They scream. Morgan says it smells like a Christmas tree farted. Once at school, there's a mad rush for the door. I quietly gather my books and papers that have been scattered under the seats near the back of the bus. I'm the last one off. The driver just frowns at me and shakes his head.
This is number two in a series about our teenage fragrance memories.
Previously: A Cultural History Of Love's Baby Soft
Hai Karate, age 9: Cold, musty herbs and I have a plan. "Give it." Dwight snatches the small travel-sized bottle of amber liquid from my hand. "Is it wine?" he asks. I'm older than him, more experienced. "Looks like whiskey," I say. "Try it." He shrugs, opens it, takes a drink and immediately gags and sprays my face with a sickly sweet mist. Though grounded in deception, my triumph is pure. "I made you drink aftershave!" We wrestle violently until Dwight's mom, Paula, yells at us to stop and separates us. Now we're in the den. "Kevin made Dwight drink aftershave," Paula says into an olive-green, Trimline telephone. I'm sitting on the couch, pretending to watch TV while eavesdropping. Dwight is standing beside her with his back to me, clutching her. Is he still crying? "It's probably best you come get him," she says. Dwight turns and gives me the finger.
Stetson, age 11: Vanilla and balmy with an undercurrent of musk, probably just like what the Electric Horseman smells like I think as I wrap the last of the Christmas tree lights around my Huffy Pro Thunder bike.
I've been walking these streets so long, singing the same old song
Fourteen strands of light run from the handle bars down to the front wheel guard, across the center bar, finishing at the chain guard. Every now and then Sharon glances over from her parent's porch. I can't tell if she's annoyed or curious.
I know every crack in these dirty sidewalks of Broadway
Where hustle's the name of the game
The extension cords, seven in all, run from the chain guard up to the socket by the back door. My little brother's standing there waiting for the signal.
There's been a load of compromising on the road to my horizon.
I put my hat on and give my chest another spray of Stetson. Straddling the Huffy now. From the top of the driveway. Almost ready.
I'm gonna be where the lights are shining on me.
Now!
Like a Rhinestone Cowboy. Riding out on a horse in a star-spangled rodeo.
Sing it, Glen. I hope Sharon's watching this. I steal a glance for her.
Like a Rhinestone Cowboy.
Getting cords caught in spokes and flipping over handlebars,
hat smashed, both wrists probably sprained.
The first thing I do is look for my hat. I sit up and notice my hands are bleeding. Sharon has knelt down near me, she looks concerned. "Are you okay?" she asks. And I am. In fact, I'm perfect.
Paco Rabanne, age 14: Lavender spice. Earthy and hot. Summer in the south. I'm standing in front of the mirror admiring my tan and mop of brown hair, almost a mullet, parted hard in the middle. "My name is Paco," I say to myself in what I imagine to be a Spaniard's accent. "My name is Paco. Paco… Raybon?" Maybe I'll take Spanish next year. I pick up the bottle and study it. "Rabanny. Rayban. Rab-anne." I settle for Ra-BON. "I am Paco Rabanne. I AM Paco Rabanne. My name… is Paco Rabanne. Have you met my friend, Paco Rabanne? Please, call me Paco. Paco Rabanne. Collect call from Paco Rabanne. Now checking into the game, number 23, Paco Rabanne. Hello, my name is Paco Rabanne. Have you seen Paco? Paco Rabanne? It's Paco…" In the mirror, something has changed. A perspective shift. I turn and find her standing there, arms folded. "Your father wants you to mow the yard," she says quietly, adding after a beat, "Paco," the punchline. Barely an hour later, Paco Rabanne is wilting under the choking, gray, noxious exhaust spewing from a Lawn-Boy.
Grey Flannel, age 15: Woody and elegant with citrus overtones that clash violently with my multi-zippered navy Chess King suit. A narrow gray leather tie with matching shoes makes my date nervous and uncomfortable. It's Valentine's Day and my palms are sweaty and gross. Karen and I sit at a table in the gym. The DJ plays a love ballad by Foreigner. I ask her if she's ever heard of the band Spyro Gyra. "No." She doesn't elaborate. While we sit in silence I imagine undressing her later in front of a fireplace in an oak-paneled library while Spyro Gyra plays. She excuses herself to the ladies room and never returns. I later learn she called her mom to come pick her up.
Polo, age 17: Pine and thyme with an undercurrent of indifference. Self-protective and closed, it covers the smell of pot. We think. There's no way to be sure. JJ pulls into the parking lot of the Piggly Wiggly with the broken lights across the front that spell igg y wig. I grab the camera. Inside the Iggy Wig JJ pushes an empty cart while I take pictures of frozen food. Later, we drive to the Church of God and sit in the back of a church bus drinking Little Kings. It's prom night.
Fahrenheit, age 19: Sandalwood and fire, high bright cinnamon and this year will be different. Four hundred, twenty-five miles from myself and no one to remind me of who I am, of what I was, or where I failed, the people I let down, the boys I fought with, the ones I feared, the girls I thought I loved. I'm a blank slate now. The only expectations are my own. I can lose my accent. I can smell like a man. I can smoke a different brand of cigarette. I can bury myself, all the embarrassments, the past, under a cloud of sandalwood and fire, high bright cinnamon and this year will be different. The funeral passes quickly. I stomp on its grave. A skeletal pastiche, quickly cobbled-together and ill-fitting, takes its place. Unsatisfied, I have no idea how much I'll come to hate it, the lengths to which I'll go to poison and destroy it, and how so many years later I'll come to mourn what I buried under sandalwood and fire, high bright cinnamon and this year will be different.
Previously in series: Girl Powder: A Cultural History Of Love's Baby Soft
Kevin Depew is a writer and editor living in New York City. He is available in all the usual locations, and sometimes writes a comment here at The Awl under the alias Screen Name.