Portable Speakers: Playing With the New AMP SP1
by Michael Macher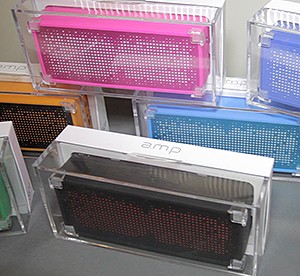 The mobile revolution has made portability an indispensable part of our lives. For better or worse, we do most of our work, communicating and computing on our tablets and phones. And for those of us who crave high quality audio there are now a plethora of portable speakers hitting the markets. And if you happen to be looking for a portable speaker, we recommend you check out the new AMP SP1. We recently had the opportunity to take the SP1 out for a test run on our mobile devices.
Here are the vitals: The SP1 allows you to stream all of your digital media from your Bluetooth-enabled device including your phone, tablet, computer, and mp3 player. It features a built-in microphone to pick up or place calls through phone, Skype, GoogleVoice, Viber, and more 30 feet of wireless connectivity and up to 10 hours of playback time. Sounds promising!
Here's how AMP has positioned the SP1:
Whether it's listening to music, watching movies, or playing games, Antec Mobile Products' SP1 portable Bluetooth speaker will let you hear your media the way it was meant be heard. And with built-in microphone and controls, you'll never miss a call; easily switch between your music and phone functions with the touch of a button. For even more convenience, pair the SP1 with your laptop and stay in touch through Skype and Google or pair it with your smart phone and use it with Viber.
And here are our impressions.
The Design
The SP1 features a clean, minimal design that tastefully incorporates unique color elements without looking over the top. The speaker has a perforated metal grill and is encased by a protective, tight-gripping rubber outer layer. The SP1 only has three buttons: volume up, volume down, and a pairing button for connecting the unit to your mobile device. We can definitely get behind this "less is more" design philosophy.
The unit is small, measuring out at 2.4″ x 6.2″ x 1.6″ and weighing just under 1 lbs. We found that the compact size and lightweight design allowed for easy transportation, and we were easily able to fit the speaker in our jacket pockets and small backpacks with minimal issues. As an added bonus, the SP1 is available in black, green and white, so you can choose based on your own design sensibility.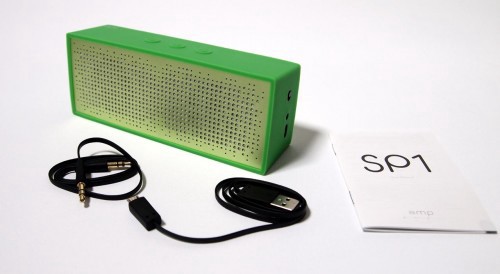 Audio Quality
Overall we were impressed with the quality of the audio coming out of the small SP1. We were able to easily connected the speaker to our bluetooth enabled Nexus 4 and start playing music. The speakers gave us loud, clear sound that feels surprisingly big. While we did experience some minor low end distortion while jamming on 2 Chainz at higher volumes, the audio held up surprisingly well for a speaker of its size.
We also ran a few calls through the SP1. If you're looking for a speaker phone solution for your home or office, this is a great option. Calls came through consistently and sounded great through the SP1. The rich, full audio quality of the SP1 actually made my interlocutors sound more like themselves, and less like the bizarro "phone voice" versions I've become accustomed to.
Conclusion
Overall we were very impressed by the design and performance of the SP1. Not only is it remarkably portable, but the versatility of use and quality of the audio make this unit a clear choice for people seeking to enable high quality audio on their mobile devices. And with pricing hovering around $90, the SP1 won't break the bank.
Here are the specs.
Tech Specs
Bluetooth: Bluetooth Ver 2.1 +EDR
Connection: Bluetooth or 3.5mm Stereo Cable
Bluetooth Range: Up to 10m (33ft)
Battery: 1500mAh Li-Ion Rechargeable Battery
Playback Time: Up to 10hrs*
RMS (Watts): 3W + 3W (THD 10%)
Frequency Response: 2.402~2.480 GHz
Support Profiles: A2DP, AVRCP, HFP, HSP,
Microphone: Yes
Color: Green
Controls: Talk, Volume Up/Down, Power/Pairing
Unit Dimensions: 62mm x 158mm x 41mm; 2.4″ x 6.2″ x 1.6″
Package Dimensions: 84mm x 184mm x 58mm; 3.3″ x 7.2″ x 2.3″
Net Weight: 0.83 lbs / 0.38 kg
Gross Weight: 1.3 lbs / 0.6 kg