20 Million People Freak Out Over Cop-Killing Ex-Cop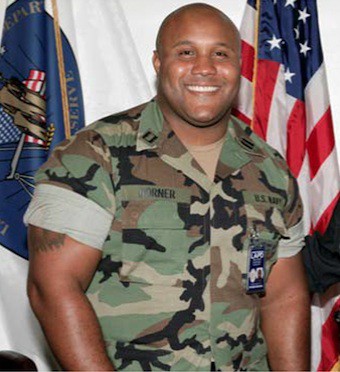 If you're one of the 20 million people who live in Southern California, you may well be locked in a closet right now, waiting for this Angry Hulk ex-LAPD guy to burst in and kill you. Christopher Dorner, the fired cop and Navy reservist, is blamed for the murder of three people and the wounding of another three people so far. He's currently on the loose in an area roughly defined by Nevada, Arizona, Mexico and California's Pacific coast. So keep an eye on everything! If you see a huge angry guy in a pickup truck, that might be Dorner … or it might be basically anyone you see driving crazy on the SoCal highways. Even more terrifying, the cops have all gone completely nuts with fear, so they're shooting everything, including innocent women delivering the morning newspaper to a cop's house.
During my regular walk in the desert hills yesterday afternoon, I came across a four-door pickup left at the dead end of a jeep trail in the Little San Bernardino Mountains. This usually means a young Marine from the nearby 29 Palms desert warfare base has found a nice place very close to people's houses where he can shoot several hundred rounds of ammo into energy drink bottles, because it's payday. Not hearing or seeing anyone blasting away with enough guns to kill everyone in the nearest town, I immediately made the next assumption based on experience: It was two Marines, and they were having secret sexytime.
Learned today suspect Christopher Dorner sent me a parcel at CNN. Inside was a note, DVD, and a coin shot thru with bullet holes.
— Anderson Cooper (@andersoncooper) February 7, 2013
Later, when I was safely back home with the Internet, I learned Dorner was on the loose "nearby" and the nearby mountains were swarming with SWAT teams and militarized police in snow gear. And his truck was just like the one I'd found, a four-door "supercab" Nissan. But because I regularly call the sheriff to report illegal shooting and the weekend rednecks who come out from the suburbs to race their off-road motorcycles around in circles and leave piles of Bud Lite cans and hamburger wrappers everywhere and shoot endangered desert bighorn sheep, I'm pretty sure the sheriff's department has me on the "ignore" list. Also, Dorner's pickup was supposedly found on fire in the nearby mountain town of Big Bear, and now Dorner himself is supposedly a hundred miles south in San Diego's redneck backcountry. He also apparently tried to steal a boat, and of course he left a very angry manifesto on Facebook, and mailed Anderson Cooper a coin that had been shot through the middle.