Things To Drink This Fall: Sorel Cocktails
Things To Drink This Fall: Sorel Cocktails
by John Ore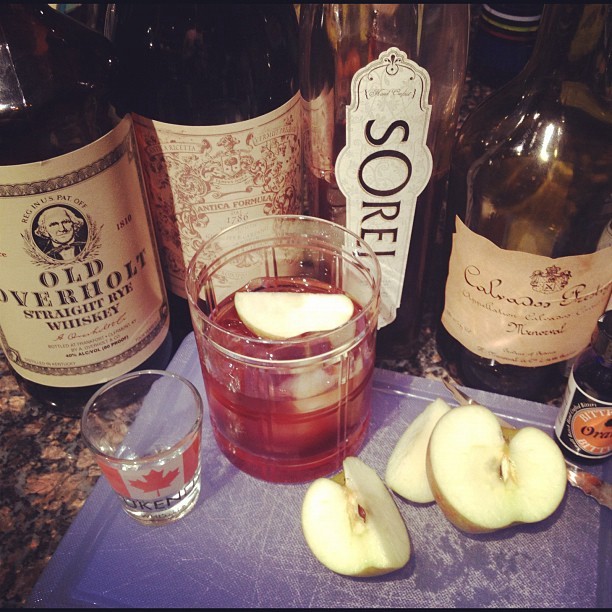 When the weather turns cold/apocalyptic, your cocktails need to step it up a notch, and your bitter aperitifs are no exception. Lucky for you, there's Sorel. Full disclosure: Sorel is an artisanal, handcrafted twee little liqueur made in — of COURSE — Brooklyn. So that makes this recipe something of a trend piece! And trend pieces should go with summer drinks (see Aperol!), not fall ones, right? But resisting Sorel is futile because it's good. Really good. Billed as a hibiscus liqueur, Sorel wraps up classic fall flavors like cinnamon, clove, ginger and rhubarb and is versatile enough to both complement or supplement things like sweet vermouth, Campari or other aperitifs.
Another disclosure: when I discovered Sorel, it was mostly because my local shop had had a run on Campari and Aperol. It was recommended by the staff there not as replacement, but as an alternative that leaned much more to the fall flavor profile. So I started playing around with it like a kid with a chemistry set, and it yielded this drink, which I call the Fall Classic.
I named it that because when I first mixed it I was watching baseball and I desperately wanted Tim McCarver to shut the hell up. Unfortunately, inventing a drink wasn't enough to make that happen. And then the Tigers lost the World Series. So, maybe, proceed with caution?
The Fall Classic
• 1 oz. rye whiskey
• 1 oz. calvados
• 1 oz. sweet vermouth
• 1 oz. Sorel liqueur
Stir, serve over ice, garnish with an apple slice.
You know what I love about this? It's 4 bottles, 4 shots, thrown in a glass over ice. That's it. Maybe add some bitters, if you are so inclined. No muddling, no cocktail shaker, no boiling anything. It tastes like fall, and with apologies (and a nod) to Emerson Beyer who shared a cocktail recipe here last week, that's also thanks to the calvados, a liquor I discovered by happenstance and have been happily drinking since.
The rye and calvados are seasonal in their own right, without being over-the-top. Adding a delicious vermouth like Carpano Antica formula, and Sorel add depth, spiciness and warmth without getting kitschy or needing a cinnamon stick for garnish. Plenty of apple, plum, and clove flavors, and it packs a nice punch to boot.
Apparently there also exists a cocktail with the same moniker concocted — of COURSE — by The Gramercy Tavern. Honestly, I never knew about it. Turns out, it's a little too high-maintenance — homemade thyme simple syrup? — so I feel like mine is simpler and therefore better. Take that, Danny Meyer.
My Fall Classic got my family through the World Series, and then Hurricane Sandy, and will help yours get through the holidays.
For those of you still clinging to the docksiders sans socks in 40 degree weather (you know who you are, because you're riding the F train with me), let's look up an old summer friend, add Sorel, and then awkwardly make out with him.
The Phony Negroni
• 1 oz. Old Tom Gin
• 1 oz. sweet vermouth
• 1 oz. Sorel liqueur
Stir, serve over ice, garnish with a cherry.
Some of us have a hard time saying goodbye to Negroni Season. Something about the combination of gin and French vermouth just begs the Negroni to overstay its welcome. This variation trades the crisp citrus of summertime drinks for a richer, warmer fall quaff. Swapping the Campari out for Sorel and using Carpano Antica extends Negroni Season well past your May-to-September romance. The Old Tom gin has a rounder, sweeter mouthfeel than, say, an herbal gin-and-tonic London dry gin, so the overall effect with the Sorel lends itself to something you'd sip while wearing a cable-knit sweater.
Artisanal Brooklyn snickering aside, Sorel-maker Jack From Brooklyn and other Red Hook-based distilleries and producers were also victims of Hurricane Sandy. I certainly don't prioritize booze-makers above the suffering and losses of local Red Hook residents, but having locally run businesses in that neighborhood help it thrive. So while you are assisting with relief efforts locally, feel free to consider supporting a local Red Hook business by buying a bottle or a drink.
Previously in series: Apple Brandy Cocktails
John Ore has not been compensated to endorse any of these products. Yet!