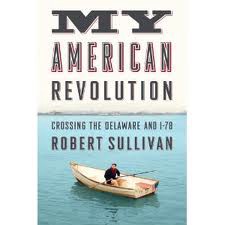 "'My American Revolution' gives geography and meteorology overdue recognition as historical catalysts, pointing out, for example, that strategically placed 18th-century signal points metamorphosed into cold war missile sites and finally into 9/11 memorials, in a trajectory that suggests a continuum. A revolution, after all, is something that orbits, or comes full circle, which Sullivan eventually does in a world 'before straight lines ruled the day.' The reader more or less returns to the starting point, but with a brand-new perspective."
 — There was a fairly glowing review of Robert Sullivan's My American Revolution in this weekend's
Times Book Review. Back in August, Sullivan took us on a tour of how the Battle of Brooklyn would transpire today. Also receiving praise over the weekend was the new collection of stories by Sherman Alexie, whose "Pachyderm" — a poem that made several people who hate poetry break down and cry — appeared here in May.