A Ton of Long Things You Can Start Watching on Netflix Now!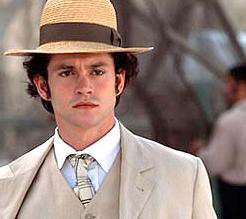 Shut in? Cooped up? In for the long haul? Well start enjoying the TV while you still have power! Let's indulge together. UPDATED!
• The entire Brideshead Revisited. It is ELEVEN EPISODES LONG and it is so fantastic. Really, just so enjoyable. There's two whole episodes that take place on a pitching ocean liner! And the best gay sidekick in history.
• "Alias" season one. Did you somehow not watch "Alias," as I did not? Well finally, FINALLY, they released the early seasons to the wild. Everyone's telling me to stop halfway through season 2 but of course I will not. I will abandon the show on MY terms. Spoiler: this show is surprisingly cheesy!
• Did you watch the original Swedish Let the Right One In — the wonderful, lovely, terrifying coming of age/vampire movie? Or did you, as is only appropriate, watch it but three times? Go for number four.
• "The Last Enemy": hubba hubba, some "early" Cumberbatch, in a little bit of Masterpiece Theater.
• "Any Human Heart" got kinda panned, but so far, its first two episodes of four are delightful. I'm at the part where Matthew Macfadyen plays the title character, which, GREAT.
• Iron Man 2. So great.
• "Daniel Deronda" was pretty amazing, if a LITTLE slowly paced. But it's a Hugh Dancy-Hugh Bonneville sandwich (that's LORD GRANTHAM to you), and if you like Jews, you are in luck.
• Velvet Goldmine! Did you ever actually watch Velvet Goldmine, or did you keep putting it off and putting it off until you never actually watched it? Well you were right to do so, but it can scratch a good itch. It's wild and wooly.
• And it makes a spectacular double-header with hilarious but rather lovely freakfest and David Bowie vehicle The Man Who Fell To Earth.
• There are also: "Battlestar Galactica" season one; "Mad Men" season one and then a whole lot of garbage.
• Here's a good one from Shani: "'Pasta,' the second-best Korean-language drama on Netflix (after 'Boys Over Flowers,' which is like 'Gossip Girl' on meth). About a girl who works at an Italian restaurant in S. Korea and falls in love with her sexist boss after he negs her a whole bunch and gives her lots of smoldering glances." Um, I'M IN.
• And Richard points out that "My So-Called Life" is all up in that piece! (And also Geek Charming, an ABC Family movie.)
• Matt points out that both Ran and Kagemusha are up on the Netflix. You simply must watch Ran for the textiles.
• Joel points out that all of "Dollhouse" is still on there, which I did and enjoyed last year. It's actually LESS cheesy than "Alias."
• Lois would like to add Marwencol (yes!), and the English comedy "The IT Crowd," which I have never seen, and may shortly!
• Adam would like to add Jiro Dreams of Sushi which people LOVED, and also Anvil: The Story of Anvil, because he has terrible taste.
• Oh, of course you know our feelings on "Doctor Who."
Oh and there's more!
@joeljohnson @choire @awl Quirky docs: State of Mind (BBC in North Korea) and Make Believe (youth magic world championships)
— Mark Wilson (@ctrlzee) October 29, 2012
@moorehn @choire @awl Ghandi…three hours of how to be calm in the face of danger and oppression 🙂
— jgrprinceton (@jgrprinceton) October 29, 2012
@choire @awl The X-Files is on there, in all its Clinton-era glory.
— Dennis (@tansahsa) October 29, 2012
— Jeff Long (@jblong) October 29, 2012
OMG this is true, I loved season one of "Damages":
@choire Glenn Close's "Damages" is on Netflix & the first season is amazing
— Sarah Pavis (@spavis) October 29, 2012
@choire @awl The Paper, for the news-junkies, also Kagemusha and anything else by Kurosawa.
— Eric Vilas-Boas (@VilBo) October 29, 2012
@choire @awl Luther series 1 & 2-the spectacular (& hot) Idris Elba plus amazing supporting cast in my favorite new/old London procedural.
— glace (@glace) October 29, 2012
@choire @awl Lee Pace is really hot in The Fall. There's also Bronson if you're in the mood for that and Tom Hardy.
— Elisabeth Donnelly (@heydonnelly) October 29, 2012
@choire @awl "Sherman's March" by Ross McElwee. It's almost three hours! (And very good.)
— Jessica Weisberg (@jessicaweisberg) October 29, 2012
@choire @awl The Long Good Friday (Helen Mirren/Bob Hoskins in 1980!), One Two Three, Skins, The In-Betweeners, In the Loop, Luther.
— SCAREdithmo (@meredithmo) October 29, 2012
@choire If Terriers was about higher-class people/Britons, it would be huge on Netflix. Really great, smart series.
— Jack Stuef (@stuef) October 29, 2012