The Politics Of McCarren Park Pool
The Politics Of McCarren Park Pool
by Aaron Short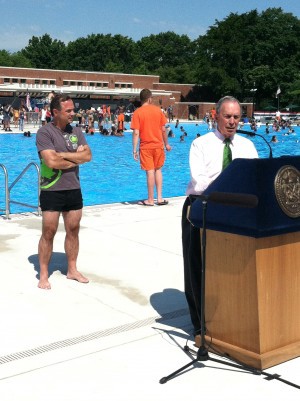 On June 28th, public officials, neighborhood civic leaders, parents and their eager toddlers, poured under the iconic vaulted archway of the McCarren Park Pool.
For the actual poolgoers, it was their first visit inside the building since at least 2008, when the Parks Department permitted a series of ticketed and free live shows in the pool's empty basin. For some, it was step all the way back into their childhood, when summer meant splashing around Greenpoint with thousands of their friends.
On Thursday, everyone saw what the outdoor pool had become, for $50 million, here were one million gallons of cerulean blue water with tufts of surf, a mirror to the sky.
A gaggle of television cameras, photographers and reporters flanked the center of the concrete beach deck just beyond the archway as Mayor Bloomberg, Borough President Marty Markowitz, parks leaders, and Brooklyn Brewery founder Steve Hindy thanked each other for making the moment possible.
When their remarks concluded, a hundred swimwear-clad adolescents and surprisingly strapping Parks Commissioner Adrian Benepe eagerly straddled the lip of the pool awaiting the honor of making its first splash: Bloomberg counted down from 10.
The city's press corps hustled to the north side of the pool to film the ritual. Even the New York Post's David Seifman, cracked a smile. The children went in; their parents followed them into the wading area. Lifeguards in traffic-cone orange dispersed to their posts.
Bloomberg took questions from the media, who asked about appellate court judges who threw out a stop-and-frisk conviction, the recent primary elections and the neighborhood's lack of open space. His responses grew increasingly testy as the temperature inside the pool began to rise, and he handed off the microphone to a dripping, barefoot Benepe to steer the conversation toward the city's investment in parks.
"The mayor's five-borough plan for making great neighborhoods begins in many cases in parks, and I just feel so lucky to have been parks commissioner under a mayor who cares more about parks than any mayor in history and a deputy mayor who believes in great design," he said. "I just feel very proud and humble to be part of this. It's so vast, there's so much going on you almost can't wrap your mind around it. If you look at every corner of the city, parks are being built in neighborhoods across the city and I feel proud to be part of it."
The event was everything Bloomberg and the Parks Department could have hoped. The joyous sounds of summer returned to a neighborhood where they had been quenched since 1984, and press coverage was a maelstrom. It almost washed away the decades of mismanagement, public infighting, and racial tensions that stymied the pool's rehabilitation across four mayoral administrations.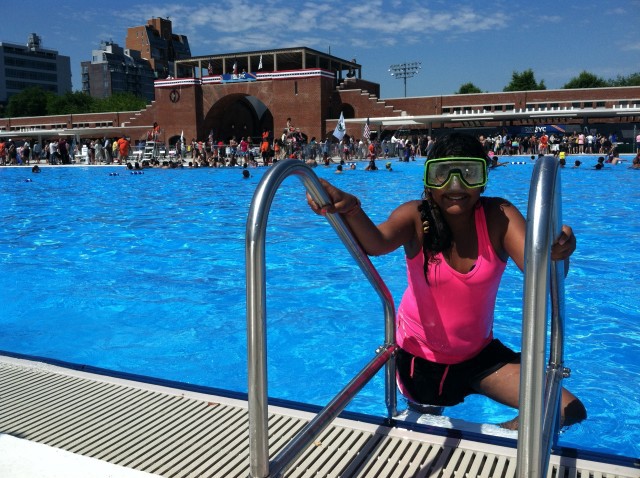 Willis Carrier developed an electrical air-cooling unit for the Buffalo Forge Company in 1902, when a Brooklyn-based lithograph and publishing company needed to keep its Grand Street facility from warping its print products. But air conditioners did not become common in residences and office buildings for another five decades.
Brooklynites from Sheepshead Bay to Greenpoint congregated off the Coney Island boardwalk, forging an indelible connection with the county's coastline. Others went to bathhouses, including the Beaux-Arts indoor pool on Metropolitan Avenue, which opened in 1922. Others braved dangerous currents and waded in the East River, where hundreds have drowned.
Landlocked residents anticipated the daily visit from an ice-man. "You took a chunk of ice out of the ice box and suck on it," said Williamsburg resident and former Community Board 1 chairman Vincent Abate Jr. He is 94, and in the 1930s his family paid $45 a month for an apartment off Havemeyer Street. "You'd get a nice cold feeling. We never had air conditioning. Never had refrigerators. Back then ice-man would deliver the ice. It was a trip."
Abate spent his teenage years playing baseball (shortstop) on athletic fields at the northern edge of McCarren Park, near a farmhouse that shared a name with the park. Home plate was near Lorimer Street and the outfield was near Manhattan Avenue.
"A lot of times, people hit a ball in the outfield, you wouldn't always know which team hit that ball. It was a comedy, but that's the best we had," said Abate.
But the city had grand plans for the fields. Parks Commissioner (and avid swimmer) Robert Moses eyed the property for one of 11 gigantic public pools he wanted to build throughout the city. When the federal government enabled the spending of about $10-million in Works Progress Administration funds, Moses pounced and used the New Deal pork to fund the projects, including a 6,800-person-capacity outdoor pool in Greenpoint.
Mayor Fiorello LaGuardia christened the McCarren Park Pool on July 31, 1936 — a day that reached a high of 106°F. At the time, it was the largest public pool in the world.
The grounds became the neighborhood's premiere social attraction, the Coney Island of the north, for nearly a half-century. In its off season, parkgoers used the pool grounds for a variety of outdoor sports, including paddle tennis, shuffleboard, volleyball, handball, boxing, roller skating, even dancing.
"It was wonderful," said Greenpoint septuagenarian Tish Cianciotta, who became a member of Community Board 1. "That was our area. We went swimming there. I remember diving off the diving board. That's not in operation now. But that's where we went. Nobody had money to go to a country club or a lake. You were here in the community, and everybody took advantage of the fact that the pool was open."
Assemblyman Joe Lentol, whose father was also an assemblyman, as was his father's father, started going to the pool when he was about 12 or 13. His family moved from S. Second Street in Williamsburg to Greenpoint in 1955.
"From Williamsburg it was too far to consider, even though kids today come to the pool from there," he said. "We went to the Metropolitan Pool when it used to be called the Metropolitan Baths. People had to wait in line like they do now. Even in the 1950s, the crowd was diverse, including white, black and Latino children from, Williamsburg, Bedford-Stuyvesant, Bushwick and Greenpoint. That didn't matter to most swimmers."
"It was a lot of fun," he said. "As teenagers, you could meet girls tat the pool, dive off the diving board, though I didn't like to dive because I didn't know how. I was afraid I would belly flop. I jumped off once in a while. But I was a good swimmer. I could swim in the deep water. My father taught me how to swim at an early age."
Abate, who made a popular soda brand called Kist that sold well in Brooklyn, recalled the pool as a true melting pot.
"This was an Italian neighborhood and nearby neighborhoods were black and Latino. Everybody went along. We weren't rich people either. Most of the people came from Bed-Stuy, places like that, because it was the closest pool they could get to. This was a white neighborhood, so there may be an incident here or there. It wasn't that bad."
Around the City's near-bankruptcy in the mid-70s, the pool began to languish. Vandals tagged the pool's walls with graffiti and stole machine parts from its vast, submarine-like engine room. Hooligans regularly threw glass bottles into the property, forcing the Parks Department to delay openings. Former Community Board 1 member Bob Bratko recalled three separate occasions where teenagers broke into the building, set up tents and "cavorted" overnight.
During operating hours, police rarely cracked down on rowdy behavior. There were periodic episodes of harassment, violence, and theft inside the pool and outside its grounds, though they were no means unique to McCarren Park.
"There were incidents like that all over the city," said Ken Fisher, a former Councilman who represented the area. "Crime in the city was rampant, in the verge of being out of control. Every pool had issues."
Brooklyn Parks Commissioner Julius Spiegel, awarded the newly created title in 1981, said that McCarren Park was increasingly a struggle to keep operational.
"If you were swimming, you wouldn't know it was in disrepair, but it was hard for our plumbers to make it operate. If you go to the mechanical room there are thousands of dials. You need skilled people to maintain it and it became increasingly more difficult. It would occasionally spring leaks and we'd repair them but I don't recall it being ever closed for mechanical reasons," he said.
"There wasn't enough money to take care of projects, which fell into a state of disrepair, and bridges, tunnels, and pool suffered the same type of deterioration," said Lentol. "As a result, it wasn't used as much as by the white population. It was being used in the late 1970s and 80s mostly by folks coming from other neighborhoods, including Williamsburg, Bedford-Stuyvesant, and Fort Greene, and there was a lot of discontent from residents in Greenpoint."
By the early 1980s, City Hall determined its outdoor pools had "outlived their useful lives," as Spiegel put it, and scheduled significant renovations for the entire system.
Manhattan Councilmember Henry Stern, who Mayor Ed Koch appointed Parks Commissioner in 1983, said McCarren was considered "huge" for the area. "The city felt that summer they couldn't maintain it anymore," he said. "It was in such a state of decay."
The pool closed at the end of the summer of 1984, but plans were already underway to fully restore the facility.
Councilman Abe Gerges put aside about $6.5-million in the city's 1984–85 budget to rehabilitate the facility. But when the contractor showed up, several local residents chained themselves to the construction fence and wouldn't let the workers onto the grounds. Gerges got cold feet and recommended the Koch administration hold off renovation plans.
"He was confident they could work out a compromise between people who didn't want a pool and those who did," said Spiegel. "It wasn't his call to stop construction. It was the city's call. But the city gave in to his request."
The community board argued whether the pool should remain open. Parks officials grew impatient.
"There was a limited amount of money and there was competition to that money between different councilmembers," said Stern. "Why give money to McCarren if the community was divided? Some people liked it but others, typically older white residents, complained about it. There were racial issues. The neighborhood was afraid of violence and that the police would be unable to contain it."
Lentol said negotiations between the city and the community board were "difficult."
"Abe worked as hard as he could to reach an agreement," said Lentol. "He knew like I knew that if we couldn't reach an agreement the Parks Department would take their money and spend it on other Parks' projects. And that's exactly what happened."
"The excuse at that time was the pool was too large to handle," said Abate, who served as Chairman of CB1 for 30 years before retiring in 2009. "It was exceptionally large. That's what we were told. That was it. We thought it was ridiculous to close the pool, but they decided to close it and that was it."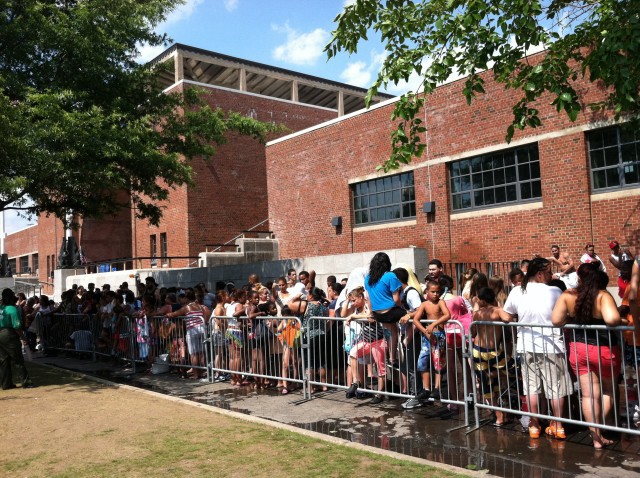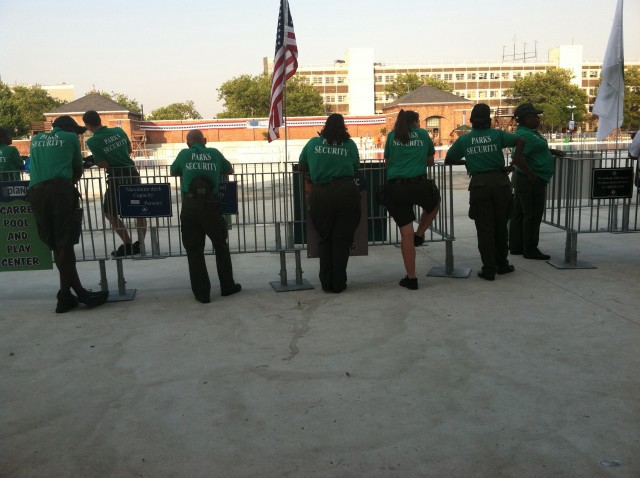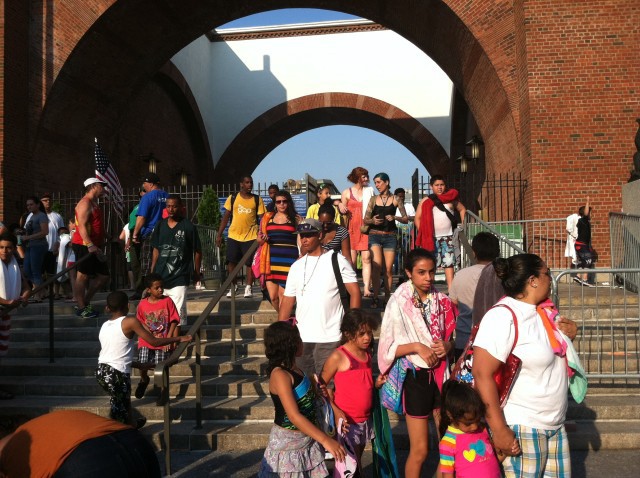 Less than 36 hours after the pool officially opened, a melee broke out inside the pool, and the City shut down the pool an hour early.
At 6:15 pm on June 29, several teenage swimmers started doing backflips into the water, against the rules. A lifeguard told them to knock it off. One of the kids swung at him, busting open his lip. Other people climbed up lifeguard chairs that rose half a story above the pool and started jumping on plastic lounge chairs that lined its deck.
Lifeguard whistles pierced the air. Ten Parks security enforcement officers in peppermint-green polo shirts rounded up the remaining swimmers and directed them toward the exit.
Poolgoers responded by unleashing a flurry of tweets, and the story hit the New York Post.
"I blame their parents — if kids don't know how to act, it's their parents' fault," said Selena Ventura, a youngster who left the pool on Friday evening but promised to come back.
One Parks worker even floated the idea of charging for pool use. "There will be fights and problems throughout the summer — because it's free," he said. "They need to charge a little money to keep the riff raff out."
Three days later, another fracas occurred.
At 5 p.m., lifeguards and security officers ordered several young people to stop running and diving. One kid allegedly punched a police officer. Cops arrested three teens, charging the one with assault and the other two with disorderly conduct.
The Post called the pool a "mini-war zone" and then questioned a policy of inspecting swimming trunks, local television stations called the pool "plagued by a wave of violence," Gothamist pondered whether the facility was "doomed to repeat its infamous past," and The New York Times shifted its coverage from enraptured nostalgia to tempered apprehension.
The Times quoted one pool neighbor, Miss Mousey Brown owner Meredith Chesney, who was frustrated that someone had defecated in front of her salon on Saturday morning. That story earned derision from Gawker's Hamilton Nolan, who ridiculed the Times for conflating the pool's opening with broader narratives about hipsters, race, and gentrification.
Bloomberg snapped at reporters who questioned him about the first incident that occurred on Friday. Benepe told the Daily News that a "couple of meatheads" were the cause of the brawls and the pool didn't warrant extra security. He added, in an interview with WNYC's Brian Lehrer, that "racial and economic tensions were not to blame" for the rash of violence, which consisted of "isolated incidents.
Geoffrey Croft, New York City Park Advocates Inc.'s longtime director and a persistent thorn in the side of the Parks Department, said that the city lacked an adequate security plan for McCarren Park Pool from the beginning.
"All of this was foreseeable," he said. "You had two NYPD officers. Every year there are dozens of incidents in pools. And this pool has had a history. You have to set a tone, and to be very honest, there wasn't anybody on the pool deck on the first day or the second day. The cops were outside. It was a euphoric sensation. It was a beautiful day, this is a beautiful pool, and the opening was great. People were lulled into the fact that this is the way it's going to be. But it was a fantasy. It wasn't until a lifeguard incident 24 hours later, when he was pushed, that some people were shaken back into reality. When you invite thousands of New Yorkers to one place in hot water, that incidents are invariably going to happen."
Croft counted four police officers and four Parks security officers on the pool's first full weekend open. On July 4th, two days after the second incident occurred, Croft counted 20 police officers and parks officials outside the pool grounds and another 15 inside.
Croft argues that the pool is still severely undermanned and that there must be a "presence" to prevent further roughhousing. He blasted Benepe for saying that security would not increase throughout the summer.
"Adrian completely lied to the News reporter in that piece," he said. "Adrian is allowed to have his opinion on people who do this kind of stuff. But to tell a reporter that they have no plans of stepping up security when they've already increased it by 4,000 percent. I get calls from reporters about this. Adrian has had issues with veracity. That's not a secret. They had 28 years to get a proper security plan down and they didn't do it. And Adrian and the press people keep telling people they're not going to increase security. That's ridiculous. They've already done it."
Chesney believes that the pool will stay under control — as long as the Parks Department continues to fund its maintenance and security.
"Better planning would have helped its debut not be marred by obvious omissions, including Porta-Potties, street cans and some transportation needs, like a reduced speed zone and a pedestrian crosswalk right in front of the pool," she said.
She also said the City should add more signage to educate swimmers and prepare them for their experience.
"It could inform the guests of the park's expectations from them and potential penalties if they don't abide by the rules," she said. "Trouble-makers are easier to identify from mistake makers, if there is less room for mistakes. Attention to those details helps create a culture of safety and respect for everyone. It sets a tone to see that the city wants people to be safe, cared for, and respected."
Croft believes that parks officials must continue to educate the public about proper pool etiquette.
"For a lot of people going to a public pool is a new experience — and for many people, horsing around is part of pool culture," said Croft. "You just don't lie there on pool decks. This isn't the Hamptons. Part of having fun is splashing around and throwing your friends around. But when you go to a crowded city pool, there are other potential issues of people getting hurt. And when an authority figure tells you to stop doing that, you have to stop doing that."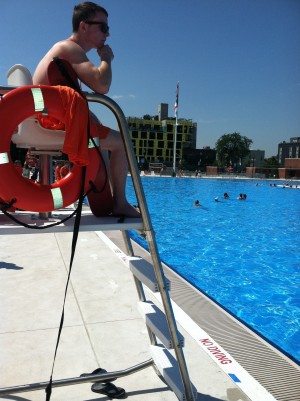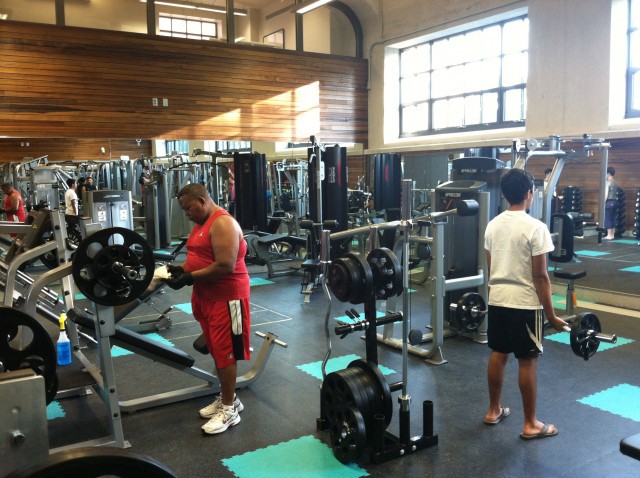 In 1986, Community Board 1 members, led by Parks Committee chairwoman Jan Peterson, began holding town hall meetings throughout Greenpoint and Williamsburg to determine what kind of pool the neighborhood wanted.
The hearings were contentious.
"There was a divide between black and Hispanics in Williamsburg and the Greenpoint general area, which included Italian and Polish," said Peterson. "One group remembered it being it safe and nice and the other group remembered when the other group came, it became not so safe and nice."
Board members steered discussion away from topics like "the other group" and toward why the city closed the pool in the first place. At the hearings, board members discovered that the city drained the numbers of management and staff to maintain security, including matrons to kept men's and women's changing rooms in order. Peterson also noted that few people actually learned to swim in the pools and that other facilities had more comprehensive recreation centers.
"The whole focus was to allow a lot of people to come in and mill around but not learn the sport of swimming," she said. "It was supposed to be a place that only cooled people off. It was just a big bathtub. We became not happy with that and began to look at how to redesign the pool so families and younger children could use it, swimming classes could take place, and people could learn to swim and use the water. And when we weighed in on the management, design, and other issues, we got the community to move from fighting each other across racial and ethnic lines to looking at how this could work. People really came together."
By 1988, Community Board 1 signed off on Councilman Gerges' $15-million plan to turn McCarren into Olympic-size facility that could hold up to 2,000 people, about one-quarter its original size. The proposal also called for a year-round recreation facility to replace two dilapidated Moses-designed wings on either side of the entrance archway, which would be torn down.
A group of neighborhood artists and preservationists questioned the city's plans to renovate the pool while demolishing the wings. Artist Phyllis Yampolski, who led the effort, first set foot in the pool for a performance piece on its grounds in November, 1988. She called the building "moving, a lonely abandoned, graceful, and majestic immensity of space — a big silent hole in the middle of a world of urban congestion."
Yampolski and four other activists launched the group "Independent Friends of McCarren Park," and sought to convince Community Board 1 and city officials to block the renovation plan and preserve the pool's entire structure.
"At that point we did not know the pool's history and its credentials," she said. "We knew that an injustice was denying the neighborhood its pool and that this pool was a masterpiece of beauty. We also did not know that the New York City community of architects and preservationists were watching this tragedy unfolding but could do nothing because no one from within the community was saying anything."
Once again, the city suffered a fiscal crisis and the pool plan was shelved. But this time, Gerges secured $350,000 for the pool's demolition, arguing that it was not worth saving.
Yampolski began holding press conferences drawing attention to the campaign and historic preservationists, including then-President of the Brooklyn Chapter of the American Institute of Architects, I.D. Weston, and members of the New York City Arts Commission joined the effort to prevent its destruction. She organized festivals in support of the pool in 1989 and 1991 and also recruited influential Williamsburg black leaders to the cause, including Community Board 1 member Mildred Tuddy, who argued that the plans smacked of racism. Soon the demolition move was also scrapped.
Board members supporting the original renovation plan, including Peterson, who had since temporarily moved out of the neighborhood, watched in frustration from afar.
"She used Robert Moses as a reason for historic preservation," Peterson said. "We did care about historic preservation but Robert Moses hurt this community. He built the Brooklyn Queens Expressway through Williamsburg, tore down Mount Carmel Church and split the Italian community. Why do we have to celebrate him for historic preservation?"
Peterson bristled at the way race and class entered debate over the pool.
"Race gets used to cover up everybody's sins, instead of the fact that it had to do with management," she said. "That pool was designed to be a big wading pool for poor kids. It was just a place to get out of the heat. It was not designed for swimming. I'm not saying there isn't a racial dimension, there's a racial dimension in everything that goes on. It's what you do with the racial dimension."
Parks officials called Yampolski an "obstructionist."
"She was less interested in the pool and more interested in the bathhouse," said Spiegel.
"We were going to demolish and rebuild the bathhouse, and that's when Phyllis got Landmarks people involved and squashed the plan to replace the bathhouse. It wasn't a pool issue. There was a compromise plan to build a smaller pool and a year-round gymnasium, and Phyllis said 'No, you can't tear down the building.'"
In 1992, Councilman Ken Fisher succeeded Gerges, promising to revive the pool's restoration plans where his predecessor had failed. But the city was running budget deficits over $2 billion and neighborhood opposition to the board's proposal solidified.
Parks committee member Bob Bratko toured the interior in the early 1990s with other board members and remembered being shocked by what he saw.
"The women's locker room was soldered shut and the toilet area in the men's locker room was destroyed," he said. "Much of the copper piping was taken out. The walkways were broken. All the walls, the arch, and two fountains were covered with graffiti. The pump house had been destroyed. There was shrubbery growing through cracks in the deck. It was a disgrace that the facility was allowed to reach a state of deterioration. It was a disaster."
Bratko and other board members had formed a new committee called the McCarren Park Task Force. The group reviewed several plans to restore the pool, including one that called for making it into a soccer field, but discarded all of them.
In the late 1990s, the committee endorsed a proposal to take down the wings and the archway entrance, but the Parks Department dismissed it. Mayor Rudy Guiliani even held a town hall meeting at MS 126, a block from McCarren Park, to gauge support.
"Giuliani asked for a show of hands of how many wanted the pool as it was and how many wanted the pool to be changed," said Bratko. "And it was 50–50, so he said, "We can't do anything. There's not a majority of the people who want any plan for the existing structure at the time."
But the board members had an ally in Fisher, who tussled with preservationists and reignited discussions.
"Eventually I told the opponents to buzz off," said Fisher. "The general idea was that you wanted to have indoor facilities for year-round use, a café, and that the pool should be considerably smaller. I got lobbied by the preservation advocates, residents and architects and eventually I made the decision I wasn't going to listen to what Yampolski had to say anymore."
So, in 2001, Fisher allocated $24-million for restoring McCarren Park Pool. Less than three months later, the September 11th attacks, occurred, and the city's capital budget froze.
A new wave of leadership entered City Hall in 2002, when Michael Bloomberg became mayor and scores of new councilmembers took office. Longtime parks officials hoped a new administration would support a bevy of stalled projects, including McCarren Park Pool.
Councilman David Yassky, who succeeded Fisher, met with new Parks Commissioner Adrian Benepe early in his tenure to discuss the pool. Benepe joined the department in 1973 as a teenage seasonal helper in the Lower East Side's East River Park, became an Urban Park Ranger in 1979 and rose through the ranks of the agency, becoming Manhattan Borough Commissioner in 1996.
"Adrian grew up in the parks department. He was enthusiastic about this project from the beginning," said Yassky. "I remember talking with Adrian very early in the first couple of months that I was elected, when I said this needs to be a priority and he said 'This is already a priority.' Like any big project, there's a threshold question of are you interested, and then crossing the threshold to provide a real plan that people can support."
But Bloomberg had something even more ambitious in mind that reopening the pool — luring the Olympics to New York City for 2012.
City Hall hoped to build a number of athletics projects throughout the city, including a new stadium on Manhattan's West Side, an Olympics village on the east side, a rowing course in Queens, a velodrome in the South Bronx, the refurbishment of a Harlem armory, an equestrian center in Staten Island and an aquatics center in Greenpoint.
The city lost out on its Olympic bid to London in 2005, but the process focused the Bloomberg administration on remaking the city through public capital projects. And the Parks Department saw a mayor who was not afraid to spend political or actual capital.
"We took baby steps," said Spiegel. "The first step was proposing it when the city was going after the summer Olympics. This was going to be the training pool for Olympic swimmers. That put it on Bloomberg's radar."
Some neighborhood residents were still reluctant. Yassky believed that the board would have dismissed a bid to renovate the pool if it came to a vote in 2002 and 2003.
"There were people who didn't want to see the pool reopened at all," said Yassky, who secured money from the city budget to resurface the McCarren Park track in 2003. "And there was debate about whether to reopen the entire pool, renovate the entire existing pool or redo the site. It seems clear to me that you might as well redesign the whole site, but there were people who wanted to keep what was there, the original-sized pool, and get it to working order."
Many of the dissidents who opposed the pool had begun to cash out and relocate from Greenpoint and Williamsburg as property values around McCarren Park soared.
"Some of them moved away — their properties were so valuable they sold out and moved out of Greenpoint," said Lentol. "They weren't as many voices that used to exist. A lot got older, a lot moved away, and others no longer had an interest in fighting for or against the pool."
In 2005, Clear Channel began discussions with the city to allow programming inside the vacant McCarren Park Pool. The global entertainment company gave the City Parks Foundation $250,000 in 2005 to hold a dance performance choreographed by Noemie Lafrance and her company, Sens Productions.
At the same time, community leaders grappled with the Bloomberg administration's controversial rezoning proposal that called for the conversion of hundreds of industrial properties along the Williamsburg and Greenpoint waterfront for residential usage. In exchange, developers would set aside 20 percent of the new buildings for below-market-rate units and the city would build dozens of new parks and a public esplanade that abutted the East River. The city also agreed to appropriate $1-million to convert the pool into a temporary performance space for summer concerts.
One year later, Clear Channel's promotional arm, Live Nation, held ticketed shows at the site as JellyNYC and the parks department's nonprofit partner, the Open Space Alliance, held a series of free events.
Meanwhile, the Bloomberg administration began to pivot from the failed Olympic campaign to adopting a broader, long-term vision for the city called PlaNYC. Deputy Mayor Dan Doctoroff approached parks officials for potential capital projects it would like to see funded. Spiegel put forward two projects for consideration — several ballfields in Gravesend that encompassed Calvert Vaux Park and the McCarren Park Pool.
The latest iteration of the plan consisted of a four-foot pool that accommodated about 2,200 swimmers and the restoration of the archway and its wings, which would serve as changing rooms and a year-round recreation center. It would cost $50 million.
In 2007, Mayor Bloomberg announced that the city would fund the restoration of the pool as part of his PlaNYC initiative. Construction would begin two years later and the final design of the pool would accommodate a maximum of 1,500 swimmers.
Spiegel believes that neither the concerts nor the neighborhood's increasing wealth caused the Bloomberg administration to advance the project. He called the pool's decades-long fallow period a "civic embarrassment."
"People say, now that it's become gentrified, the city is building it," said Spiegel. "I'm convinced it would have happened without the concerts and it had nothing to do with gentrification. No councilmember is able to come up with $50 million to fund one swimming pool. It was revolutionary for City Hall to fund it."
Some public officials praised Bloomberg for having the political will to finish the project.
"I definitely give Bloomberg a lot of credit for this," said Fisher, currently a real estate attorney. "You went through three mayors who were not opposed to doing something but who did not actually implement it — and Bloomberg did."
Others credited Spiegel.
"It took someone like Julius Spiegel to get backing of neighborhood public officials to unite and save the pool," said Lentol. "Spiegel was about to retire and he made this a big priority in stewardship of Brooklyn Parks Department. He wanted to restore it to its original beauty. He wanted it to be its legacy and enlisted all of us for support."
Finally, after 23 years, construction would begin on McCarren Park Pool and summer could return to Greenpoint.
***
Poolgoers must stand in line on Lorimer Street as security officials ask you to show your lock and remind you no food is allowed. The wait can be as long as 45 minutes to an hour on some evenings and weekend days, but the line shuffles along until the pool reaches its 1,500-person capacity. Swimmers will not pass through the gates until someone else leaves for the day — a strict enforcement of the park's public safety.
Once inside, a Parks worker directs boys and men leftward toward their changing room and points girls and women to the right. Everyone must put their property in a locker, secure it and line up to take a shower, courtesy of the city's Health Department, before being permitted onto the pool deck.
After your shower, another Parks worker inspects your towel, to make sure you're not hiding any weapons or food, and checks that you're wearing a proper bathing suit with lining that won't bleed a dye into the pool. Flip-flops and sandals are permitted onto the deck, but boat shoes and sneakers are not.
The C-shaped pool itself is divided into two primary areas — a square wading area for infants and toddlers near the men's changing room, and a vast four-foot L-shaped for another 1,000 swimmers.
Even at its capacity, the pool manages the remarkable feat of dispensing a sensation of calm. And the shared experience of being wet and half-naked with many of your neighbors is exhilarating.
Yassky, now the city's Taxi Commissioner, called the pool "a huge new amenity and asset for the neighborhood with 100-percent upside." And his predecessor, Ken Fisher, said the pool will attract revelers throughout the city.
"If you're a poor kid from Cooper Park Houses or a longtime resident from Bedford Avenue or a junior banker in the Edge, you don't know who's going to be in the pool when you get there," said Fisher. "Everybody is going to the pool for the same reason, to get into the water and hang out with their friends. It's not any different from any other open space in the city."
"Once the money was going to be available, the dream was going to be a reality," said Ciancotta. "I always hoped that my husband, Guido, and I would live to see the pool open, and we did."
Aaron Short is a Brooklyn-based journalist who reports for the political magazine, City and State. His writing has appeared in The Brooklyn Paper, The Brooklyn Courier, The Observer, Capital New York, Playgirl, and The New York Post.