A Letter from the Theater Community Regarding David Adjmi's "3-C"
by Jon Robin Baitz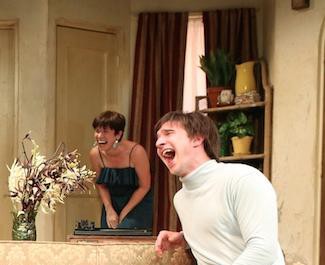 On June 6th, David Adjmi's play 3-C opened Off-Broadway, and the same day, he received a cease-and-desist letter. Without legal counsel, he felt compelled to agree that the run of the play could not be extended — and that it would never be performed again. In this open letter, a group of playwrights, theater professionals and performers explain why this is so wrong.
Playwright David Adjmi, whose play 3-C just closed a run at Rattlestick Theatre, has received a threatening "Protest Letter" from the law firm of Kenyon & Kenyon, which represents DLT Entertainment, the owners of the long defunct TV sitcom "Three's Company." The letter accuses him of copyright infringement, and demands that he cease further performances of the play, provide them with an accounting of all revenues from the play to date, and furnish them with his written assurance that he will comply with these demands. The letter claims that 3-C damages their client's property, which is being developed for the stage. In comparing the works, the lawyers note that "Connie is sexy and jiggles just like Chrissy," Mr. Wicker makes gay jokes, as did Mr. Roper, and notes further that the play features slapstick comedy, which apparently is the sole property of "Three's Company." It goes on listing the similarities between the works. Yes, David's play satirically invokes the sitcom in question as a template upon which to de-construct the mores and tropes of that time. It is clearly and patently and unremittingly parody, to the extent that it depends on Three's Company's 1970s attitudes towards sexual relations, etc., in order to slyly examine the underlying brutality and bigotry attendant to American popular culture of that era. (And since then).The critical response to the play has generally acknowledged 3-C's exploration of the essential aloneness of the characters, and the toxic suffering they endure. Mr Adjmi's intentions are not to replicate Three's Company, but clearly and patently to mutate it into something dark and frightening, savage even.
Parody has been recognized as protected speech by the Supreme Court again and again. (Think of the highly publicized case of Hustler Magazine Inc. v Jerry Falwell, in which the minister sued the magazine publisher over a mock Campari ad in which he was portrayed as having a drunken sexual encounter with his mother in an outhouse. I could go on and on, listing such examples, some more outré, some less.) To quote the First Amendment Center:
A parody is an attack on folly, but it takes the form of a contemptuous imitation of an existing artistic production — usually a serious work of literature, music, artwork or film — for satirical or humorous purposes. Satire and parody have served for generations as a means of criticizing public figures, exposing political injustice, communicating social ideologies, and pursuing such artistic ends as literary criticism. Satirists usually find themselves subjected in turn to criticism, contempt and, sometimes, lawsuits. The First Amendment protects parody as a form of free speech and expression.
I am not a lawyer, but David may need one, and I am currently investigating the willingness of a respected First Amendment firm to take this case on pro-bono. That an off-Broadway playwright should be bullied by a Wall Street law firm over a long-gone TV show, is, in and of itself, worthy of parody, but in fact, this should be taken seriously enough to merit raising our voices in support of Adjmi and his play, which Kenyon & Kenyon is insisting be placed in a drawer and never published or performed again. Whether one appreciates the work or not is immaterial; the principle at stake here is a basic one. Specious and spurious legal bullying of artists should be vigorously opposed, and that opposition must begin first and foremost with all of us in the New York Theatre community.
Sincerely,
Jon Robin Baitz
Andre Bishop (Artistic director, Lincoln Center Theatre)
Tony Kushner
Martha Plimpton
Joe Mantello
Stephen Sondheim
Terrence McNally
Kenneth Lonergan
John Guare
Chris Shinn
Pippin Parker
John Patrick Shanley
Jose Rivera
Craig Lucas
Peter Hedges
Jim Nicola (Artistic Director, NY Theatre Workshop)
Steven Karam
John Steppling
Alisa Solomon
Terry Kinney (co-founder, Steppenwolf Theatre Company)
Stephen Adley Guirgis
Kelly Overbey
Kevin Sessums
Daniel Goldfarb
Lou Jacob
Bruce Norris
Casey Childs
Ann Washburn
Mark Snyder
Isaac Butler
Julianne Hoffenberg
Nick Gandiello
Josh Beerman
Dorian Palumbo
Peter Frechette
Michele Volansky
Daniel Reitz
Nick Jones
Adam Feldman
Jenny Mudge
Chris Henry Coffey
Haskell King
James Joseph O'Neil
Laura Cole
Ellen Novack
(If you would like to become a signatory or lend assistance, inquire here.)