How Much More Do Bridesmaid Dresses Cost Today?
How Much More Do Bridesmaid Dresses Cost Today?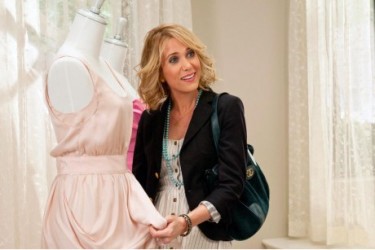 So what happens to bridesmaid dresses after the wedding is done, the cake is served and the shots of Gentleman Jack from the open bar metabolized? We asked a group of women the ultimate fate of the bridesmaid dresses they've worn; one respondent, teacher Becca Simone, who's had bridesmaid twice on her résumé, wrote of one dress, "I wore it twice recently: bridal shower and when I chaperoned a prom." Another, filmmaker Sara Lamm, of Los Angeles, said, "I will say that bridesmaid dresses make good costumes for comedic variety shows. You can always use a bridesmaid dress in a play or horror movie, no?" Sure you can.
Weddings are, obviously, a large industry, a $47.2 billon sector (pdf) of the American economy as of 2009. And wedding attire is a 12.4% subsector. Bridal gowns are iconic (preserved, cherished) and the tux of the groom is, well, rented. Bridesmaid dresses, however, come with a bit of controversy, and rarely are they mentioned without some sort of complaint appended. So to look at the expense of weddings over the past decades, let's focus on the bridesmaid dress.
But has this controversy always been so? When our parents or our grandparents (or any other people generally older than we are) got hitched, was it an exorbitant proposition for the bridal parties? Maybe this is not an economic topic as nostalgic as Barbies or as recreational as martinis, but for all the bridesmaids out there, past and present: does that dress cost as much as your forebears paid? And how did you really, really feel about how much you had to pay for those ruffles?
***
Our methodology is different this time around. Instead of relying on old advertisements and oblique historical references, we decided to go out of the realm of archives entirely. We cast a net through word of mouth, social media, targeted emails, and then waited for the responses to pour in, like an avalanche, an avalanche of data, which data would hopefully include some anecdotes, as the colorful antics of bridesmaids and the brides that love them are not only an anchor of the burgeoning low-rent reality TV industry (and immortalized on celluloid in Bridesmaids), but also a recurring feature in the shelf-feet of wedding magazines out there as well as popular tabloids for sale next to the Chiclets at the grocery checkout. So consider this our entry into the cottage industry of Bridesmaid (Horror) Stories, wherein we try to keep at least one eye on the bottom line.
Naturally, anonymity was offered and largely accepted, so if we name someone in quotes, that may well not be their real name — no use in inviting the vengeful brides of the past to hunt down the apostate bridesmaids.
And as we're relying on the sharing nature of our friends, family and acquaintances, it only seems fair to start with the author's mom, Donna Cox. Donna was married in March of 1966 at the Spring Hill Baptist Church in South Charleston, West Virginia, in front of a not-small crowd of 250, with two family members and three friends in the bridal party. They all wore the same design of dress (floor-length, empire waist, straight skirt, 3/4 sleeve, lilac for the maid-of-honor, baby blue for the bridesmaids). They were purchased at JC Penney for $30 a pop (and altered by a seamstress friend of the author's grandmother). If we adjust that price to 2012 levels, we arrive at a cost of $212.79. (The marriage in question is still going strong after 46 years, by the way.)
Staying in roughly the same time period (and sadly, no respondents could recall prior to this time period, so for the purposes of our comparison, this is where we're starting, in the mid 60s), "Shelley," an academic advisor at a technical college, remembers two weddings. One in 1965 in Spanish Harlem, and a 1973 wedding in Connecticut. The first dress was a smash hit: "Small purple/yellow floral print on light, gauzy cotton cream material with a purple velveteen bodice, long sleeves with velveteen at the cuffs, full skirt, long — I loved it! We wore dyed-to-match purple heels, which I also adored While the light cotton floral print material and the velveteen might sound odd, it sure worked for me, back then. I felt like a princess in this dress." This dress was reworn by Shelley until worn out.
The second was royal crepe blue with red and white floral neckline piping, with an open square neckline and a fitted waist and straight skirt. Writes Shelly, "It was ugly!" The dress was disposed of soon after. In the cases of each dress, it was handmade by the bride's family from pattern. Accordingly for our purposes, they had no cost at all.
And the author's Aunt Cathy attended a wedding in 1969 in Charleston, WV, wearing a pink, sleeveless a-line, with dark green wide belt with flat bow in back. It cost $40 at the time ($250.48 now), which Aunt thought was outrageous, but then again, according to Aunt: "The bride was pregnant and we shopped and put on wedding in about 2 weeks." We would have considered it remiss to not include at least one shotgun wedding.
***
Interestingly enough, of all the responses we received, exactly zero of them related to weddings that occurred in the '80s. From this we can deduce only one thing: no one got married from 1981 to 1990. So much for the Reagan years, hmm?
The majority of requests for information went out in the form of a questionnaire and came back short on anecdotes, so here is some of the data received:
There are two wedding memories from "KD," one in Wisconsin in 1999 and one in Minneapolis in 2002. The former, at $150 ($206.92 adjusted), was mid-calf length with a swirly floral pattern on top and bottom, with some fringe decoration, and the latter, at $120 ($153.30 adjusted) was sleeveless and floor-length, with a sheer overlay. Both were mandated by the bride, and both soon went to the thrift store.
"Kristine" spent $329 ($426.93, adjusted) on a black wide-strapped sleeveless bodice with a navy blue tea-length skirt and an oval cut-out at the small of the back ("Quit laughing, I'm serious.") for a 2001 Wisconsin wedding. It was not reworn. Kristine is also anxious to see if any of her bridesmaids responded to this little questionnaire.
A young Brooklyn professional, "Vicky," speaks of a $180 dress worn by the five bridesmaids at her wedding in a Red Bank, New Jersey, wedding in 2002. That dress, strapless and silk with a sash, cut to right below the knee, would now be priced at $229.94. Did they wear the dress again? Vicky is not sure.
In 2004, "Amy" wore a $131 (or $159.37, now) ballroom-style ankle-length lavender gown with smooth silhouette for a wedding in Richmond, VA. Apparently Amy is no devotee of the ballroom dancing, as this dress was also destined for the Goodwill.
"Ginger," an actress living in Los Angeles, got married in Memphis in 2007. The bridesmaids, all eight of them, wore strapless long navy satin dresses with a slight fishtail train, in front of 300 people. The cost of the dress was approximately $200, or $221.68 now. According to Ginger, she has photographic evidence of at least two of the bridesmaids rewearing the dresses on multiple occasions.
Another bride giving info on her own wedding, "Katy," afforded the bridesmaids choices of cuts of the same fabric pattern (Hawaiian) in Pennsylvania in 2009. Very generous of Katy, and, according to her, these $40 dresses ($42.85 now) have worn the dresses again.
And an anonymous sibling ("Denise") of an Awl contributor, speaking of a wedding in Potsdam, NY, also had a point to raise:
I tried to find a record of what I paid for one back in '96 but I couldn't. I wanted that one for you because it was toward the end of an era in that you had to go to a bridal shop. Internet shopping changed the face of bridesmaid dresses forever… I know it wasn't cheap for back then — I'm guessing $160ish — but the shoes were the kicker. As was the practice back in the day, the shoes were to be dyed to match, so we got to pay $40 a piece for ugly, uncomfortable shoes that were going to bleed all over our feet as soon as it got hot.
The dress does not end up being on the steep side ($236.34, adjusted), but Denise is right. Even as we talk about the costs of these frocks, we're eliding some of the more infuriating expenses associated with these occasions: the shoes, the dying of the shoes, the hair, the make-up, the accessories. This is a brief, imperfect little examination, of course, but the infuriations of your own personal experience, the nickels and dimes, will vary.
A number of responses not used (mostly because they were too recent, or price not provided) were examples of the post(-post?)-modern bride: the bride that, having been a bridesmaid, tries to accommodate the bridesmaids as much as possible and give the bridesmaids as much sway as possible. This is not without its disadvantages, according to Amy:
Having twice bought dresses that I had to pay to alter and that I never wore again, I meant to make things easier on my bridesmaids by letting them choose dresses they liked — but I am pretty sure I made things harder. I put the burden on them by being so general and thus making them shop around so much. It would have been better if I had just said "black, cocktail-length" and left it at that — especially given that I didn't actually care whether or not they looked particularly coordinated. (They were carrying bouquets, everyone knew who they were!)
Even if you've not been near to this process, you've seen Bridesmaids. And while it was a funny movie, it was also shockingly accurate: it's not really a good wedding unless you have a manipulative best friend and some sort of food poisoning and a maid-of-honor that you can't figure out for the life of you what's she's complaining about. This is part of the process. It's not really unavoidable without elopement, or not-marrying. This is also why being tapped to be a bridesmaid is not just an honor and a mild burden, it's also a responsibility.
***
What does a bridesmaid actually do, anyway? For those of you wondering the answer to this (dudes!), the oft-cited origin of the bridesmaid goes back to Medieval Western Europe, as the bridesmaids were recruited to serve as a shield against evil spirits. (This may also be the source of the adage, "Thrice a bridesmaid, never a bride," as three doses of evil spirits is enough to taint one into unmarriageability.)
This is not an explanation that you should really repeat unless as a factoid score at a dinner party. For the duties of the modern bridesmaid, the product of a century of transformation of weddings as a social practice to an industry, we defer to Emily Post, who wrote the book on the subject (more than one, actually):
• Attend the bridesmaids' luncheon, if there is one.
• Supervise flower girl(s) and ring bearer(s) if asked.
• Assist the bride at the reception as requested.
• Participate in activities such as a receiving line and a bouquet toss.
• Contribute to the bridesmaids' gift to the bride.
That may seem pretty simple, but the big one is the third, assisting the bride at the reception as requested. That's a proviso to make an attorney blush, as it unbounded by parameter of any kind. Sometimes that assistance is a specific chore the day of, or some gopher work the week before, or some unstated emotional support that you hope you know when you see. And at some point, favors will be made.
Really if you think of it, on the Big Day, the service to the bride the bridesmaids perform is that of decoy, as those that mean harm to the bride — the spurned suitors, evil spirits, process servers — have to figure out which of the ladies in the dresses is the actual bride. Bridesmaids are the Secret Service of the wedding, with dire responsibilities and little reward. Bridesmaids are heroes.
So let's hear some of their stories.
***
While many of the respondents were either satisfied with their bridesmaid dress experience, or very discreet about their dissatisfaction, not all were (thankfully). What follows is their experience in their own words. The first is "LeBrun," the mother of a website managing editor.
The first was my brother's wedding. They married between his sophomore and junior year of college. I was the maid of honor. He picked me up in Boston in his little MG and drove nonstop to Milwaukee, to Donna's house. Other than pit stops there were no stops, and it was obvious that I'd better keep the number of stops down. If I'd had a bladder infection, he probably would have left me behind. I got even by smoking, which he hated.
The year was 1963. Donna's mother, a fine seamstress, made both the bridal gown and the bridesmaids' dresses. [Handmade, therefore current price is N/A.] I don't remember if the bride or groom's family paid for the material and the dyed silk high heels to match.
The five bridesmaid dresses were all sapphire satin, with a fitted bodice and full skirt. The wedding was in the church, with the reception downstairs. My guess, there were about 150 guests. I don't remember seeing the dress or shoes again, and can't even remember how I got back to Boston. I can remember being emotionally overwhelmed during the ceremony and that in the wedding photographs there is a stain on the blue satin from my, thankfully silent, dripping tears.
The next wedding was in 1976 in Boston, Massachusetts. The bride requested that the three of us wear a dress that made us feel beautiful. That generous good sense illustrates why she is still a dear friend. The dress I chose was a soft blue-violet silk wrap dress with long sleeves and a deep V neck. I'd found 3 ½-inch designer stilettos that amazingly matched the dress and cost more than the dress, the dress costing $220 [$888.66 now]. And, yes, I did feel beautiful. Wedding parties lasted the weekend. The wedding itself was held in the Eastern Orthodox Church, about 200 guests, and the dancing at the reception went on until the early morning hours. No surprise, I wore that dress until it finally, after dozens of wearings, wore out.
Aww, to all of that. Next up is a confession from "Mary," a playwright now living in the greater Boston metropolitan area.
I went to a wedding in 2000, in Rochester, NY. There were about 80 guests, and I was one of two bridesmaids.
The dress? It cost about $200 [$266.92, adjusted], and it was identical to the other bridesmaids', down to the shoes and a generic locket I never wore again. As for a description, peer inside a tub of whipped margarine — the cheap store-brand margarine offering no promises of being trans-fat-free, but costing a third of what butter does. Paint this color onto a vaguely Little Bo Peep-shaped dress, yet made of polyester stretch knit fabric, just like Great Aunt Edna's slacks. Nothing on earth can make stretch knit look fluffy, which I think had been the planned look, so instead it just draped like the bolt of awkward polyester from Jo-Ann Fabrics that it surely was. It had a square neckline and short puff sleeves that gave us upper-arm muffin top. The dressmaker had mistakenly made mine in the same size as the Maid of Honor's, a size 18, while I was a size 12. I was told by the bride to quickly get it altered, which I had no intention of doing, and did not do. I wanted the mistake to be seen and gawked at. I went ahead and wore it 3 sizes too big, bra straps proudly peeping out. You could have fit a scrappy bobcat inside that baggy bust.
As for wearing it again, I would fish clothes from a foetid river before wearing that dress again. I hung in the back of my mother's guest room closet, and refused to even bring it home to Boston. You can't cut up stretch knit for cleaning rags, after all. They don't absorb. Although, against my usual environmental sensibilities, I hope it is in a landfill. I hope that in 300 years or more, it is excavated more or lest intact, causing the people of the future to acknowledge fashion travesties of the past that they must not repeat.
Please don't think I was being a bad friend to the bride. She wasn't my friend — this was a relative's wedding to a woman I absolutely loathed. When pressed by my relative to be a bridesmaid, I kept imploring, "Surely she must have some friends who would be more appropriate for this!" At length he finally hissed, "She doesn't have any friends!" I vowed this would be the last time. They are divorced now, of course.
In 2010 I became a Justice of the Peace for the Commonwealth of Massachusetts. One of my reasons for this is because it gives me an easy way out of bridesmaid duty. I can say "Well, as a JP, being any other part of a wedding party now presents a conflict of interest, I'm afraid." The part about the conflict of interest is a lie, of course. I could go skipping down the aisle as a flower girl and the Commonwealth wouldn't care. I always offer to officiate the wedding instead, and they always politely decline, having some dearly beloved family clergy person (whom they haven't seen in 25 years) already lined up. It all works out.
Um, whatever the opposite of "Aww" is. And the last one is from "Robin," a one-time New Yorker.
It was a wedding of a college roommate in 2004 in Chicago, with seven bridesmaids and seven groomsmen, probably around 150 guests.
The dress (and we all wore identical dresses, identical lavender strappy sandals, plus the ritualized thing of gathering at the parents' house beforehand for the application of makeup and jewelry by some professional makeup person) was lavender and strapless with a ribbon tie at the waist and then a skirt with two layers, like tutu fabric or whatever, over the more satiny inside layer. No one bothered to say, "You can wear it again!"
Maybe it was a tea dress? It was kind of J. Crew-wedding-y before J. Crew started selling wedding stuff.
I recall it being about $80 [$97.33 now]. I expected to have to take it to be altered (because that is part of the bridesmaid dress racket), but I ended up with this cool seamstress who took one look at me in the dress and said, "It's fine."
The funny part of the story is that the wedding required travel of almost everybody except for the bride's family, so we were all staying in one hotel. One of the guests was a Dutchman gentleman I had, um, spent some time with when he had visited the couple a year before the wedding. So, wedding night, lots of drinking (remember: Chicago), my strapless lavender dress and I end up heading upstairs with the Dutchman to his room. Tipsy. I think I was barefoot and carrying the strappy lavender sandals around at that point.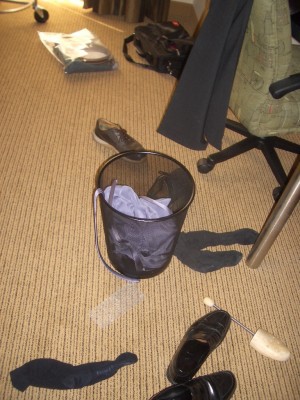 The Dutchman sat behind me on the bed and started to unzip the dress. As the zipper is about halfway down I hear him say in his heavily accented English: "Shit." There are some wrestling motions going on at my back and I soon discover that he has broken the zipper, broken it such that he pretty much has to shred the dress in order to get me out of it. (I'm sure someone else who responds to this will go into some detail about how crappily these dresses are made… but a broken zipper was really not that surprising.) We are both laughing a lot and the dress literally ends up in the garbage can in his hotel room.
[Next portion redacted.]
In the morning I have forgotten about the dress and its condition, but soon remember once I wake up enough to know that I need to wear something to get back to my own hotel room. I pull it out of the garbage can, hold it up, and there's no way I am going to be able to get back into it. I end up doing the walk of shame back to my own room barefoot and wearing his clothes from the rehearsal dinner.
Guess who I shared an elevator with en route? Mother of the bride.
Where is dress now? See attached documentation, which you are welcome to use as I suspect it is where most/all bridesmaid dresses should end up.
Thank you, ladies (you know who you are!) (I hope), for sharing.
***
And finally, as a current benchmark, Edith Zimmerman, editor of The Hairpin, is attending a wedding in Philadelphia this summer. It's a floor-length gray chiffon number, with "wrappy/windy/floaty pieces to make it halter/strappy/strapless. ('Wear it 10 ways!' the site says.)" The cost of this dress is $172, although it's less with a group rate, and the bride contributed money towards the cost. Our topic is the expense born by the bridesmaid, so $172 it is, and nice job (and best of luck) to the bride. Edith's thought on the subject: "I love weddings!"
So let's run down the figures, listing the price of each of the bridesmaid dresses mentioned, along with the year and location of the wedding and the inflation-adjusted price:
1963: N/A (Milwaukee, WI)
1965: N/A (Spanish Harlem, NY)
1966: $212.79 (S. Charleston, WV)
1969: $250.48 (Charleston, WV)
1973: N/A (CT)
1976: $888.66 (Boston, MA)
1996: $236.34 (Potsdam, NY)
1999: $206.92 (WI)
2000 $266.92 (Rochester, NY)
2001: $426.93 (WI)
2002: $153.20 (Minneapolis, MN)
2002 $229.94 (Red Bank, NJ)
2004: $97.33 (Chicago, IL)
2004: $159.37 (Richmond, VA)
2007: $221.68 (Memphis, TN)
2009: $42.85 (PA)
2012: $172 (Philadelphia, PA)
Now that is an array of figures seemingly without rhyme or reason. There's a pretty good distance between the high of nearly $900 and the lows of what is basically cost of materials (and Grandma labor), and even if you knock of the outliers there's still a wobble up and down that does not constitute a trend over time.
Granted, this has been a less-than-scientific than our usual not entirely scientific examinations, as not only is the data entirely anecdotal (i.e., lies, all lies), but also the weddings referenced are fairly disparate affairs. They are separated by geographical differences (although, weirdly, all took place east of the Mississippi), socioeconomic differences and, simply, the differences in taste. We're not sure if any of the respondents are actually a Rockefeller, but one would assume that the typical Rockefeller bridesmaid dress would be a more elaborate (and expensive) affair than the average, and probably not one of the "Wear what you want as long as it's mauve" affairs.
If you squint, it seems the mean for a bridesmaid dress, in the past fifty years, hovers around $200, which would take a soul twenty-eight hours to pay for at the minimum wage of $7.25 (pre-tax, of course). Not a scandalously large number, but definitely a commitment, and one to be taken into account should that moment come. (And if you are soon to be a bridesmaid, remember that the dress is just the beginning. The bachelorette in Vegas, with the sky-diving and the casino-crawl, is where you really get got.)
It's a relief to see that this rough mean of $200 is one that has apparently not increased radically as the years passed, as wedding participants in general would fit the profile of a captive market segment that would bear slow but marked price increase. Though, on the other hand, the wisdom of the risk of being the final straw for such a segment may well outweigh the benefit. At least that portion of the segment comprised of bridesmaids, who really do put up with and do a lot.
Previously: How Much More Do Martinis Cost Today? and What It Cost Eight Women Writers To Make It In New York