The Reading App You Deserve: "A Kind of 21st Century Cliff's Notes on Steroids"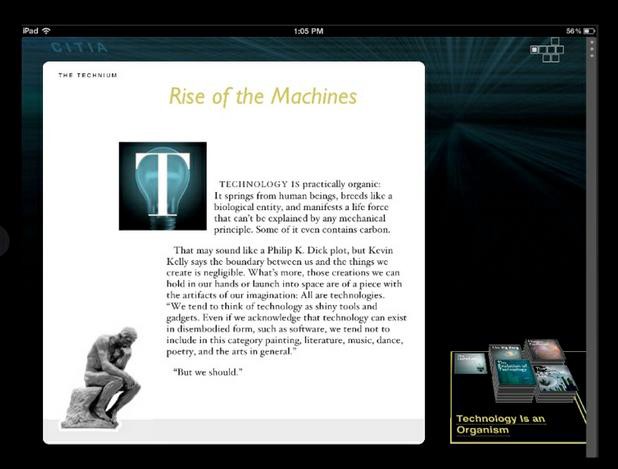 Do you love reading, but hate books? SUPERB NEWS.
The Citia team takes the author's book and deconstructs it, looking for the main and subsidiary themes in the book's narrative. This is done without regard to the book's original organizational structure. It doesn't follow existing chapters per se (or at all); it's completely rethought. Then the information is further granularized into "cards", 100–150 words (sometimes borrowing the author's prose but often rewritten) that summarize a particular point.
You guys, stop laughing. It gets better!
This turns the original book (which Linda sometimes calls "a brick"), which can only really be satisfactorily navigated by starting at the beginning and reading (linearly), into something far more lightweight and navigable (which Linda calls "permeable".)
DOES SHE.
Responses from agents, publishing executives, editors, and rights directors were overwhelmingly positive, but the ask for rights was very complicated. A few players were concerned that Citia apps would cannibalize more sales of the book than they would generate. Some others had the concern that authors wouldn't want to see their work changed in this way and, indeed, author acceptance — if not enthusiasm — was quickly seen as important by Semi-Linear, even though the Citia team really does all the considerable work required to create their version.
That does sound "considerable."
You guys? "This is an extraordinarily ambitious attempt here, literally reinventing the nonfiction book."
Not a joke. Here is the tech blog coverage. LITERALLY REINVENTING THE NONFICTION BOOK. OR BRICK. REINVENTING THE BRICK. (via)