Maurice Sendak, 1928-2012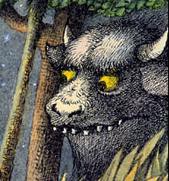 "You asked me how 'revolutionary' Where the Wild Things Are is. There have been a good many fine picture books in the past. (Some by Margaret Wise Brown, and illustrated by one of two or three or four talented artists.) But I think Wild Things is the first complete work of art in the picture book field, conceived, written, illustrated, executed in entirety by one person of authentic genius. Most books are written from the outside in. But Wild Things comes from the inside out, if you know what I mean. And I think Maurice's book is the first picture book to recognize the fact that children have powerful emotions, anger and love and hate and only after all that passion, the wanting to be 'where someone loved him best of all.'"
 — Maurice Sendak's editor, Ursula Nordstrom, in a 1964 letter. Maurice Sendak died today at age 83.