Happy May Day and Let's Be Careful Out There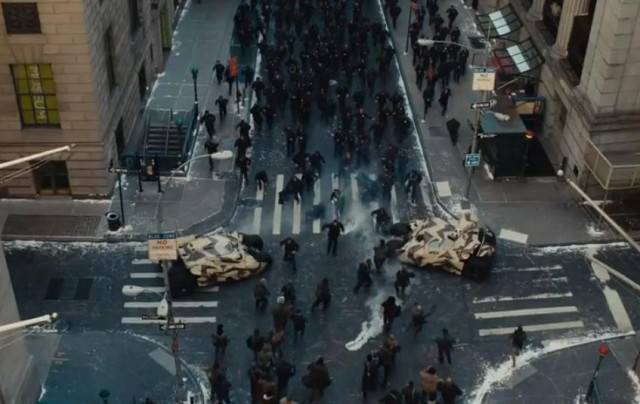 After last night's disgusting "police visits" to activists' homes (and the FBI went door-knocking too!) you can pretty much be sure today's May Day demonstrations are going to be a doozy of police overreaction and unfortunate choices. Above, a screenshot from lower Manhattan. (JK, that's the new Dark Knight trailer from last night. But don't watch it, because you'll be buying something with your eyes on Buy Nothing Day if you do!)
Around New York City, expect Union Square to be full of bicyclists right about now, busy all day and then filled with Das Racist circa 5 p.m.; Williamsburg Bridge will be closed late morning; and then the greater Wall Street area will be a mess after dark. (For another city near you, to join in or avoid, as you wish, check here.) This is a good list of what to think about before you attend any sort of demonstration, even the permitted ones. Some prefer the tactic of not giving identification to police, but if you are in New York City today and you run even the slightest risk of being arrested, I urge you to let friends know where you are and to carry ID with you. It'll make your processing far, far easier.
Even if you stay home, you can expect to see some protest.
Welcome to #MayDay. Expect Us. #Anonymous #OWS #May1 #M1GS
— AnonymousIRC (@AnonymousIRC) May 1, 2012
Intriguing!
In classic San Francisco fashion, marchers got started last night, some in classic idiot fashion.
Nice work, occupiers. You made me leave my sick kid at home to go clean paint bombs off my windows. That'll show Wall Street, fellas. #OWS
— Four Barrel Coffee (@fourbarrel) May 1, 2012
So, wherever you go today, don't be a jerk. We all have different definitions of what constitutes jerkhood. For instance, if you are driving and you find your way blocked by people or bicycles? Don't mow them down. (At the very least, out of self-interest, because you will go to jail.) If you are demonstrating, please think about what you are shouting or truly demonstrating against. That "the whole world is watching" thing cuts both ways.