Flashback! Sexy Lady Tells All, Sells Self, In 1997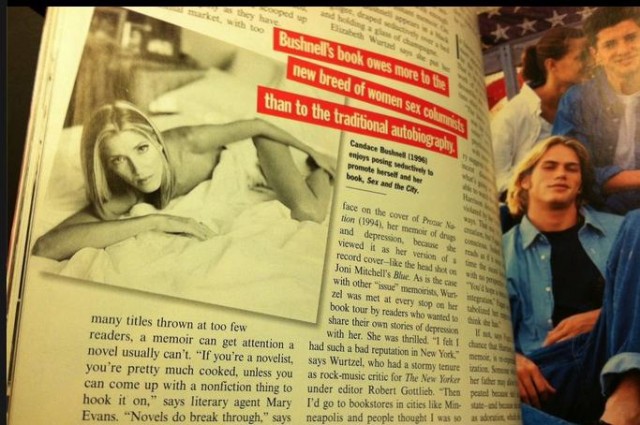 Chris Rovzar, editor of Vanity Fair's website, just found this delightful item in the VF archives, from February of 1997. (Ancient history? Or yesterday? YOU DECIDE. Either way, it was before irony died.) That year was the publication of the excellent collection of New York Observer columns, called Sex and the City. Some notable things about this picture:
1. The photo caption: "Candace Bushnell enjoys posing seductively to promote herself."
2. The photo itself: Man. There is a lot to talk about regarding how women memoirists are presented/allow themselves to be presented/are coerced into being presented in the book and magazine industry but this one really takes some kind of gluten-free cake. All told, if the Internet as we know it existed in 1997, basically it would be aflame with people calling her a slut.
2.5 Opposite our heroine Candy, in the Hilfiger ad: Jason Lewis, who would go on to star as Samantha's love interest in the TV show "Sex and the City."