How's That 'Times' Paywall Doing? Eh, So-So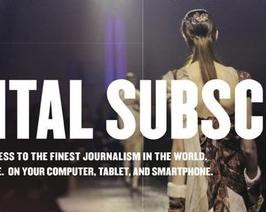 Working on the Times media desk has for the last few years seemed like a rough and thankless job, and certainly the last few people there reporting on print media seemed like they were more than a bit unhappy. (Or were at least phoning it in.) Which is to say, we are not here to express rancor about today's media desk report: "In the six months ended Sept. 30, The Times had the second-largest paid subscription Web site among newspapers behind The Wall Street Journal's 537,469 subscribers, according to the Audit Bureau of Circulations."
Ooh, second-best newspaper! Great! So… how many paid digital subscribers does the paper have? Well….
First they put up a wrong number, which, hey, it happens. (From the correction: "The number provided — 390,000 — included digital subscriptions to The International Herald Tribune, which were offered beginning in November. (That figure has been deleted.)" (Others have noted that there were four errors in the story.)
And then… that number wasn't replaced. I see.
From the press release on the quarterly and year-end earnings: "As of quarter end, paid subscribers to all of the Company's digital subscription packages, e-readers and replica editions totaled about 406,000." But that's all of the papers — like, including the Boston Globe. (Which at least tells us that the (very pretty) Boston Globe did not get a lot of subscribers real fast!) And what's the "unsubscribe" rate, anyway? Are these all subscribers, or initial subscribers? How much turn-over is there? Dunno.
Would you like more detail? Sure you would, why else are you reading such boring media business things? Here: "The New York Times sold about 43,000 paid subscriptions to its Web site in the third quarter, which is down from the 224,000 it sold in the paywall's first full three months of operation in the spring."
And the quarter four numbers are…. to be revealed shortly.