"Dear Sugar" Has a Coming-Out Party in San Francisco
by Matt Davis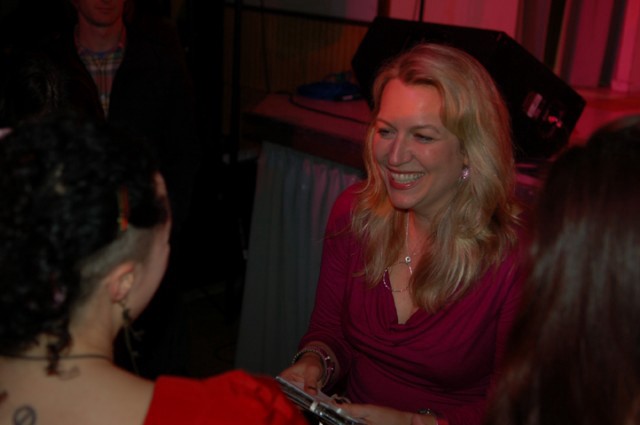 In 2010, an anonymous writer took over the advice column "Dear Sugar" at the literary website The Rumpus. Last night, Valentine's Day, she went public with her identity at a "coming-out" party in San Francisco. Like many others, I've become obsessed with her advice, but I wasn't sure I wanted her to come out, and told her so when I interviewed her last year. Still, she did it anyway, which shows how valuable my advice is, I guess.
Sugar, Cheryl Strayed, published a grief-focused novel called Torch in 2006, and there's a 4,500-word excerpt of her upcoming memoir Wild in Vogue. (In an amazing bit of timing, it was put online today.) The book, the account of a three-month, 1100-mile hike, will be published in March by Knopf, with an extensive tour. (There is now also to be a collection of the Sugar columns in Vintage paperback in July.) So you could say that she doesn't need the publicity.
Or? There's also an economic reward for narcissism.
I, for example, would have been much less inclined to accept a paltry fee to write this story if it weren't appearing on a website based in New York, with my byline at the top. If not narcissism, at least there is a reward — immediately tangible or not — for "exposure."
Strayed has gone almost entirely without payment as Dear Sugar since she took over from its previous writer, Steve Almond. in 2010, and despite acquiring a large following — her column Tiny Beautiful Things, giving advice to her 22-year-old self, has had "millions "of hits — her only proceeds so far are what Rumpus managing editor Isaac Fitzgerald has scraped together from selling mugs and posters based on her columns. (The "write like a motherfucker" mug, for example, has been a rip-roaring success, but it goes for $10 a pop.)
Either way: Strayed's army of Sugar followers will know to go purchase Wild, and then the collection to come.
The Rumpus founder Stephen Elliott, who himself published a memoir called The Adderall Diaries, was in Germany for Sugar's coming-out. (His film, Cherry, was premiering at the Berlin Film Festival.) I was curious whether he thought there's an economic incentive for Strayed to come out.
"I don't think so, I don't know," he said over the phone. "I think her memoir is going to do really well on its own. I think it'll help a little bit. But she's going to be interviewed all over the place and the first print run is 100,000, so I don't think coming out as Sugar is going to be the defining thing."
Wild was also Strayed's first six-figure book deal. Has what I would call a massive financial success changed things?
"First of all I wouldn't put it in those terms," she said. "It's not like we're rolling in it, frankly, at all. We're by no means, financially, even, secure. It's a struggle. It's not been massive. And I don't mean to sound ungrateful. Because it's been lucky to live as a writer, but people make assumptions about it that are basically wrong. And when I talk to other writers about it, they know what I mean. We had to borrow money from a friend two months ago to pay the mortgage. And last summer our garbage got turned off because we couldn't pay the goddamn garbage bill."
There are, actually, easier ways to join the one percent. If coming out wasn't about the money, was it about love? Strayed said she started to get a little frustrated when Sugar started getting a following amongst her friends, because she couldn't tell people it was her.
There is plenty of love. Lines formed round the block under the neon sign at the Verdi Club in San Francisco last night. Tricia O'Neal, Jen Pitts, and Stefanie Demong had been in line for well over an hour by the time the doors opened.
"Someone forwarded me her column a year ago and said 'you have to read this, it's fucking amazing," said Pitts. "I just like the way she's brutally honest."
O'Neal had done some Internet research and found out Strayed's identity, because a few leaks have gotten out over the last few months, but she declined to share it with Pitts and Demong because they hadn't asked her, she said. Nevertheless, Pitts said she would continue to derive joy from the columns after knowing who she was, and when I told her I had been unsure about Strayed's decision, but that apparently it was happening anyway, she smiled and said, "You're saying yes to reality."
Which made me feel good. But it also made me feel a bit like I might have joined a cult.
Steve Almond introduced Strayed last night. He did at one point compare her to Jesus Christ. He said her ability to see people empathically is at odds with an Internet culture in which snark and schadenfreude are the order of the day — unlike Jesus, who saw everyone as worthy of compassion, Almond said. I'm afraid I have a cynical nature that requires me to cock an eyebrow when anyone is mentioned alongside Jesus Christ. Strayed's army of "followers," Almond said (don't, please, God, say "disciples," I thought) has a fierce devotion to its leader, too.
But Christ and cult issues aside, I think much of the fierce devotion to Sugar is deserved. And Strayed can't help it if other people get emotional or even cultish about her work. Maybe getting emotional and cultish about her work is the point. Maybe it's good for us.
Even though many might describe me as an anxiously reserved Englishman whose interest including writing about police corruption for a living, I remember reading my first Sugar column — sent to me by a friend shortly after my ex-wife and I decided to divorce — and blubbing like a baby. This, it turns out, is a surprisingly common experience.
I linked to it on Facebook and Strayed (who I already knew, because I'm making a film with her documentarian husband, Brian Lindstrom) sent me a message saying I was "sweet."
Wait, I wrote her. You're Sugar!?
In the Facebook age — this is the New Niceness, of hearts and rebloggings and repinnings — there's a pressure to like everything and also to avoid a public expression of dissatisfaction with one's life. In that context, reading Sugar's columns was a revelation for me. She wrote honestly about grief, about loneliness, about being unsure. That's how I felt when I read her column. Well, except I felt alone and isolated with those feelings, but here was someone writing all about the same feelings not in a novel but on the Internet, where I spend most of my time.
So I realized: Maybe everyone on the Internet is grieving for something, and feels lonely and unsure. Just like Samuel Beckett and James Joyce used to. There just isn't a terribly safe repository for those feelings online.
In Wild, Strayed writes about more (the most?) difficult stuff, too. About marital infidelity, heroin abuse, abortion and at one point, shooting her dead mother's horse because she didn't have the money to pay a veterinarian to come out and do the job. I'll spare you the details but suffice to say, there was a lot of blood and mutual distress, and it took more than one bullet.
Elliott thinks Strayed's empathy about such horrific experiences is key to her success with readers.
"I think she's not perfectly stable or totally together," Elliot said. "She has her moments too of insecurity like we all do. And I find that a lot people wouldn't understand that. But a person who has had a lot of broken relationships is going to be a lot better at giving out advice than someone who has just had one relationship their whole life."
I only urged her not to come out because I liked the mystique of Sugar. There's a superhero quality to the anonymous advice-giver that might be shattered by knowing more about her, I felt. And it was something Strayed was nervous about, too.
"People have this idea, you know how when you read a novel, you picture the main character in your head, and you see the movie, and it disrupts your idea of that main character," Strayed said, a week before the coming-out party. "So in some ways if they've imagined a person who doesn't look like me, when they hear me, if I sound different, or my presence feels different, if they've imagined an incredibly maternal person and I'm not that person."
More than for money, or for love, I think coming out was another step in Sugar's pattern of radical disclosure. Many might not have known her name before, but they already knew a great deal about her. They knew, for instance, that her husband cheated on her before they were married (see column #81).
It's not exactly a fun thing, asking a friend how he feels about his wife's decision to paint him as a philanderer, at first anonymously, and then later, to come out and identify him to the world. But I asked Strayed's husband anyway, because I wanted to know the answer.
"I think part of the deal being with Cheryl is just that the truth comes out," Lindstrom said. "I made peace with that long ago, and I'm just along for the ride, and I have no fears or expectations that it will be otherwise."
On stage in San Francisco, Lindstrom put it another way.
"I was an asshole once to do it, and I wasn't going to be a double asshole by denying her the right to write about it," he said. "Don't be a double asshole."
"We need a mug!" Strayed yelled.
That's a radically honest thing to happen in a relationship — and on a stage, in front of 300 people. It's also inspiring. Strayed says she plans to continue writing the column and that more uncomfortable things might emerge.
There is also something like a sense of loss for those who knew Sugar "in real life," now that she belongs to everyone.
"I feel like I'm going to lose her to the world," said Elliott, who said he phones Strayed often to ask for her help.
The audience at the Verdi Club, at least, was no different, after Strayed came out. They wanted more of her advice. They asked her how to deal with rejection. It happens to us all. How important is kissing? Kissing is very important. What is the biggest love mistake? Being dishonest with yourself, and relying on someone else to fill your broken emotional holes.
In my own case, too, knowing that Sugar is Strayed and Strayed is Sugar has made no difference, despite my initial fears about losing a superhero in my life. Driving up the Pacific Coast Highway from Los Angeles to San Francisco for the event, I was worried about what might happen. And I spent a lot of time hiking around the city before the coming-out party, thinking of all the things I might be able to do to feel better about my own grief, loneliness and insecurity, as I stared at the Golden Gate Bridge. Annoyingly, the bridge is actually even more beautiful in real life than it is in all the movies. Its breathtaking quality jarred, somewhat, with my determination to be worried on a Valentine's afternoon. Still: What would Sugar suggest, I wondered? Being honest about one's anxieties and fears would be a good start.
In an email recently, I told Sugar that I hated getting divorced. I still hate it. Having to start all over again, the sense of loss, the questioning of all that trust that you gave out. It's a load of bollocks, I wrote. And I'm not sure I learned all that much, apart from that all relationships are fraught with issues and it's not always just enough to be optimistic.
"Sometimes life throws you a bucket of shit," I wrote. "And you have to just stand there and take it. And then you think 'Wow, I'm covered in shit…and I really preferred not being covered in shit.'"
Strayed wrote back, pointing out that while I might not have felt like I learned much from my divorce, "I would say that learning that 'sometimes life throws you a bucket of shit, and you just have to stand there and take it' is a tremendous thing. It's a transformative, humbling thing.
"Perhaps it hasn't paid off yet," Strayed wrote. "It will."
Let's hope so. And good luck, Sugar.
Matt Davis's website is Matthew Charles Davis Dot Com.