Breakfast Hotdish, Minnesota Style
by Jennifer Jerutis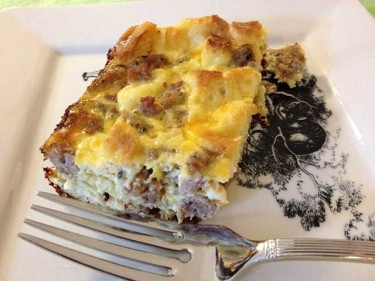 As we settle into the long, cold, dark days that come with the final slog through winter, we — your pals from The Awl and The Hairpin — will be bringing you some of our favorite casserole recipes (and crockery recommendations).
I'm from Minnesota — the land of Paul Bunyan, Babe the Blue Ox, the Coen brothers, Bob Dylan, a gas station designed by Frank Lloyd Wright, the US Hockey Hall of Fame, a boatload of lakes and Prince. This is a place where dinner is often called 'supper' and the casserole is known as a 'hotdish.'
Many a hotdish has been served at my family table many times, with many recipes calling for the omnipresent cream-of-something soup. But hotdish is not just for dinner — er, supper. It can also occupy an esteemed place at the breakfast table. Am I about to wax poetic about an egg casserole? You betcha!
Quiches. Stratas. Frittatas. Tortilla españolas. Like the dumpling, the egg casserole has been re-invented many different ways. This Midwestern version is hearty, delicious and super-comforting. It also meets the requirements for a successful breakfast hotdish, Minnesota style. It can be assembled the night before meaning no preparation the day of and, of course, it cooks in one pan. You don't need to serve anything with it. Bread? In the casserole, Meat? In the casserole. Fruit? Okay, pour some OJ. The only "chopping" involved is cutting up the white bread. Not an onion nor clove of garlic involved. All flavoring comes from the "spicy" Jimmy Dean sausage and dried mustard. Throw in eggs, milk and cheddar cheese. There you go.
I was a picky eater as a kid, but I still have fond memories of this dish — my mom would serve it Thanksgiving and Christmas mornings or any time extended family came to visit for the weekend. My dad, however, was never a fan, as he became the family gourmet when I was a teenager and cooked like a person who never had to wash a dish (that's what his children were for, after all).
I've since moved away from Minnesota, and lived in San Francisco and New York, where I've been exposed to many wonderful and diverse foods, yet I still love this egg casserole. Here's how you make it .
Breakfast Hotdish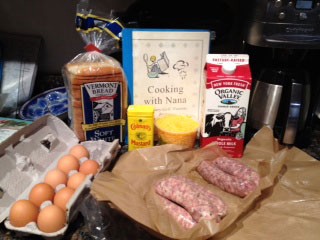 1 ½ lbs bulk pork sausage
9 eggs slightly beaten
3 cups milk
1 ½ tsp. dry mustard
1 tsp. salt
3 slices bread cut into ¼-inch cubes
1 ½ cups grated cheddar cheese
Brown and crumble sausage and drain well. Mix eggs, milk and seasoning. Stir in bread, sausage and cheese. Pour into a 13×9 inch pan. Refrigerate covered overnight. Bake uncovered at 350 degrees for one hour. Insert knife in center to test for doneness.
You can mix it up. I've had egg hotdish with Bac-Os (a little chewy), and when my grandmother passed away, family friends brought over their version of egg hotdish, which included a topping of crushed potato chips. Because nothing says sorry for your loss like greasy, processed junk food served at breakfast. Who says Midwesterners can't express their feelings?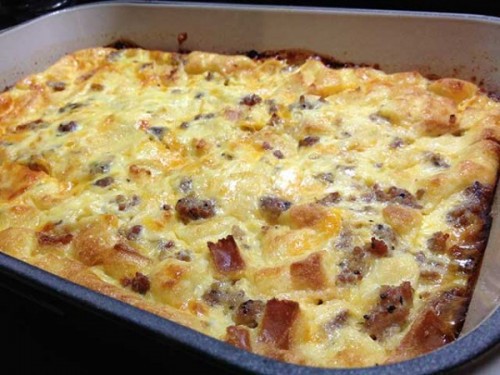 Previously: Chicken Mushroom Casserole For The Lazy Snob
Jennifer Jerutis is a Midwesterner who traded her Velveeta for burrata.