Four Monsters Of The Mid-Majors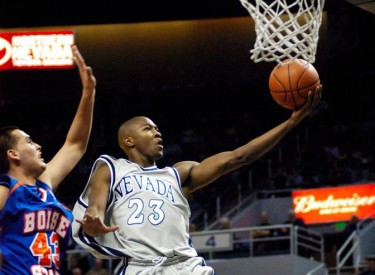 We hear a lot about the teams that play in power conferences like the Big East, Big 10 and the ACC. Stronger teams from the mid-major conferences often get overlooked — which is too bad as many of them would present strong competition given the opportunity.
In basketball, unlike football, a single talented player can be the difference between a competitive team and a truly dangerous one. When a lower-profile program manages to end up with either a superior, pro-caliber player or more than one guy who could suit up at a high major program, that team goes from an upset possibility to a potential Sweet 16 team.
With a look ahead to the next month or so of games, here are several players and programs from the mid-majors worth keeping an eye on.
Doug McDermott And Creighton
When then-Iowa State head coach Greg McDermott chose to leave his Big 10 job for Creighton, which plays in the Missouri Valley Conference, it definitely caught people's attention. It's rare for coaches to willingly leave a major conference job, even a tough one, for a lower profile position. But after struggling to get Iowa State turned around, Creighton offered McDermott the chance to start over with a ten-year contract and, even more importantly, the opportunity to coach his son, Doug.
No one could have guessed at the time that Doug McDermott would turn out to be such a terrific player. 'The Dougie,' as a few cheeky jock pundits have come to call him, has been among the nation's top players all season long; he's now starting to attract the kind of attention last season's trendy mid-major star, Jimmer Fredette, did. The younger McDermott's performance merits the hype: He's been shooting over 60% from the field and an astounding 50% from beyond the three-point line. McDermott is the nation's third leading scorer, at over 23 a contest, and is on pace to appear on nearly all of this season's All-American lists.
The emergence of Doug McDermott as a force to be reckoned with has, unsurprisingly, also been a boon to the Bluejays, who sit at 20–2 and 10–1 in the very viable Missouri Valley. But it's not just McDermott's play that has Creighton ranked in the nation's top 15. Rutgers transfer Gregory Echenique, a burly 6'9" forward from Venezuela, has anchored the low post for Creighton, hauling in almost eight boards a contest. With two players of that caliber on his team, coach McDermott's decision is looking smarter all the time.
The St. Mary's Gaels
Each year, a few Australian high-school basketball stars come to the United States, and ach year, it seems at least a few of them decide to matriculate at tiny St. Mary's College of California. Maybe it's the sunny locale or just the chance to assimilate alongside fellow countrymen, but whatever the reason, the Gaels' Down Under connection has been hugely helpful on the basketball court.
weak on power conference teams — the Gaels…
This season, St. Mary's is 21–2 with a win over West Coast Conference rival Gonzaga, and they're currently ranked 16th in the country. Certainly, their schedule's been weak weak on power conference teams — the Gaels lost to Baylor in their only real test — but on balance St. Mary's looks like a solid team.
The Gaels definitely pass the eye test. Surrounding Australian floor leader Matthew Dellavedova are capable players in center Rob Jones (non-Aussie) and Jorden Page (Aussie), as well as shooters Clint Steindl (Aussie) and Stephen Holt (non-Aussie). They're balanced on offense, have scoring in the paint and can stretch defenses with shooters. In fact, the Gaels have five players who have hit at least 20 three-pointers already this season, including Jones, the center. A year-in, year-out well-coached team, SMC also has tournament experience, having reached the Sweet 16 in 2010.
Of course, there's plenty of basketball left for St. Mary's to play. A February 9 game at Gonzaga could determine the conference's regular season champion, and will set up what's bound to be a slog through the always-entertaining WCC postseason tournament.
The Nevada Wolf Pack
After a few down years, the Nevada Wolf Pack is again among the best teams in the West. This year's edition has now run off 15 wins in a row and remains undefeated in the Western Athletic Conference.
For a mid-major conference team, Nevada is blessed with an abundance of quality Division 1 players, in part thanks to transfers. Senior forward Olek Czyk (Duke) and junior guard Malik Story (Indiana) have formed a strong core with recruits Deonte Burton and Dario Hunt. Czyk is a versatile forward with shooting ability, and Story has hit 48% of his three-pointers to date. Sophomore point guard Burton keeps the offense flowing, leading the team in scoring and assists, while Hunt snares in almost 10 rebounds a game.
The WAC isn't exactly a murderer's row this season, but Nevada does have a 76–73 overtime defeat of Washington to hang its hat on. But despite that win, the Wolf Pack must likely take home the WAC conference title to take any questions about NCAA tournament fitness off the table entirely. If they do reach the NCAA tournament, expect Nevada to be a difficult 7–10 seed type, capable of stopping a lesser major conference team and even winning a second round game as well.
Will Barton and Memphis
When preseason top-15 Memphis lost at Georgetown just before Christmas, most prognosticators dubbed the then 6–5 Tigers among the country's most disappointing squads. But young coach Josh Pastner and his team have overcome their rough start and rebounded nicely, winning nine of their last ten games.
But all of those non-conference losses do complicate Memphis' NCAA profile. It's unlikely that Conference USA will be more than a two-bid league this season and, like Nevada in the WAC, Memphis would do well to take any decision-making out of the equation.
The principal weapon for the Tigers is sophomore guard Will Barton, a 6'6" stringbean who's also a surprisingly strong rebounder. Barton paces the Tigers with 18-plus points per game as well as more than eight rebounds per outing. He's taken his game up a notch in recent weeks as well, topping 24 points in three of his last four games and snaring eight or more rebounds in six of the team's last seven. This has been critical for Memphis, who lost talented freshman forward Adonis Thomas to injury for the season.
With only one more out-of-conference match-up (Xavier) left to strut its stuff, Memphis must take care of business in Conference USA down the stretch. The Tigers have more than enough talent, thanks to Pastner who is an ace recruiter, but the season's ultimate outcome will likely hinge on the lanky frame of Barton, a potential star in the making.
In college basketball, having a true go-to star can make all the difference, whether it's in helping navigate a three- or four-game conference tournament or, having earned a bid, taking a team on his back for a game or two (or more) come mid March. Here's guessing some of the folks listed above will do just that.
Originally from Kentucky, Joshua Lars Weill now writes from Washington, DC. His take on things can be found at Agonica and on Twitter. Photo by Devin Sizemore Photography, via Flickr.