The Real Numbers Behind 'Newsweek'
You won't want to miss this thorough WWD report on life inside Newsweek. It's mostly what you'd expect from Tina Brown: the magazine is constantly torn up, resulting in exhaustion and money burn, and, while some enjoy the thrill — being around a Tina turnaround joint is a great kind of rollercoaster! — the anonymous employee quotes are brutal. (Sample: "You're exposed relentlessly to the truth that we're not putting out a good magazine.")
In the long term, who knows what'll happen? For one thing, we know that Tina Brown will spend huge amounts of money until the checkbook stops delivering it. The figure always bandied about is that now NewsBeast loses $30 million a year. (An inconceivable amount of money, if you consider their net income, which is not insubstantial.) But what does the business trending of Newsweek actually look like, in real numbers?
From WWD: "Newsweek's ad page performance between April to September was down 18 percent." And from mid-2009: "down over 23 percent in advertising pages in the first quarter of the year compared with the first quarter last year." And: "Newsweek ended 2010 with ad pages down 19.8% to 896." This week: "Over all this year, Newsweek's ad pages are down 21 percent."
This "year over year" metric is confusing: it sounds like it means something, but you know: what happened last year then? To the Pew Center report!
This is magazine circulation in millions. Right now, Newsweek — that's the steep downward-pointing red line! — has a rate base of 1.5 million, continuing that line.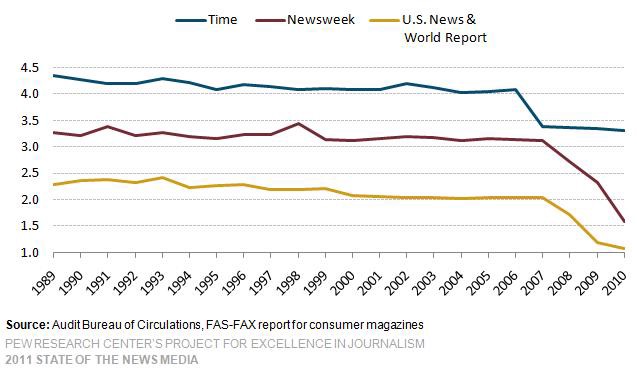 And ads? This is ad pages per year, in thousands:
So you could say that for 2010, ads were down approximately 60% from 2004, or 50% from 2006. What does this actually mean in terms of real pages sold? The infamous resurrected Lady Di cover, the July 4th double issue, had all of 13.8 ad pages. (That's a double issue!) A full-page, color, undiscounted ad page is quoted at $168,300. (And if they're selling undiscounted full pages, I'll cook a kitten and eat it. Pretty much no one does.) In June, at least, the magazine was doing an average of 24.5 ad pages per issue.
So there's a bit of "turnaround" date from Newsweek in the WWD piece:
• "Subscription renewals are up 2.6 percent." That's not remotely exciting, given the circulation over the last five years.
• "It is up 6 percent on the newsstand, year-over-year." That's also not exciting; in mid-2009, Newsweek sold 85,000 newsstand copies per issue. In the first half of 2011, it was 46,561 copies.
Randomly, here's my favorite bit from the NewsBeast rate card: the part where "survey says!" their readers literally don't read anything else. I get that all of us who sell advertising want to say "we reach a unique audience" (while at the same time saying "our readers consume movies and books and gadgets constantly!") but I'm not sure the metric of "our readers are otherwise not interested in reading" makes the case one wants to make.