So How's the Art World Doing?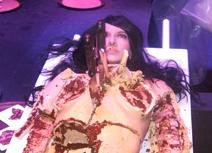 Chaos followed, as guests fought over pieces cut by the bare-chested pallbearers. "I want the breast! Give me the vagina!" they screamed, hardly noticing that Tilda Swinton had arrived for photo ops, looking very much like David Bowie in his Thin White Duke phase. When it was all over, the cut-up cakes resembled mutilated bodies that made for a ghoulish sight.
A man I didn't know accosted me. "Is it me or was this all about violence against women?" he asked. "It's you," I said. "Look at that cake!" he exclaimed. "It's a horribly mutilated woman with knives in her chest. Doesn't that bother you?" "It's a cake," I said. "It represents all the indignities women have suffered at the hands of men. It is women telling their own history." Apparently, the point was lost on him. "It's disgusting," he replied. I asked his name, which he declined to give. "I'm in the social register!" he growled, brushing past me to let Deitch know that this violence against women would result in the withdrawal of funding from the museum.