"The Playboy Club" Offers a Key to Fall TV Satisfaction
by Awl Sponsors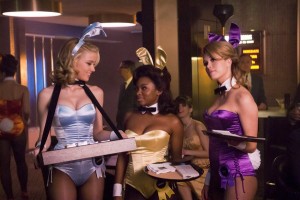 This post is sponsored by NBC's "The Playboy Club".
Like him or not, you have to admit that Hugh Hefner has created an incredible empire. A huge part of it grew from the mystique of his upscale men's clubs in the early 1960s. Being given a key to his club quickly became a status symbol — it meant you were somebody. Lucky for you, the new drama series, "The Playboy Club" on NBC, gives you the key to enter the decadent and dangerous world of this elite and exclusive Chicago club. As soon as the show starts, you'll see that underneath all the glitz and glamour is a world of dark secrets and heated power struggles.
Eddie Cibrian stars as Nick Dalton, a powerful attorney with mob ties, and Amber Heard as the innocent Maureen, whose life changes forever on her first night on the job as a club Bunny. When Nick comes to her rescue to help her cover up her horrible secret, things get messy between him and Bunny Mother Carol-Lynne (played by Laura Benanti), who he happens to be dating.
At the very least, the show promises an inside look at the time and place that launched one of the most famous sex symbols in American culture — the Playboy Bunny. And, judging by the show's official website, Hef approves.
"The Playboy Club" premieres Monday September 19 at 10/9c on NBC.