The Big Plot Points Of The U.S. Open's Final Weekend
by Thomas Golianopoulos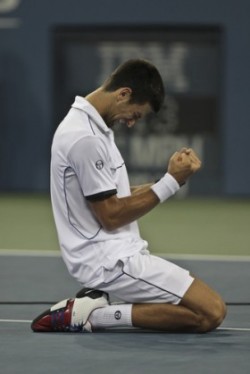 This year's U.S. Open featured breakthroughs for promising Americans such as Donald Young, John Isner and Sloane Stephens; instant classic matches (including the 2nd rounder between Gael Monfils and Juan Carlos Ferrero); the longest tie-breaker in women's Grand Slam history (between eventual champion Samantha Stosur and Maria Kirilenko); the longest women's U.S. Open match (between Stosur and Nadia Petrova); lots of rain; lots of scheduling mishaps; and, what could be, the seeds of a possible union for tennis players. Still, the three biggest storylines of the 2011 U.S. Open unfolded during its final weekend.
3. Roger Federer, Choke Artist?
Roger Federer — #3 seed, 16-time Grand Slam event winner, Greatest Tennis Player of All Time — had just had his serve broken again by world No. 1 Novak Djokovic and was down 6–5 in the fifth and final set of Saturday's U.S. Open semifinal match. And instead of cutting to commercial, CBS stuck with the live feed from Arthur Ashe Stadium, leaving a camera on Federer during the changeover. The five-time former U.S. Open champ sat in his chair and toweled off his forearms, face and mouth. He then flicked at his hair. He looked detached. It was truly compelling television. I mean that. It was an eerie calm.
"It's like Borg," John McEnroe said during the telecast, comparing Federer to his own old rival, "The Ice Man" Bjorn Borg. "You have no idea what this guy is thinking. It's incredible after what he's been through, what he's given that he just sits there. You look at him right now and think he's in a practice session."
I'll tell you what the guy was thinking. It was, Oh no. Not Again.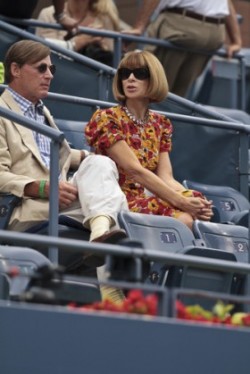 Djokovic served out the match and for the second consecutive Grand Slam event, Federer had blown a two set to none lead. He'd been 178–0 in such scenarios prior to losing to Jo-Wilfried Tsonga this June in the Wimbledon Quarterfinals. (It must be noted that Federer almost blew a two set to none lead this year in the second round of the Australian Open against Gilles Simon. Federer won the fifth set.)
Minutes earlier, Federer held two match points on his own serve but then Djokovic hit what we'll look back at as tennis' version of The Shot Heard 'Round the World or The Immaculate Reception. On Federer's first match point, Djokovic uncoiled and hit a breathtaking cross-court forehand return off a Federer first serve for a winner. It seemed to relax Djokovic. Federer, meanwhile, was rattled. (Federer later called it a "lucky shot.") He shanked a few forehands, threw in an ugly double fault and was cooked.
It was a shocking turn of events but, then again, it really wasn't. Here's a dirty little secret about Roger Federer: At times, his nerves get the best of him — I know, you're shocked to discover that tennis cyborgs get flustered too — — he's a mediocre 16–14 in matches that go the full five sets. Federer bristled at Wimbledon when confronted with these numbers. "When I was probably losing four matches a year, I wasn't even in fifth sets," he said. "I could have done nicely for my record and gone down two sets to one in every match and probably still would have won in five because I was so much better than everybody else."
From 2004–2007, Roger Federer went 315–24 with 42 titles, including eleven Grand Slams and three year-end Masters Cups. But, at times, he folded in deciding sets — even during his prime: The 2004 Olympics vs. Berdych; the 2005 Australian Open semifinals vs. Safin; the 2005 year-end final vs. Nalbandian (where, again, he was up two sets to none); and the 2006 Italian Open final vs. Nadal. It's happened with alarming frequency since then: the 2008 Wimbledon final vs. Nadal; the 2009 Australian Open final vs. Nadal; the 2009 U.S. Open final vs. Del Potro and Saturday against Djokovic. In fact, Federer has lost so many big matches in heartbreaking fashion that, sometimes, you forget that he's won 16 Grand Slams.
So, where does Federer, 30, go from here? (One thing's for sure, he won't disappear into the ether like Borg.) He's the third best player in the world. But it's hard to imagine him winning another major. He could look at Pete Sampras' last Grand Slam title at the 2002 U.S. Open for inspiration. Sampras, too, was old (31) and tumbling down the rankings (he was seeded 17th at the 2002 Open). But here's what happened: The draw opened up for him, and he got lucky. Sampras beat up on journeymen like Tommy Haas, Greg Rusedski and Sjeng Schalken on his way to the finals that year. There, he met, and, of course, defeated his old punching bag, Andre Agassi. He avoided Marat Safin and Lleyton Hewitt, the top-ranked players who'd knocked him out the past two years in the finals. They lost early that year. When was the last time Djokovic or Nadal lost early?
2. Serena Williams' Meltdown
In her first U.S. Open since threatening a line judge in 2009 — "If I could, I'd take this fucking ball and shove it down your fucking throat" — Serena Williams threw another temper tantrum and lost another big match against another inspired opponent. It was a volatile change to the narrative that'd been scripted over the past two weeks. Before Sunday's final, Serena Williams, laughably seeded 28th, hadn't lost a set and looked untouchable, rifling aces, overpowering opponents and tracking down every ball in play. The final against Samantha Stosur was supposed to be a formality. But then, the Aussie, a talented player who has struggled with confidence issues, played the hard-court match of her life. (It can be said that her upset over Justine Henin in the fourth round of the 2010 French Open was even more impressive.)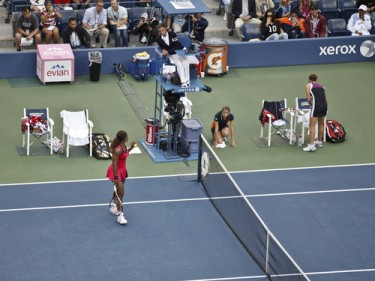 In the first game of the second set, Williams hit an apparent forehand winner and yelled "Come on" before the ball landed. Chair Umpire Eva Asderaki correctly cited the "hindrance" rule and awarded the point to Stosur, giving her the game and the break of serve. Williams scolded Asderaki during the changeover. "You ever see me walking down the hall, look the other way. Because you're out of control, totally out of control. You're a hater and you're unattractive inside," she said. "What a loser. You give a code violation because I expressed who I am? We're in America last I checked. … Don't look at me. I promise you don't look at me 'cause I am not the one. Don't look my way."
Williams didn't lose the match because of that one point or because she lost her concentration following the tirade. Stosur played great. She served well, kept her slice backhand low and controlled baseline rallies with her powerful inside-out forehand. (Maybe her newly hired sports psychologist helped?) Williams looked a bit sluggish too and seemed affected from playing on back-to-back days.
Williams has been screwed by bad calls in the past — the 2004 U.S. Open quarterfinals vs. Jennifer Capriati and the 2003 French Open semifinals vs. Henin — but her actions on Sunday are tough to defend. To the casual tennis fan, it might seem like she's being held to a different standard than her ill-tempered male counterparts. That is not true. Just last month in Cincinnati, Andy Roddick was docked a point for on-court behavior. Going further back, in 1990, John McEnroe defaulted a match and was ejected from the Australian Open for berating a chair umpire and a supervisor. These days, McEnroe's rants are looked back on with rose-colored glasses but he was despised during his days; The New York Times once called him, "the worst advertisement for our system of values since Al Capone." Unfortunately, Williams' attitude has again overshadowed her remarkable tennis.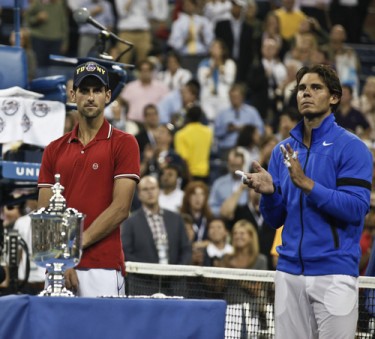 1. Novak Djokovic, King
Novak Djokovic is now the most dominant athlete in sports and with the tennis season winding down, his stat line is nearly complete: 64–2 with three Grand Slam titles. Most impressive is his 6–0 record (all in finals) against Rafael Nadal. He's beaten him on hard courts (Indian Wells, Miami, New York), clay (Madrid, Rome) and grass (Wimbledon). Just twelve months ago, Nadal had won his third Grand Slam event of the season, punctuating his spot atop the post-Federer era. His reign would only last one year.
Judging from his interviews and off-court behavior, Nadal is a sweet guy, contemplative and classy. Yet, during a match, he's kind of a bully. He plays at his own deliberate pace and pushes opponents around with his relentless groundstrokes and overbearing topspin. Djokovic is the first player to stand up to the bully. Whereas Federer, even in his prime, couldn't handle Nadal — blame Fed's one-handed backhand and stubbornness — Djokovic looks comfortable against him. Djokovic hits deep groundstrokes, isn't afraid of crosscourt exchanges — hitting his tremendous two-handed backhand to Nadal's lefty forehand — and, somehow, manages to always find Nadal's backhand, which is the much weaker of his two wings. He also crushes every ball that Nadal leaves short in the court. This has all left Nadal a little bewildered. It's been said plenty of times this season but bears repeating: When playing against Djokovic, Nadal gets that same baffled, disheartened look on his face that Federer gets against Nadal. He can't figure out how to beat him.
Yesterday's final was a magnificent capper to the tournament. It featured high-level of play from both guys, plenty of drama and a raucous crowd that pulled for Nadal when he faced elimination in the third set but then exploded for Djokovic in the fourth. There's not much praise left to heap upon the champ. If Djokovic wins the year-end tournament in November, it's the greatest season in history for a male tennis player. Nadal, however, must be commended for his fight. It'll be interesting to see where they both go from here. The Grand Slams are over but the season extends through the fall. From here, there is the Asian hard-court season and then, my favorite, the European indoor hard-court season. (The latter features a fast surface that favors shotmakers.)
During last night's trophy ceremony, Nadal said, "This guy is doing unbelievable things. Congratulations, Novak. Congratulations for everything… What you did this year is probably impossible to repeat." He's right. Federer won three Grand Slams each season in 2004, 2006 and 2007, but appeared more vulnerable with time. Nadal looked unbeatable in 2010 but was then trumped by a new rival. We're already speculating on Djokovic's demise. It's the most interesting storyline in tennis: How will it happen? Who will take down Novak Djokovic?
Thomas Golianopoulos is a writer living in New York City whose work has appeared in The New York Times, New York Observer, Spin, Vibe and a few other places. You can follow him on Twitter.
Photos by lev radin, via Shutterstock.