Engulfed in a Roiling Outcry! This Week's Mike Bloomberg "Fiasco"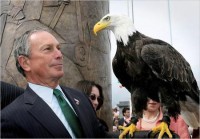 I get all suspicious when I hear about a "growing outcry," in the classic Times parlance. This particular "outcry" is said to have led to the cancelation of Mike Bloomberg's weekly radio chatfest, and is over the resignation of deputy mayor Stephen Goldsmith, who is at least five different kinds of schmuck. (This is snowstorm removal failure dude!) The mayor's office said he was leaving to pursue private sector work; but when Goldsmith resigned, he himself cited his recent arrest, which has now been made public. This "hiding" of a "crucial detail" (more Times parlance) has "engulfed his administration in controversy" and has "roiled New York's political world." (Sheesh, sounds like the Hindenburg hit City Hall!) So various future mayoral candidates (from Scott Stringer to Jon Liu) and some nonprofit folks and a couple of newspaper editorial boards are angry.
Goldsmith's arrest was for "simple assault domestic violence." (That's the legal term of art in D.C., where he apparently resides, which…???) His wife (Dan Quayle's cousin, which is so weird) did not press charges, for what that's worth, and called the arrest "over my wishes," which: sister, that's what happens when you call the police and tell them your spouse is assaulting you, and there's reasons for that? No takebacks! Also, perhaps you two should never see each other again, okay? But as for the rest of us? Dude resigned, and he was allowed to resign. And he is going to pursue private sector work! (I mean, he's been pursuing private sector work throughout his tenure as deputy mayor, so.) As for the rest of his personal life (in… D.C.???), not really sure we all need to consume the tabloid report on his totally hideous and grotesque relationship. Is that terribly weird and old-fashioned? It's not like he was hosting pit bull rings in his basement (in… D.C.!). Dude departed. Great, sounds like we're rid of a hot mess. And while City Councilmember Letitia James' point that "They tend to protect their own" is a good one, I do think if they were actually protecting their own they'd have refused his resignation and would be doing the exact same thing they are today (that is, not talking about it) and the administration would be "engulfed" and "roiled" and whatnot anyway.