Embrace Your Prairie Looks And Make Some Applesauce
by Jaime Green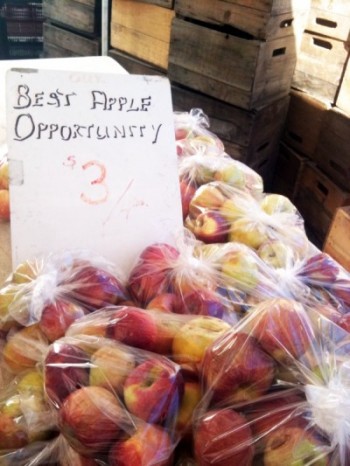 When I was a sophomore in college I was an incredibly cool and awesome girl, so my two best friends and I did what cool and awesome kids do in college and spent our spring break at Colonial Williamsburg. Don't get me wrong: it was awesome. We were the only people there over 16 and under 40; one of us danced the minuet in a dance-styles demonstration, one of us caught the blacksmith's eye, and all three of us got strange, bemused looks from the employees/waiters/reenactors who were the only people there around our own age. "What are you doing here?" the waiter in one tavern asked. We answered cheerily, spring break! And then he laughed, then shrugged and came back with spoonbread. Now, spoonbread — which is like corn bread but is pudding — was maybe the thing I'd been looking forward to the most about the trip, having remembered it from a trip my family took to Colonial Williamsburg when I was ten. That trip was over Passover, but on the second day we gave in to rolls and spoonbread, and it's funny to look back now and think that that mattered.
One of the best things to do in Colonial Williamsburg — I mean, other than watch the blacksmith work and visit the haberdasher and attend the witch trial reenactment (casting votes in favor of conviction!) — is to shop. Not necessarily to buy things, but to wander between display racks and marvel and imagine. It's no different than what you do in the period-appointed homes, except in the shops you're allowed to touch and hold things. Everything's for sale, but they seem less like commodities than artifacts. You could buy a pound of sugar in a supermarket, or you could take home a sugar cone in the Colonial style, from which you'll daily scrape off your ration of crystals while thinking about the rum trade or Caribbean sugarcane or whatever. Or you can just hold the paper-wrapped cone in your hand in the shop, and think about doing that.
You can try on hats, and you may realize that, no matter how elegant your headwear, you have the face of a prairie girl. Of a peasant. Dainty bonnet, rough straw hat, coonskin cap: you look ready to head out to the fields. And just like spoonbread, these moments of imagining in the store can stay with you. They may even start to influence sartorial choices in the future: do you gravitate towards prairie-sleeved dresses and lace-up boots or fight against it lest you look like a Little House cosplayer? And what does it mean about your Eastern European ancestry that you look so at home in farm clothes? Is there some facial structure that is common to peasant classes, your great-greats in a Polish village having somehow evolved looks parallel to the Norwegian or whatever immigrants who peopled the farms of the American prairie? Why does your boss insist you look Irish?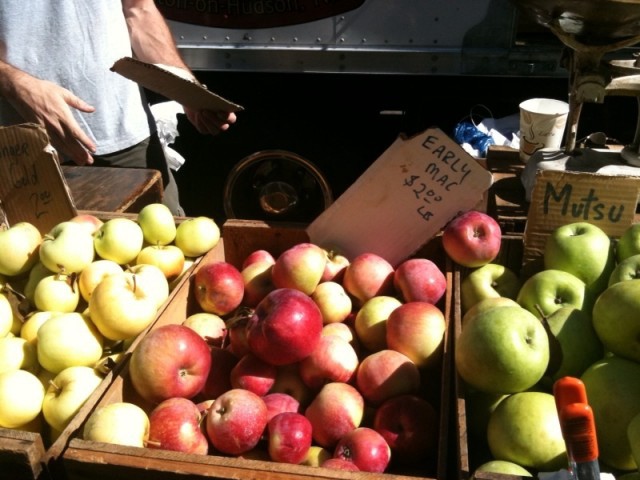 And then one fall afternoon I was making applesauce in my apartment, and a strange moment came over me. Maybe some subconscious seed had been planted when, those years ago, I'd watched my face transform into the past under a wide-brimmed straw hat. Whatever connection I have to that past that's not mine lit up like some "Quantum Leap" connection, and I felt more like a prairie wife than I ever had before. (As if feeling like a prairie wife was something I previously should have been doing.)
This was new, even by the standards of my previous imaginary jaunts. The first year I lived in New York, I worked a second job at the Metropolitan Museum, walking every Saturday morning through the Upper East Side to the park the museum nestles into. With each block the neighborhood became tonier and lovelier and less like mine. Heading to my post for the day, I would use the timeless, pre-opening quiet of the Byzantine hall to imagine myself into the fledgling museum of the turn of the last century. I had seen a photograph once, half the building I knew facing onto the barren expanse of an unbuilt city and an unplanted park. Walking between the towering twinned Assyrian warriors striding ever forward in stone, I conjured for myself a corset, a bustled skirt, a destination more exciting than the entrance of an exhibit and eight hours explaining how to use the audioguide. Sometimes I did away with the museum entirely and added horses and carriages clacking down a cobblestone city street. (I hope that this is the sort of thing we all still do even though we all think we shouldn't since we are adults.)
But the applesauce transportation took no conjuring on my part. I didn't dredge up images of log-cabin walls or a hard-packed dirt floor, gleaned from Little House books read years and years ago. I didn't try at all. Instead, I just felt like I was a little bit somewhere else, that there might be pine trees or waving fields outside my kitchen window rather than the actual view, which is of a brick wall the next building over and the concrete in between. I didn't imagine that I was a prairie wife cooking apples over a wood-burning stove; I just found myself feeling a little bit what it felt to be one, as if the lines between me and that imagined woman were blurring.
And then it passed, like an ocean waves that comes beyond the breakers but not so deep you can't stand: a little lift, your feet raise off the sand for a moment, and then you're set down. Another breath, and I poked my head into the living room to see if "30 Rock" was back from commercials
I don't have prairie ancestors. I have tenement ancestors. I have shtetl ancestors. When I'm on the Lower East Side, it's easy for me to imagine my teenaged grandmother walking my same steps, going from school to her father's butcher shop beneath a canopy of laundry lines I'm not ever sure existed. But I don't make brisket. I don't make gefilte fish or matzoh balls or charoset. I made potato kugel once, but with sweet potatoes, which represents too many levels of bastardization to get into.
My grandmother — we call her Bobbie, a bastardization of the Yiddish bubbeh, while my paternal grandmother was Grandma — makes honey cake every fall, sweetness for Rosh Hashanah, for a sweet new year. She is not the cook of the family. She paints huge abstract paintings in bright colors and bold lines. But once a year she takes out her mother's recipe and takes over my grandfather's kitchen. Bobbie says she feels her mother with her then. She bakes cakes for the holiday dinner and to mail in halves and quarters around the tri-state area for family, granddaughters included, who couldn't make it home to celebrate.
I make cabbage soup sometimes, but not Grandma's recipe with beef bones and raisins. I make a hot-and-sour thing with tofu — such a shondah — that I found on a vegan recipe blog. Grandma died a few years ago. I don't ever feel her with me, but I do think of her on Thanksgiving. It was always her holiday, made yearly for 20 of us in her Long Island studio apartment. Until then she stopped being well enough to cook it, and then to host it, and then she was sick and then gone. I think of her when I play Scrabble, when I make a particularly awesome, asshole-ish move. I think of her when someone mentions a nursing home. But never when cooking. I don't make their food.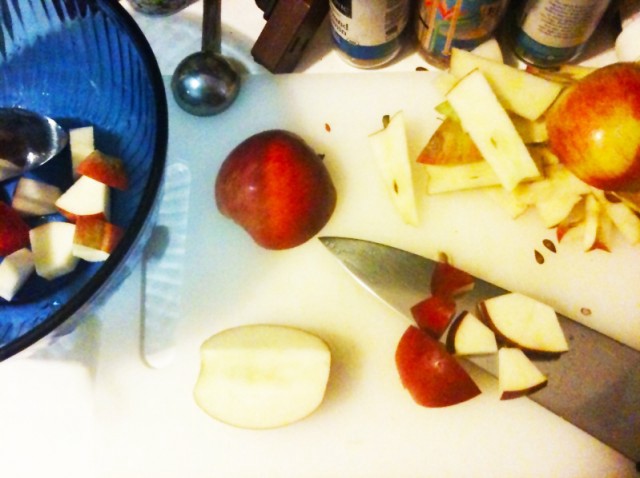 When I set out to make that applesauce last fall, all I wanted to do is use up the apples I brought home from apple picking. Of course, between apple picking and the chance to cook I ate most of the picked apples, so I bought a two-dollar bag of five pounds of apples from the farmers market. (You can get five pounds for two dollars or three pounds for one, which is dubious math.) The apples cooked down more quickly than I expected. I watched the raisins plump up and thought of Danny, the Champion of the World and feeding hidden sleeping pills to pheasants. I felt satisfied, both because of the fruitful expenditure of effort and for the resulting store of applesauce to eat my way through over the winter, which I guess is a very prairie wife way to feel.
How To Make Apple Sauce
Chop some apples — a pound or five — into small cubes. Use lemon juice to keep them from browning. Start the chopped ones cooking while you finish chopping the rest, with maybe a splash of water if they're too dry at first. Add a few shakes of cinnamon, nutmeg, ginger and a dash of cayenne pepper. Add raisins. Stir every so often, so nothing sticks.
Chop and chop and chop and stir and stir with a wooden spoon standing over the stove, maybe the warmest spot in your apartment if the heat's not turned on yet.
Imagine a wood-burning stove. Imagine yourself an apron. Imagine yourself a prairie home. Imagine 1865, or so.
Make your house smell like pie.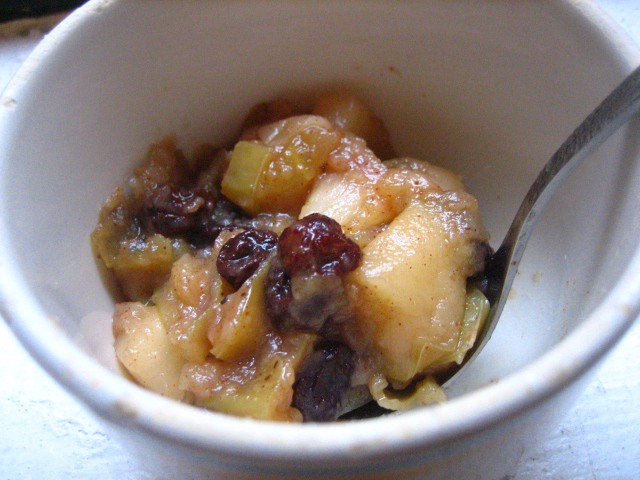 Jaime Green is looking forward to honey cake.