Was the Met's McQueen Show Just Camp with Cruddy Techno?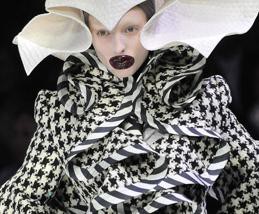 We cannot call McQueen an artist and simultaneously show his art in such a silly way. His talents were in tailoring, draping, volume, etc — and "Savage Beauty" obfuscates those talents by placing his beautiful clothes in a relentlessly cheesy, cartoonish sideshow, part mausoleum, part Hot Topic. The "Savage Beauty" exhibit with all its smoke and burnished mirrors, its gothic display cubbies, its spinning mannequins, supposedly menacing heartbeat sounds and–worst of all–pumping techno music do nothing but distract from why we are celebrating McQueen in the first place. Essentially, "Savage Beauty" is not about McQueen's designs but an act of pinning to him this romantic narrative, a Kurt Cobain story under pumping atmospheric techno.
— I'm not sure I entirely agree with this but there are actually some very good points!