Six Authors Who Were Copywriters First
Six Authors Who Were Copywriters First
by Nate Hopper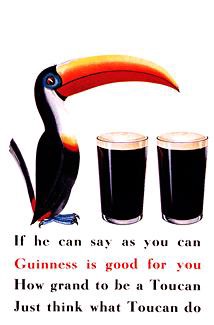 For many writers struggling for publication, advertising has proven a useful field (it does pay, after all): F. Scott Fitzgerald, Salman Rushdie, Dorothy Sayers, Don DeLillo, Joseph Heller and Helen Gurley Brown all worked as copywriters early in their careers — some with more success than others. Rushdie came up with "Naughty. But nice" cream cakes for Ogilvy & Mather; Sayers introduced "Just think what Toucan do" to Guinness and founded a dotty, fictional (and wildly popular) "Mustard Club"; and, thanks to Fitzgerald, streetcars in Iowa once ran with the promise "We keep you clean in Muscatine" sparkling on their sides.
Yet for all six, advertising was mostly just a means to an end — a day job to keep them solvent until they were lucky enough to leave. But their time in advertising wasn't a waste: as copywriters, some learned how to write economically and on deadline; others discovered fertile subjects in the office life and business culture around them; while others used office hours to work on the books that would later make their names.
F. SCOTT FITZGERALD
In February 1919, a 22-year-old F. Scott Fitzgerald was discharged from the army. He was without a job, but in love with a woman from Alabama named Zelda Sayre who refused to accept his marriage proposals until either a job or money materialized. So Fitzgerald moved to New York City in search of a newspaper position that would help him enter the writing world. In a fascinating 1935 interview with The New York Post, he described making the rounds of the newsrooms with a bundle of his lyrics for the Princeton Triangle Club, a theatre troupe, under his arm: "The office boys were not impressed." After a slew of rejections, he met a man who told him to skip out on journalism and invited him to come work as a copywriter for an ad agency.
"'It's perhaps a bit imaginative,' said the boss, 'but still it's plain that there's a future for you in this business. Pretty soon this office won't be big enough to hold you.'"
Fitzgerald wrote short stories at night and, during the day, streetcar sign slogans for $35 a week. (Andre Le Vot's F. Scott Fitzgerald: A Biography mentions that Fitzgerald also wrote lines for billboards — but fails to say if one was ever for a doctor.) "The hit I made with a slogan," he said in the Post interview, "I wrote for the Muscatine Steam laundry in Muscatine, Iowa — 'We keep you clean in Muscatine.' I got a raise for that. 'It's perhaps a bit imaginative,' said the boss, 'but still it's plain that there's a future for you in this business. Pretty soon this office won't be big enough to hold you.'"
The pay was too meager to fund the lifestyle (and gin) Fitzgerald craved, and he'd soon pinned 122 rejection slips from magazines around his apartment. His distance from Zelda tortured him, too. So after only a few months, he quit copywriting — and New York City.
He later wrote: "I was haunted always by my other life — my drab room in the Bronx, my square foot of the subway, my fixation upon the day's letter from Alabama — would it come and what would it say? — my shabby suits, my poverty, and love. While my friends were launching decently into life I had muscled my inadequate bark into midstream… I was a failure — mediocre at advertising work and unable to get started as a writer. Hating the city, I got roaring, weeping drunk on my last penny and went home."
At his parents' home in St. Paul, Fitzgerald reworked a novel he'd written during the war about a young Princeton student who'd enlisted, expanding the book to include the student's post-war struggles in New York. It was titled This Side of Paradise, and in March 1920, thanks to some in-house championing by Maxwell Perkins, Charles Scribner's Sons published it. While the book didn't net Fitzgerald much money, it popularized his work and allowed him to charge more for his short stories. It also made him suitable for marriage. A day after the first printing sold out — three days after its release — Fitzgerald wrote to Zelda, asking her to meet him in New York City and marry him. She did.
SALMAN RUSHDIE
One day, in 1969, Salman Rushdie ran into a former acquaintance who'd disappeared from the London fringe theatre scene in which Rushdie was active. "He'd bought a sports car, he had a blonde secretary and he was making shampoo commercials with tall thin girls. He also looked like he had put on a considerable amount of weight," Rushdie said in an entertaining guest speech for a 2008 advertising-awards ceremony. "He said, 'You should try this, Salman, because it's really easy.'"
Rushdie went to take a test at the large agency, JW Thompson, where the man worked. "The only question I remember was they asked you to imagine that you met a Martian who mysteriously spoke English and you had to explain to them in less than 100 words how to make toast." (D.C.R.A. Goonetilleke's biography mentions that the test also asked for a jingle on the merits of seatbelts.) He failed the test.
Rushdie snagged a copywriting position at a smaller firm but then quit to finish his first novel, The Book of the Pir. But when the book didn't find a publisher, he began working a couple afternoons a week at then-"relentlessly unfashionable" Ogilvy & Mather, dividing his time between copywriting and writing. "As I look back, I feel a touch of pride at my younger self's dedication to literature, which gave him the strength of mind to resist the blandishments of the enemies of promise," he wrote later. "The sirens of ad-land sang sweetly and seductively, but I thought of Odysseus lashing himself to the mast of his ship, and somehow stayed on course."
Rushdie was not the only aspiring author at the agency, of course, and he describes his colleagues hiding their manuscripts and screenplays in their desks whenever the agency's head would fly in from New York. His seven years at Ogilvy & Mather were productive. For the Daily Mirror, he came up with, "Look into the Mirror tomorrow — you'll like what you see." He also thought up "Naughty. But nice." for a cream cakes company after watching a bunch of Brit sitcoms (the line's an allusion to Dick Emery's "You are awful (but I like you)"). The client initially rejected the concept, but a year later, without Rushdie's foreknowledge, the tagline was everywhere, including TV:
https://www.youtube.com/watch?v=Dlq0196ulmI
There was also "Irresistibubble" for Aero, which remains the candy-bar company's slogan today. Aero wasn't Rushdie's account, but a panicked, blocked coworker asked him to help brainstorm. The coworker was so nervous as they batted around ideas that he was sweaty and stammering. Then, as Rushdie remembered it in that same 2008 speech, the man was on the phone and his stutter kicked in: "Whatever he was asked he said he couldn't do," recalled Rushdie. "He said, 'It's impossib-ib-ib-ible', and I thought, 'Ping!' It was one of the very few ping moments actually. While he was still on the phone sweating and stammering I wrote down every word I could think of that ended with 'able' or 'ible' and turned it into 'bubble'."
Throughout his time as a copywriter — including a switch to Ayer Barker, where he came up with the tagline, "That'll do nicely," for American Express — Rushdie kept writing. While at Ogilvy & Mather, his first published book, Grimus, was released. At Ayer Barker, he wrote his next novel; one morning, he spent a couple office hours deliberating over what to call it, typing "Children of Midnight" and "Midnight's Children" over and over at his desk before settling on the latter.
Rushdie left copywriting in 1980, the year before Midnight's Children was published, but never lost the habits he'd formed as a copywriter: "I now write exactly like that. I write like a job. I sit down in the morning and I do it. And I don't miss deadlines. I do feel that a lot of the professional craft of writing is something I learnt from those years in advertising and I'll always be grateful for it."
DOROTHY SAYERS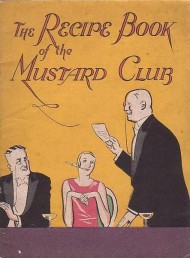 In a 1922 letter to her parents, Dorothy Sayers wrote, "I've no idea whether I shall make anything of this business." She was in London, in the midst of a month-long trial period at the advertising agency Benson's. Her letters from this period are filled with fretting over whether she'd get cut from the job, which paid four pounds a week, a salary she needed to supplement earnings from Whose Body?, the first of her Lord Peter Wimsey mysteries.
But Sayers was brought on permanently and landed a raise and an office to herself on the agency's top floor. She relished the creativity and the word play of the job, notes James Brabazon in his biography. When she went out to pubs with her coworkers she'd wear a lapel badge of the Froth Blowers, the beer drinkers' union.
Sayers wrote ads for a number of sandwich ingredients, including Sailor Savouries, margarine and mustard. In another letter to her parents, in 1923, she wrote: "Mustard again! It is astonishing that they should want so many advertisements for mustard. However, let's hope that's the end of it for a bit."
It wasn't, though. The creation of the Mustard Club — one of the most popular ad campaigns of the time — occupied her time for the next few years. Hatched from an inside joke between Sayers and her future husband, journalist Atherton Fleming, the club was described in one ad this way:
The Mustard Club (1926) has been founded under the Presidency of the Baron de Beef, of Porterhouse College, Cambridge. It is a Sporting Club, because its members are always there for the meat. It is a Political Club, because members find that a liberal use of Mustard saves labour in digestion and is conservative of health. It is a Card Club, but Members are only allowed to play for small steaks.
The motto of the Mustard Club is 'Mustard Makyth Methuselahs,' because Mustard keeps the digestion young. The Password of the Mustard Club is 'Pass the Mustard, please!'
While Sayers was never formally acknowledged as the campaign's chief copywriter, Brabazon observes that the entire campaign had Sayers' touch: from its fictional characters (Miss Di Gester, the secretary; Lord Bacon of Cookham, among others); to a prospectus that claimed the club had been founded by Aesculapius, the god of medicine; to the recipe book, which included a Shakespeare and Chaucer reference by a "Devilled beef" recipe: "Who sups on a devil should have Mustard in his spoon." The fictional club grew so popular it issued roughly a half-million real memberships before the war.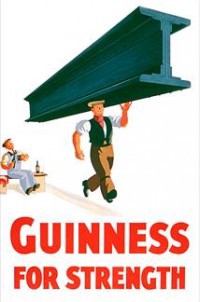 The agency's offices had an iron spiral staircase, and Brabazon describes Sayers descending the stairs, her cloak waving behind her, a cigarette holder in one hand and the other hand in the pocket of a black jacket or holding scribbled concepts. One frequent destination was the office of illustrator John Gilroy, with whom Sayers worked, in 1928, on the famous zoo adds for Guinness. The collection of these ads on the Guinness website says the campaign didn't debut until the mid-'30s, after Sayers' tenure at Benson's; and according to the Guinness Collectors Club, Gilroy continued producing Guinness ads into the '60s, using the same themes. But Sayers is widely credited for her work on the concept and the original jingle: "If he can say as you can/Guinness is good for you/How grand to be a Toucan/Just think what Toucan do."
In 1930, Sayers would leave the agency to pursue her writing full-time. By then she'd published five mysteries and a collection of short stories. In 1933, she used her memories of the place to speedily come up with the premise for a mystery in order to hit a deadline (she later hated the book because of how rushed its writing was). The book, Murder Must Advertise, was centered around the mysterious death of a copywriter who falls down an iron spiral staircase. Lord Wimsey, going undercover at the agency to solve the case, finds that he has a surprising knack for copywriting and comes up with a successful campaign for Whifflet cigarettes. Gazing into a mirror one day, Wimsey remarks, "Strange, to think that a whole Whifflets campaign seethes and burgeons behind this solid ivory brow."
Don DeLillo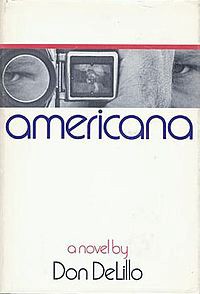 Like Rushdie, Don DeLillo worked at Ogilvy & Mather (although in the New York, not the London, offices). But, unlike Rushdie, DeLillo is not to be found giving fond speeches at advertising-awards ceremonies. In a 1991 New York Times interview, DeLillo said he'd only taken a job as a copywriter after he couldn't turn up one in publishing. After working at the agency for five years, he quit and, as he put it, "embarked on my life, my real life." But the transition away from writing print ads (he never worked in commercials) wasn't so he could write, he'd later tell Guernica: "Actually, I quit my job so I could go to the movies on weekday afternoons."
DeLillo has steadily maintained that "his experience as an advertising writer… explain[s] little in his career," notes Thomas Pietro in the introduction to his compilation Conversations with Don DeLillo. Yet traces of the experience can be found in his novels. As Mark Osteen, president of the Don DeLillo Society, wrote in an email: "Most of this experience fed into his work — and particularly into his first novel, Americana," — which DeLillo began writing three years after leaving Ogilvymdash;"in which the character Clinton Bell, is an adman… A lot of what [DeLillo] has to say about it comes in Clinton's words: for example, that 'television is an electronic form of packaging.'"
In Americana, Clinton tells his son David, the novel's protagonist, a story about a shrewd piece of marketing devised by his own father: "McHenry — the Star-Spangled Pajamas," pajamas with 48 stars sewn on every pair. The product made the company owner rich and Clinton's father famous. "It was the greatest merchandising gimmick of the decade," says Clinton before concluding, "You could afford to be innocent in the days."
In another scene, David asks his father, "Why is it that all advertising people I've ever known want to get out? They all want to build their own schooners, plank by plank, and sail to the Tasman Sea. I know a copywriter at Creighton Insko Dale. At lunch one day he started to cry."
JOSEPH HELLER
In 1953, Joseph Heller was working as a copywriter for the Merrill Anderson Company in New York. One night, as he later described it to The Paris Review, "this line came to me: 'It was love at first sight. The first time he saw the chaplain, Someone fell madly in love with him.'" As he remembered in his autobiography Now and Then, he sat down at his desk that day and wrote an entire chapter longhand.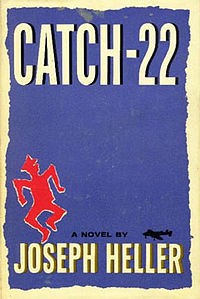 Two years later, the chapter, entitled, "Catch-18," was published in New World Writing (in the same issue, a chapter from Kerouac's On the Road was published under the pseudonym Jean-Louis). Heller made $25. By then he'd left the agency and a couple other jobs and was working as an advertising-promotion copywriter at Time. In his new biography of Heller, Just One Catch, Tracy Daugherty recounts how Heller once successfully wooed the Simmons mattress company to buy ad space in Time by using an image of the Red Queen from an old edition of Through the Looking Glass and the quote, "Now, here, you see, it takes all the running you can do to keep in the same place!" in a presentation — a success that got him his first raise.
Another two years passed and the chapter had become a halfway-finished novel with a publishing contract. Another four years, during which Heller moved to McCall's as a promotions manager, and the book was finished and released under the new title: Catch 22. Another two years and the novel was the bestselling paperback of the year, selling over two million copies; but only earning its author $.03-$.04 a copy, by Heller's own math. (That's about half a million in today's dollars.)
It wasn't until a year-and-a-half later, when the movie rights were sold for $100,000 (that'd be about seven times that today), that Heller left the advertising world.
HELEN GURLEY BROWN
Helen Gurley Brown was 31 and an agency secretary when she won a 1953 Glamour magazine competition to share the title of "Girl with Taste." The victory brought her a trip to Hawaii, minor celebrity status and, eventually, a shot at a promotion to copywriter. Although it's not clear that a career in copywriting was even Brown's true goal — what she really wanted was to win the contest. "I felt I better not say I just want to be a secretary, that wasn't what they were looking for, so I said 'I'd like to write copy,'" she later recalled. But then, as Jennifer Scanlon recounts in Bad Girls Go Everywhere, a staffer from Glamour called up Brown's boss and asked him why he hadn't given her the opportunity to write copy, his wife seconded the question and Brown got her chance.
"[W]hen your mirror has been telling you for years that the most extravagant adjective that can ever apply to you is…attractive. Poof to that! Tonight you will be beautiful!"
Brown ferried back and forth between her secretarial desk and her copywriting desk for three years. Apparently, her boss found it hard to replace her (he'd later say that was the real reason he hadn't promoted her earlier). The agency was Foote, Cone & Belding, and while there Brown wrote lines for Sunkist, Catalina swimsuits, Breast-O'-Chicken tuna and Lockheed, among other accounts.
But her flair for writing copy that appealed to women garnered such high demand that another agency successfully lured Brown away with an offer of twice the money. For Max Factor eye makeup, she wrote: "It's nice to be an angel most of the time — but tonight — let your eyes reveal the daredevil side of you! Let them go deep, dark and devilish…suggesting, just suggesting the wanton and wicked." For Max Factor's Pan-Cake line: "Tonight you must be more beautiful than you really are… you must be beautiful, period, when your mirror has been telling you for years that the most extravagant adjective that can ever apply to you is…attractive. Poof to that! Tonight you will be beautiful!" Within a decade Brown was the highest paid copywriter on the West Coast and had won several awards for her work.
Throughout her time working as a copywriter, she sent in advice articles for women to Glamour, Playboy, and Esquire, without success. But then came the bestselling Sex and the Single Girl in 1962, and Brown said "Poof to that!" to the ad world when she took over as editor-in-chief of Cosmopolitan three years later.
Nate Hopper is a summer Awl reporter.