The Bad Deal: Check Before You Buy an "Online Deal"!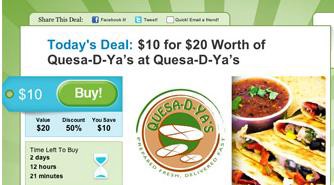 Are you familiar with The Bad Deal? Its proprietor, Ryan Sutton, tracks the ever-expanding group coupon (or, in the parlance, a "GROUPON," LOL) industry for things that are frankly fairly terrible. (For instance? $140 for 90 minutes of stuffing wings in your face at Professor Thoms dive bar. No thanks!) And today comes word of the Daily Candy $80 brunch… in midtown. They break it down like this:
CHARLEE: Hey babe. Wanna have brunch in Midtown Manhattan?
RENEE: Not really, who goes to Midtown on the weekends?
CHARLEE: But I bought us this great offer: two courses and two cocktails.
RENEE: $40 bucks? A cocktail each? Sure That's enough to share.
CHARLEE: Wait, sweetie, there's no sharing allowed with this deal. So I had to buy two vouchers. So technically that's $80 bucks.
RENEE: Hold on, I thought we were saving money?
CHARLEE: Yes, we're saving 35 percent! Of course, we're supposed to tip on the original price of $63 per person, so after tax and 18% tip that comes to $109.
RENEE: We're spending $109 on brunch? Listen, we could have gone to Balthazar, ordered two Bloody Marys, half a dozen oysters, foie gras terrine and apple pancakes for $79 bucks — and we'd be tipping on $79, not some fictional $123 that we'd never have spent anyway!