Snacking About Baseball: Foodstuffs Of The Major League Parks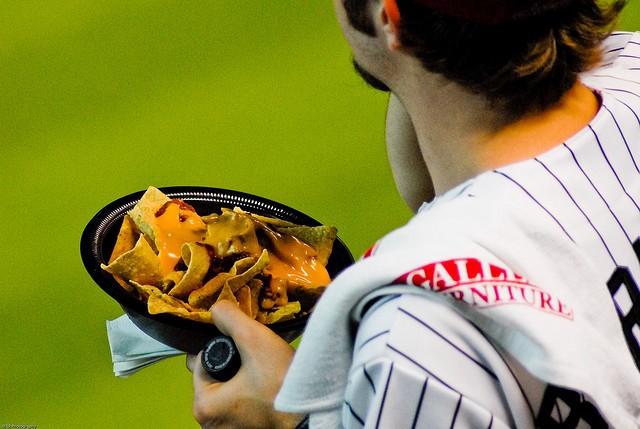 David Raposa is off this week, but Yakkin' About Baseball will return in its usual format next Friday. In the meantime, I'm offering an exclusive (if admittedly a bit self-promoting) look at a pet project of mine that's snowballed into something of an obsession. For the past seven years, I've been working on a still-untitled book project that has entailed visiting — and eating at — every Major League ballpark. The idea was to provide an overview of the concessions (culinary, ethical, otherwise) of Our American Pastime, but it has become something else entirely.
What was originally intended as a mass-market coffee table book has become something much more ambitious — a cross between a Bleacher Report underboob slideshow, Henry Roth's "Mercy of a Rude Stream," that $600 compendium on molecular gastronomy with the 26-step recipes for veal-jowl "bullets" that start "harvest your agar-agar around 7 a.m.," and some of the darker and more opaque volumes of the Old Testament. It's no exaggeration for me to say that this project has basically ruined my life and made it impossible for me to have normal relationships. Here's a taste!
New Yankee Stadium, New York
Aesthetically, New Yankee Stadium is not exceptional. The old stadium felt like a tourist-thronged temple, albeit one to which the Steinbrenners affixed some vinyl siding back in the '70s. The new one looks and feels like a stadium-sized, extra-marble version of a Trump Tower bathroom, with a baseball diamond where the gold-plated bidet would be. But for stadium food, the New Yankee Stadium is exceptional indeed.
A menacing checkpoint ensures that fans with tickets to the stadium's upper and Pinstripe Panopticon (the plexiglass-enclosed pen that replaced the old stadium's bleacher seats) sections cannot and do not enter the Field-Level, Legends and Private Equity boxes. This is a shame, because there are some truly extraordinary dining experiences to be had in both. In the upper sections, I particularly recommend the rightfield Auntie Anne's Pretzels staffed by vendor Charlie F, who weeps silently throughout the game and applies massive gouts of Hunt's ketchup to your Big City PretzelDog without asking if you want it or not. The PretzelDogs ($16.25) are terrible — imagine a distended, faintly porkish sponge wrapped in a heavily salted summer camp mattress — but this is perhaps the definitive Auntie Anne's experience available outside of Penn Station. In the Legends/Private Equity section, I particularly enjoyed the omakase at Masa at the Ballpark ($365 per person, $550 with sake pairing), although it did lead to an embarrassing moment in the Veuve Cliquot Patisserie and Networking Lounge when Mort Zuckerman pointed out that I had some nori stuck between my two front teeth. It wasn't that I was ashamed, per se, it's just that he was kind of a dick about it.
Miller Park, Milwaukee
At the risk of slighting the many serviceable food options at Miller Park — and this is still the only ballpark in America at which you can get a boiled weissewurst ($6.50) served to you by Pete Vuckovich — I'm going to focus on a peculiar and unauthorized dining option that is, to my knowledge, available only at Miller Park. What former Brewers reliever Mike Fetters is doing at Miller Park is illegal, unofficial, frankly unsanitary… and extraordinary.
Fetters, best known as a bulky righthanded relief pitcher, made nearly $14 million during his 16 years in the Majors, and is open about not needing the money he generates from his unauthorized food concession. "I'm set," Fetters told me in a Miller Park stairwell, as he hunched over the cast-iron skillet and hot-plate that he carries with him around the ballpark. "Own my own home, jet-skis for the kids and a hyperbaric chamber for the missus. This isn't about all that, and you can tell by what I'm charging this isn't about that."
While Fetters says that he "does fine" on his mobile concession, it's clearly a labor of love — only love, after all, could compel a 40-something man to pull a bubbling cauldron of Colby cheese and that cast-iron skillet around the ballpark while evading Miller Park security. Fetters charges fans just $2 to dunk any of the other concessions available at the ballpark into the "cheese tank," and will put a fried egg — that's where the skillet and hot-plate come in — atop any concession for just a dollar. And I do mean anything: during my visit, I saw Fetters put a fried egg atop a pile of nachos, a double-patty burger ($11) from Gorman Thomas Prime, and directly into a New Era fitted cap. "Security guys are going to bust balls, because that's what they do," Fetters says. "Food inspector guys, same thing. But the way I figure, these fans gave me a lot when I pitched here. A lot of love, a lot of support. I want to give them something back, too."
Petco Park, San Diego
"At the time, it was a no-brainer," Brady Garvin, the food and beverage manager at Petco Park, told me about the Padres' ill-starred partnership with Food Network star Guy Fieri. "Guy's a strong brand, and we had a lot of metrics that suggested that the concept he brought to us was going to work great." That concept was "Ballpark Food With Balls," an idea based around fried seafood and an assortment of "flavor-kickin' dippin-aises," and for a brief while it did very well at Petco indeed. Due to pending litigation, Garvin was unable to discuss Ballpark Food With Balls any further, but fans and vendors told the story of how what initially seemed a perfect pairing ended in legal action, acrimony and an alleged act of vandalism by Fieri in which he — or someone — spray-painted, in the words of a 2009 police report "hot rod-style flames" on top of both dugouts and in a half-dozen luxury boxes.
Fieri's concession stands — the full name was "Guy Fieri's Ballpark Food With Balls By Guy Fieri" — were open for only a few months, and I never got to taste the food. As a condition of Fieri's departure, several drums of Tex Wasabi Kickin' Dippin-aise, Do U BBQ Dippin-aise and Rockin' Horse-Ranch Dippin-aise were destroyed, and 5,000 Fieri bobbleheads, initially part of a planned fan giveaway, were sent back to the manufacturer, where they were reportedly altered slightly and sold as Shaggy 2 Dope bobbleheads at the 2010 Gathering of the Juggalos.
My discussions with the fans and employees who tasted and produced the food revealed a general consensus that — with the exception of the Whoa Whoa Avocado Margarita, which former Padres outfielder Brian Giles described as "fucking toxic" — the food was actually better than it looks in print. Fieri, though, was far more closely involved with the implementation and day-to-day operation than anticipated. He was also something of a taskmaster. "He was at the stadium in I think it was a series against the Marlins," a former Guy Fieri's Ballpark Food With Balls employee named Ernesto told me. "Guy was partying with Jon Gosselin, Chris Kirkpatrick from NSYNC and Representative (Brian) Bilbray. They were all behind the counter and I guess they were pretty drunk and Guy was on his longboard, just going down the line and yelling at everyone. And his sunglasses I guess fell off the back of his head and into one of the fryers? And the health code says you have to shut the fryers down when that happens, but he told us to keep cooking and that one of us was going to have to get him new Oakleys. And that day I was just like, they are not paying me enough, dude. And the next day I told my boss I wanted to work the Dippin' Dots cart or I was fucking done."
Related: Passover At Guy Fieri's House
David Roth co-writes the Wall Street Journal's Daily Fix, contributes to the sports blog Can't Stop the Bleeding and has his own little website. And he tweets!
Photo by M Glasgow.