No One Knows How to Get to JFK from Williamsburg (OR DO THEY?)
New York City's airport problem is legendary. JFK is extremely far, LaGuardia is extremely small, and Newark is in New Jersey. (One secret is that in many ways Newark is the best airport for New York — depending! It all always depends.)
Sloppy thinking in New York City might tell you that the best way to go long distances is via cab. You don't have to think, you can see the speed you're making and, you know, you feel like a rich lady. But the transit systems of New York have been improving radically over the last ten years (though the improvements can destroy your weekends!) and now? No one agrees on how to get to JFK from North Brooklyn. I asked, people answered, and no one agrees. Taxi! Livery service! LIE! LIRR! The… J train???
Obviously, if price is an issue, the pub transpo is your best option. You can get to JFK, if you play your cards right, for like one subway and one bus fare. Also you might die of boredom. Also you can spend $45 easy (or $450 — see helicopter suggestion). And then the problem with cabs is: who knows! Time to airport can be +/- a full hour.
In the middle is the car/train combo (smart!) and the LIRR, which is mildly more expensive than the subway BUT has departure and arrival times, which are ALWAYS exact. It's a great reason to take the LIRR. You never know about the subways. But and then…
Depends on time of day but: L (or J?) to A to Airtrain is always speedier than I think it will be. LIRR is a red herring.less than a minute ago via web
anna b
producestories
L train to Bway junction, switch to the A to rockaway, total time about 1.5 hours. Not that fast, but cheap!less than a minute ago via Twitter for BlackBerry®
Jessica Misener
jessmisener
the LIRR is way more reliable than the subway. #LI4life less than a minute ago via TweetDeck
Irin Carmon
irincarmon
actually it doesn't matter. car service -> LIE -> van wyck.less than a minute ago via Twitter for Mac
michael bourke
artless
CAR. Northside will do it for $30 I think? I've taken the L to the A & the L to the LIRR, but it takes FOREVER. Car is MUCH faster.less than a minute ago via web
ericajanes
ericajanes
If afternoon/early evening, take United car service ($10?) to Hunterspoint LIRR. Take LIRR to Airtrain. The fastest. #strongfeelingless than a minute ago via Twitter for Mac
Dorothy McGivney
jauntsetter
This is an opinion I especially value, as it truly smells like a person who knows what she's doing.
Your first mistake was deciding to fly out of JFK. Everyone knows LGA is THE Williamsburg airport (15 minutes door to door!).less than a minute ago via web
ryanvailbrown
ryanvailbrown
Technically true — LGA is extremely close (and incredibly loud, hi-o!) — but it also has like 1.5 runways and if a raindrop falls everything gets shut down and it becomes a horrific refugee camp in MINUTES. All of my air travel professionals won't fly into LGA if they can help it.
Helicopter from the roof of Diner. Get the mussels/kir royale combo to go!less than a minute ago via web
Stephen Rodrick
stephenrodrick
I mean, obvs. Also? SEAPLANE.
the JMZ is incredibly quick for Billyburg → JFK.less than a minute ago via web
Kurt D. Soller
kurtsoller
The other advantage to the J, it has been pointed out, is that it is above-ground! For all your texting and talking needs.
But here is from Hamilton Nolan: G to Court Square, E to Sutphin Blvd., then Airtrain.
What? This sounds CRAZY. But let us look!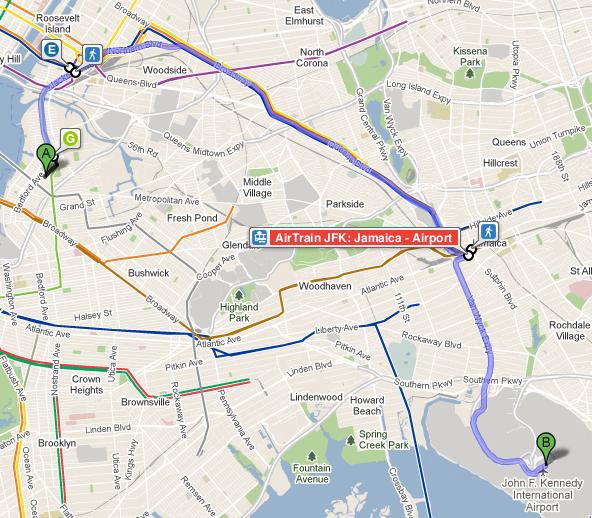 The secret here is the E's total number of stops on that route. VERY FEW. It's almost all straight-up express. He suggests you set aside an hour.
(Also, let us never forget? The Airtrain, God bless it, ain't all that great! You can wait for 15 minutes for one of those! Which seems inexcusable?)
Google Maps also suggests the L to the A to the Airtrain, and the L to the Q03 bus (WHAT).
But then Google Maps also says a cab from Williamsburg to JFK takes 23 minutes. Um, GO BACK TO MOUNTAIN VIEW.
Can you do better? I don't think I can. But I'm doing one of these right now.