by Myles Tanzer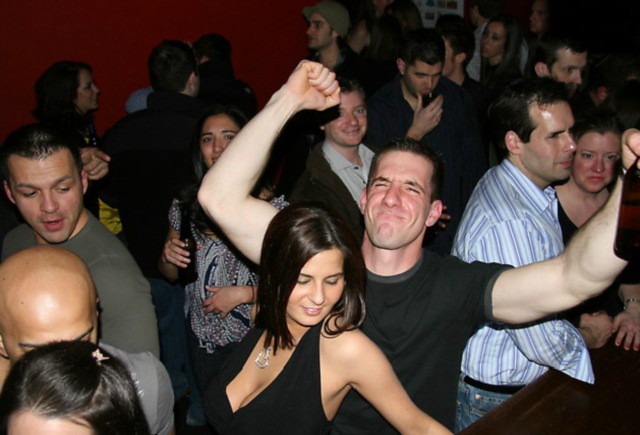 New Yorkers with self-respect try to avoid the Murray Hill scene at all costs. It's been universally branded as a Manhattan's frattiest neighborhood, a place where the newly graduated roam free in backwards hats and do keg stands and attempt to avoid being Iced. But is this really the case? Are the residents up on Murray Hill really the frattiest of the fratty, or is it all just an exaggeration borne out of the casual disdain with which more established citizens view the kids today?
The New York Observer, in a 2005 survey called "Welcome to Murray Hell!," offered a glimpse into a strange land where collegiate attitude was all around and frat fashion the style. The paper noted that:
"…the guys have their own carefully coordinated uniform: a simple business suit and chunky silver watch by day, and a classic college-T-shirt-and-khaki-shorts getup by night (though it's worth noting that some of them have taken to wearing seersucker shorts more recently). Many of them wear baseball caps, others go for the cropped-locks-and-hair-gel look, which they accessorize with smug smiles and the occasional hand-me-down BMW."
The Observer checked back again in 2008, and the Times took a tour early this year. There's even a popular viral song about the 'hood on YouTube.
But is it the frattiest neighborhood in town? We asked Curbed founder Lockhart Steele if he could think of any another area that was similar. "It's with great remorse that I tell you that no neighborhood in New York City compares to Murray Hill. Some will say Yorkville can be considered Upper Murray Hill, but those sort of folks have spent too much time in Yorkville and not enough in Murray Hill to think that," he said.
We staked out a Pinkberry in Murray Hill this week and found that in one hour, 20 people entered the store with college t-shirts (we counted fraternity, sorority, and university apparel as college-tees). Compare that to the East Village Pinkberry, where we only saw 9 college tees (3 of which were NYU).
For further research, we did what every local frat boy in trouble is scared to do — call up the nationals for help. Matt Glick, a New York based leadership consultant for Alpha Epsilon Pi said of his members, "Most often they end up in Murray Hill or places like Stuy Town."
So even the frats themselves identify with Murray Hill. But Scott Sitman, a 23 year old City transplant who decided to set up shop in the East Village, sees things differently. He told us, "I went to a big university in the midwest that has large a large east coast population (i.e. Jews), so naturally I know a lot of people in Murray Hill. I think a main reason young people live there is because the quality of life is relatively high, for a price kids just out of college can pay. Plenty of people I know live in dope apartments on like the 30th floor of a brand new building. Many buildings have doormen and it's a pretty safe neighborhood, so I feel like it's an easier transition to city life, compared to, say a dank and grimey 5th floor walk-up on Avenue C. And I guess that's fair enough."
He doesn't think that "fratty" is a fair description of Murray Hill, but he does make sure to note the fact that "college kids flock there after they graduate, many of whom are used to broing out 3 nights a week and watching a shit ton of sports…. But to each his own."
Murray Hill's main drag is the crowded strip of bars down Third Avenue populated by a striped, buttoned-down black out drunk crowd. There's even Exchange Bar and Grill, where patrons buy their drinks from a "drink stock market." It's pretty much designed to attract that young hotshot summer associate crowd looking to impress their with their newly learned Goldman Sachs skills.
The Joshua Tree, the most widely known bro-bar in Murray Hill, says that each week it runs through about "80 cases of bottled beer [24 bottles each] and 20 kegs." That's over 2,000 orders of beer per week. No other bar that we reached out to would tell us how much beer they actually sold. Most of them declined to reveal their numbers out of fear that they would be giving away the profits for a private business. So it says something that The Joshua Tree has enough bravado that they would be willing to tell us about their serious coin and beer drinking capabilities — it's a total frat move.