Here's a REAL Recipe for Summer Tomato Sandwiches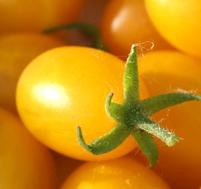 Today the Times prints a recipe for "tomato salad on a roll," in which the final recipe instruction is this: "Cover sandwiches with a clean dish towel and wait for an hour or so before serving." (Sure, they want the sardines and garlic to "marry" and whatever, okay, sure, I get it, it's just: it's hot and I'm hungry.)
Here's my very own summer tomato sandwich recipe!
1. Get some bread, toast it lightly, just a little.
2. Put tomatoes (preferably little ones, and yellow, and cut in half) and torn basil, with some olive oil and salt and pepper, on one piece of bread. Put some mozzarella on the other piece of bread.
3. Put them both under the broiler for like 2 minutes, max. Your cheese bubbles. Take them out.
4. SLAP TOGETHER (putting cheese on top of tomatoes, obviously) AND PUT IT IN YOUR MOUTH IMMEDIATELY, WHAT IS WRONG WITH YOU.