Are Broadway Theater Seats Too Small?
by Myles Tanzer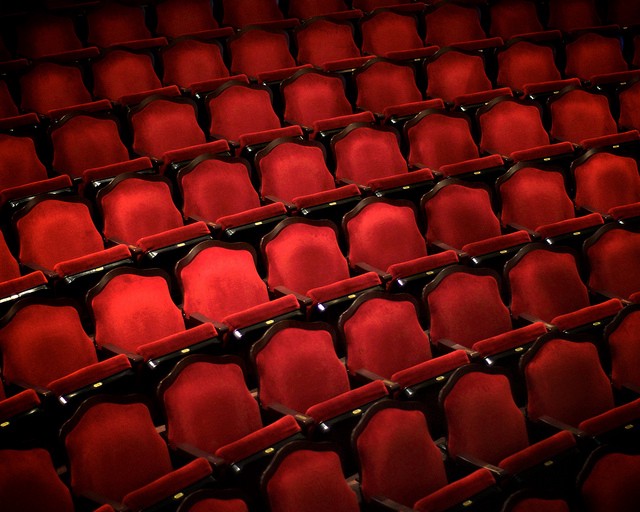 Every New Yorker has a series of cherished myths and hard-earned wisdom that he or she considers the Gospel truth about how to get by in this city. But are the stories we tell ourselves in order to live really on the level? We turn to the experts to help us figure it out.
There's the moment in every New Yorker's life (tourists, you get to play this round too!) where they experience the terrible feeling of a leg cramp during a Broadway show. Do you scream? Do you shuffle out of your aisle noisily and try your best not to faceplant? Why are those seats so small in the first place?!
The New York Times investigated the issue in 2004 and came out with some unsurprising stats. Their "nonscientific survey" confirmed what everyone already knows: "some seats in Broadway theaters are really small." The "pitch" (the distance from a point on one seat to the same point on the seat in front of it) in heaters mostly ranged from 30 to 32 inches — a puny amount of space for a full-grown human.
But what the article didn't answer was why these seats were so small in the first place and why they were so scrunched together. We turned to an elite panel of experts for our answer.
We asked Wall Street Journal's drama critic Terry Teachout on what the deal was with the little chairs. His answer:
"It depends — usually — on the age of the theater in question, and whether that theater has been renovated in modern times. Houses built prior to World War II typically have narrower seats, undoubtedly because Americans have grown fatter in recent years. Legroom has also shrunk in most Broadway houses, the same way that it has on airplanes and for the same reason: to cram in more people. That problem, however, has nothing to do with the age of the house. (Lincoln Center's Vivian Beaumont Theater, which opened in 1965, is notoriously difficult for long-legged people.) In addition, the width and 'pitch' of theater seats also varies within a given theater. Generally speaking, though, these two rules apply: (1) The smaller the house, the smaller the seats. (2) The cheaper the seats, the bigger the problem."
New York Times theater critic Ben Brantley, who says that he "flies economy often enough to make Broadway seats feel pretty roomy," didn't have a lot to add on the subject. He did note that he had "heard complaints, though," and forwarded us to Broadway producer Elizabeth McCann.
McCann's production credits are a laundry list of successes. Some of her recent smashes include the revival of Equus with naked Daniel Radcliffe, Waiting for Godot (with Nathan Lane in 2009), and the revival of Hair. She confirmed the cram-in theory. "The Hirschfield theatre has more seats than it originally did, the St. James has more seats than it originally did. They all do. They're constantly trying to put more seats in the house to boost revenue."
But these small seats not only limit legroom, they also limit the creative desires of directors and producers too. McCann says that "If the audience is seeing a 1st act that's over an hour — they're going to get restless." She explains, "It's not only about uncomfortability, it's their ability to understand the plot."
McCann mused about an unfortunate event that did at least make Broadway seating more comfortable: when she had broken her leg and was confined to a wheelchair. "Those seats are the best in the house because your wheelchair is your seat. If everyone went to the theatre in wheelchairs, it would be great." In a less tongue-in-cheek suggestion, McCann said that she would be willing to pay an extra $25 dollars for an extra two inches of leg room. Sounds lucrative for her and roomier for us. Sign us up already, Elizabeth, our knees are killing us.
You think you know it all about how to get by in New York, but admit it, there's something that you have a nagging uncertainty about. Ask us! Maybe we can help!
Photo by Benjamin Thompson