Alleged DSK Rape Victim Knows Bad People and Also Drinks!
Alleged DSK Rape Victim Knows Bad People and Also Drinks!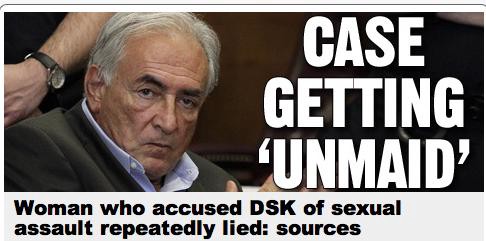 The rumors have it that Dominique Strauss-Kahn is getting released on his own recognizance today, from his current state of house arrest. I read last night's Times story three times ("Strauss-Kahn Case Seen as Near Collapse"), and it's one of those cases where the reporters are conveying more than they can say; it's good reporting and also a really poorly edited piece of garbage? Because it doesn't actually explain the situation that would result in Strauss-Kahn's change in bail status. Let us sort the anonymous "law enforcement" claims about the accuser from most to least serious!
• "the woman had a phone conversation with an incarcerated man within a day of her encounter with Mr. Strauss-Kahn in which she discussed the possible benefits of pursuing the charges against him." This is the most interesting thing, as it was recorded, and is the actual kind of thing that can be used in court.
• "the accuser has repeatedly lied, one of the law enforcement officials said." These lies are not explained or listed, except for some conflicts regarding her asylum application.
• a "number" of men put something like $50,000 in her bank account each year for two years. One of them was arrested for having a lot of drugs. She said one of these men was her fiancé.
• "she was paying hundreds of dollars every month in phone charges to five companies." I think this one is an insinuation that goes unelaborated?
• She said she was raped in her asylum application but the application contains no note of that, and she said she had been genitally mutilated before she arrived in America but her "account" differs from her formal application for asylum.
Annnnnnd that's it. You know what would be useful? Evidence presented in a court of law. Oh yes! The American way, so hated by French intellectuals.
Anyway, the Post comes up with a "law enforcement official" that says "She's a con artist." Perhaps she is!
And: "They have unearthed photographs of her drinking and partying, despite her professed Muslim faith." And if we learned anything from New York's last messy public rape trial, it's that you certainly can't rape ladies who drink.