The Bad Swag Of Champions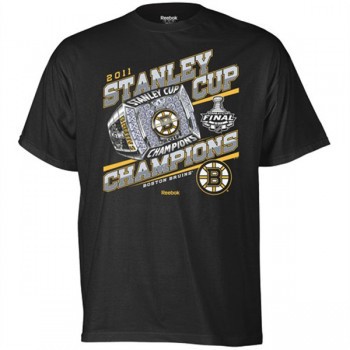 The best part of winning championships is the new stuff you can buy. The championship-winning moment is so fleeting, but the stuff you can wear lasts forever. Or at least should. As a Boston Sports Fan, my first experience with championships was in the '80s, with the Larry Bird, Kevin McHale and Robert Parish Boston Celtics. The Red Sox and Patriots also made memorable runs to a championship. But just as they don't hold parades for teams that lose, they don't make t-shirts for getting bulldozed in the Super Bowl. Or getting one strike away from a World Series championship.
What made the Celtics gear great was how personal it was. The classic shirts had caricatures of either the top six players or all of the players on the team. This practice seems to have fallen out of favor, which is too bad — there's something about having your young, smiling likeness forever connected to winning a championship that has been unmatched in later incarnations of championship gear. There were similar L.A. Lakers shirts, Detroit Pistons and even Chicago Bulls shirts. Fans are already in love with the team, they fall in love with the players that win. And if you're still able to slip into your 30-year-old Celtics Six Pack t-shirt, you are the coolest person alive right now.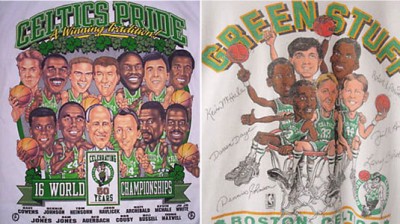 Championship clothes generally function in two ways: Bragging to strangers about your team's successes and letting people know that by association the wearer is a winner. Some might wear gear for losers as badges of courage. And I salute those people. It's fun to cheer for teams that never quite make it, because sooner or later they probably will. And it makes it all the more sweet for you. (I'm always incredibly suspicious of the gear that leads up to championship gear. It just seems like bad mojo to buy caps for making the playoffs, like the kind Major League Baseball makes every year. I might have some affinity for A.L. East Champions Red Sox caps, but that's because we win the A.L. East almost as often as we win the World Series.)
I arrived in Boston this past Saturday at noon by happenstance. I'd bought my Father's Day Bolt Bus ticket wildly in advance for $1, kidding around with my old man that it might be a nice day for a Bruins' championship parade. Expecting massive traffic in and out we found the Mass Pike clear all the way through to South Station. My Imzadi Ben and I walked up the Boston waterfront newly released from the hideous Green overpass that separated this city like a bone in its heart for over half a century. They buried those roads during the 20-year Big Dig, and now the surface is released from the impossibly gloomy shadows and left to bloom. Gardens sprout where nothing was. And you can look from Government Center straight down Hanover St. to the waterfront. Even around the new Boston Garden the Green Line tracks have been dismantled. What hangs in the air about that building now is just clean sunshine.
Winning championships changes a city, and most certainly has changed the way New Engladers feel about themselves and where they live. No longer do they carry around chips on their shoulders. This Boston Sports Renaissance has coincided with a massive face-lift that has made this city I once knew every nook and cranny of practically unrecognizable. But the most glaring effect of the hard work of construction workers and athletes have accomplished is on the citizens of these Northern cities and towns. The Bruins were able to have a parade of upwards of a million fans on a beautiful Saturday midday with very little disruption. There were problems with the commuter rails and subways, but a million people! Boston has gotten good at winning and celebrating championships. The duck boats offer nice mobile platforms from which to salute our heroes. We know to arrive early and not bring our cars. And there were almost as many kids in the crowd as adults. No longer were celebrations synonymous with drunken logistical clusterfucks in Government Center. Bruins Captain Zdeno Chara actually walked up next to the police barricades and let normal fans TOUCH THE STANLEY CUP. That's like a king letting the lowest of soldiers put their grubby mitts on the Holy Grail. A breathtaking moment not just in Boston Sports, but in Boston history. We may no longer be the Massholes we and everyone else thinks we are. We may be, at our best, championship-caliber fans, too. At least for the moment. Give us decades of losing and we'll probably revert to our Sleestak former states.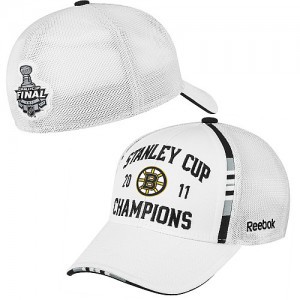 The cap that ruled parade day was the official "Locker Room" Championship cap, this year put out by Reebok. It is ridiculously, stupidly white. This cap is selling out all over New England, not for its beauty, but because it was what the players wore while celebrating the Cup on Vancouver's ice.
I've been disappointed with all of this year's Championship "Locker Room Caps." I don't know what kind of lead-time companies like Reebok and Adidas need to create gear that's on the ice or the field when teams win and in stores the next day. But what they end up making tends to be kind of generic. Usually with a grey or black base. I understand the time constraints of making Championship stuff is rough. But those caps are $30. So I'm buying your time and your time is your problem. Companies usually have a few weeks to work out who will win a Championship. But we'll be wearing that stuff forever (and wearing it out).
There are three elements that Championship Gear has to have. The winning team's logo. The words CHAMPIONS in huge letters. And whatever it was they won. In the Bruins case, the gear also has to have the Stanley Cup, which is the coolest sports trophy besides maybe only an Olympic gold medal.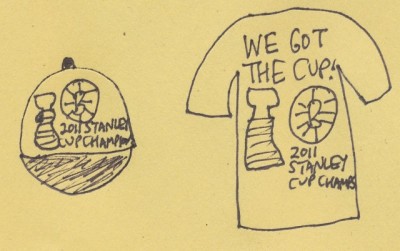 If you win a Stanley Cup they engrave your name into a Stanley Cup. That is beyond awesome. In 1972, the engraver made a "mistake" and wrote BQSTQN BRUINS instead of Boston. So spellcheck it this time, pal. See that little red line? It's spelled wrong!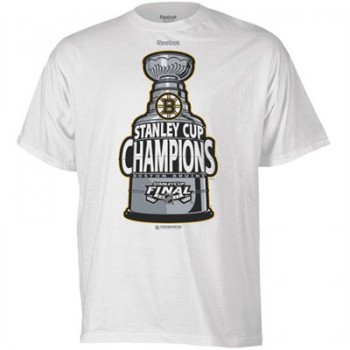 The Bruins locker room cap, although popular, is a disaster. White is not a color any clothes you wear around salsas, barbecue sauce and ketchup should be. The Stanley Cup is on the back of the cap only! People should only wear caps backwards if they are Ken Griffey Jr. The Reebok official Locker Room shirt is likewise ridiculously white. It may be that Reebok wants you to spill guacamole down the front of it, so you have to buy ten more of them over the course of your lifetime. Like how cars don't have bumpers anymore, so that every minor fender-bender costs you $2,000. At least the Shirt has a monolithic Stanley Cup on it. The Bruins famed Hubbed B logo is much too small. On the fronts of Bruin game sweaters it serves almost as a shield. On this shirt, it looks like some kind of potted plant.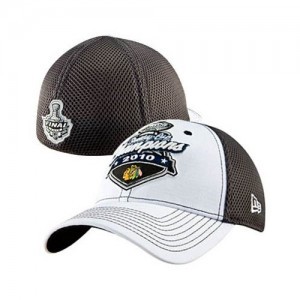 Let's compare to last year's New Era Stanley Cup Champion Chicago Blackhawks cap. The team's logo, the word "champions" and the Cup are all on the front. Most of the cap and brim are black to avoid or at least disguise stains in places you might actually touch the cap. So we might recognize all the important elements at just a glance. It is, comparatively, a crown for a prince. Whereas the Bruins' cap is a freebie church league softball cap.
Don't take me for a New Era fan, either. They have committed as many atrocities against baseball caps as they've created crowns. Whoever's idea it was to sell Yankee caps in rainbow colors should be sent to the Antarctica office permanently. We have New Era to thank for some of the truly worst things to put on heads since Holden Caufield walked the Manhattan streets with a ear-flapped hunting cap wondering about ducks.
The alternate t-shirt for the Bruins (shown up top) has a championship ring on the front. Rings are for later, it's too early for rings. It's like eating wedding cake at an engagement party. Don't jam a giant piece of red velvet cake in the groom's mouth yet! Or in Massachusetts' case, Groom #1's mouth! Are you trying to wrap all of our celebrating into one moment, this moment? Championships last the entire off-season! And, in the cases of Lockouts and Strikes, sometimes longer. You get to be a champion all that time. Rings are the final piece, they are the part for posterity. Like the child of a championship. You show rings off much later. Not at victory parades. The shirt also features the names of all the players on the Bruins on the back. Like those old rock n' roll tour shirts. But as surely as you don't particularly care if Madonna played the Hofheinz Pavilion in Houston on May 4th of her Virgin Tour unless you were THERE, you probably don't care if Jamie Arniel's name is on the back of your shirt unless your Jamie Arniel's mom. At least the shirt is black. Black is not just the coolest non-team color of them all, it is slimming. Especially on me, with my tremendous chowder gut.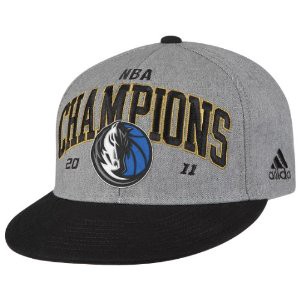 The championship Dallas Mavericks caps are also lackluster. The word Champions is big enough. Their logo is bigger. But must they be gray? Unless you're the Confederacy and you win yourself a Civil War, let's not do gray caps anymore. They look so blah.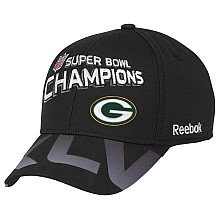 Meanwhile, the NFL has this horrible sense that the Roman Numeral of the Super Bowl you won is important. Instead of the year. So the Packers' cap has XLV scrawled weirdly across the brim. Unless you only win one Super Bowl ever, no one is all that interested in the Roman Numerals. Did Hulk Hogan beat Andre the Giant in Wrestlemania II? No. That was King Kong Bundy. He beat Andre the Giant in Wrestlemania III or something. I just remember he did it at Wrestlemania. Likewise, I remember the Saints winning a Super Bowl. Do I remember who won the Super Bowl before them? Pittsburgh maybe. But I could probably rattle off the last 20 winners of the World Series in order of them winning it.
I would have put Dirk Nowitzki's face on the front of a cap. If you're the Finals MVP, you ought to get a little cap time.
They didn't make Championship gear back in the day. Because all the championships were won by the Yankees, the Montreal Canadians, the Celtics and the Packers. Their championship gear was just regular caps. These days more cities get to celebrate and have parades — which is great. I like to cheer for the city that hasn't won in a while or ever. Imagine if Seattle won a championship? It would probably stop raining every day! Starbucks would stop burning its coffee! If Cleveland won a Championship we could stop making jokes about the burning Cuyahoga. We'd say, hey, how about them Browns! Championships bring cities together in ways nothing else does. Maybe winning wars, but who remembers? If we just declared victory in Afghanistan seven years ago and got caps printed that said GLOBAL WAR ON TERROR CHAMPIONS wouldn't we have all been much happier? And by "us" I mean THE WORLD. Let's give ourselves a parade when we cure cancer, land on Mars and finally figure out the last digit of pi, too. There's nothing like a celebration or remembering a celebration, a moment we can all look fondly upon when the robots eat us or we're conquered by aliens. Although if the robots and aliens are sexy, maybe we shall all be winners.
Jim Behrle tweets at @behrle for your possible amusement.