Maybe The Best Pizza In New York City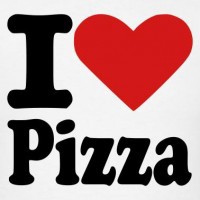 New Yorkers argue about pizza a lot. New Yorkers argue about a lot of things a lot, I suppose. But being that pizza is near and dear to New Yorker's hearts (and that the very first pizza sold in America was sold at Lombardi's, on Spring Street, in 1905), New Yorkers take special pleasure in arguing about pizza. Mostly: What place sells the very best pizza today? I have some thoughts about this myself. Though not ones that I'd wish to argue extremely vociferously about. I like to eat, and I like pizza (who doesn't? Is there anyone who doesn't like pizza?) but finding the perfect one is not a sacred Holy Grail thing to me. I have not traveled to every pizzeria in the city with a Vernier caliper to measure crust thickness and a score-card to document the all-important cheese-to-sauce ratio.
That said, a new pizza place opened in my neighborhood last year. And it's made me very happy. It's called San Marzano. It's on Clinton Street and Rivington. It's of the wood-burning-oven Neapolitan style that's come into vogue of late. And I think it's as good as places like Motorino and Lucali's and Franny's (I haven't been to Keste or Co.). And I think it's better, at this point, than Lombardi's (where I still really like the clam pie they serve, but, man, if you don't eat it in the first five minutes after it comes out, those clams are like a cross-sectioned super ball) and John's and Patsy Grimaldi's. I've never been Di Fara's, which I know makes me not a good New Yorker and a bad person overall. It's so far away, Avenue J, like a trip in a car? Seems easier maybe to go to Las Vegas and try the new outpost they're opening there this summer. I have been to Totonno's, though, in Coney Island. That place is great.
Anyway, if you're in the mood for pizza, and happen to be near the Lower East Side, you should go to San Marzano. It's a nice place to sit this time of year, sort of like you're in a living room of a house designed in the 1960s by someone who liked Frank Lloyd Wright, with the floor-to-ceiling windows that open up onto the street. It's not often crowded, at least in the afternoon. And you can get a slice, which is nice, and different from a lot of the Neapolitan spots. The Margherita is a sort of simple perfection, I think — tomato sauce, mozzarella, basil and olive oil, that's it. (They use only San Marzano tomatoes, as you might have guessed, and they make the mozzarella there.) Also try the Foresta, which you'll probably have to order a whole pie of. (Don't worry, they're small.) This has speck and arugula on it, with no tomato sauce. And is fresh and crunchy and salty and delicious — and is actually reminiscent of a forest, somehow. (The green of the arugula, I guess? The smokiness of the speck?)
There's an excellent appetizer of Brussels sprouts with apples and pancetta, and good wine that they serve in attractive ovular glasses with no stem — which is preferable. I don't like stems on wine glasses. Unless you're drinking champagne, in which case I can see the benefit in terms of elevating the display of ascending bubbles, and achieving a truer ring with the clink of a toast. But if people are that worried about warming their chilled white wine with their hot little fingers, they should just drink it faster.
So San Marzano is great. The one drawback, to me, is the music they play. And it's not even that much of a drawback. It's fine, really, for restaurant music. Slightly too earnest folk-rock mostly, NPR-y toned. So you might hear "The Blower's Daughter" (which, I have to admit to being a sucker for) or that Ray LaMontagne guy or Tracy Chapman singing "Fast Car." But the other day I was in there with my kid (we often stop for a slice on the way home from me picking him up from school) and had to sit there and listen to Dave Matthews singing Neil Young's "Down By the River." "Down By the River" is one of my favorite songs ever by anybody, and I'd never known Dave Matthews had covered it. And I really wish he hadn't. Here's a link to it, if you'd like to hear how it sounds. But trust me, it sucks.
Here's Neil singing it himself, with Crosby, Stills and Nash, on David Steinberg's show, The Music Scene, back in 1969. The guitar solo is definitely awesome enough to wash any thought of Dave Matthews version out of your head.
Previously: Fried chicken, turkey sandwiches, meatballs and the most delicious sandwich in New York City.