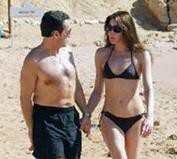 "It's no use, Philo," I said. "It just won't play."
"But why?" he asked, crestfallen.
"The idea has originality," I said, searching for a way to sweeten the rejection. "But there's no part in it for Carla Bruni, and we have an agreement."
— Woody Allen "explains" how "Midnight in Paris" came to be.