Arnold Schwarzenegger So Far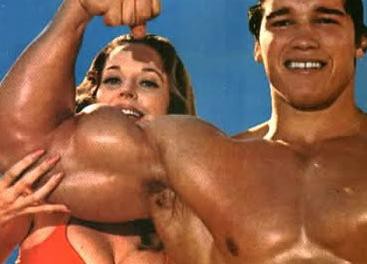 Spawned by a stern former Nazi Sturmabteilunger who disliked him and believed that he was someone else's son, Arnold Schwarzenegger spent years torturing his body into an exaggerated caricature. This expression of dysmorphia led him on a path to riches in America's film industry, much as dysmorphic expressions of emaciation do for women. After accumulating tens of millions of dollars, it seemed a convenient parlay of attention and cash into running the whole state in which the film industry resided, and he announced his campaign for governor of California on the "Tonight Show with Jay Leno."
To this day, no one knows how tall he is.
In 1986, two years after the release of The Terminator, he married Maria Owings Shriver, a niece of John F. Kennedy who was a "CBS Morning News" reporter at the time. (Of Schwarzenegger, the Times wrote that his "father was a policeman" in their brief wedding announcement.)
The two were introduced by Tom Brokaw. She retired from her career while he was in office, to avoid the appearance of a conflict of interest, and surely influenced his slow drift leftward throughout his two terms of as governor. When Schwarzenegger took office, not long after six women came forward to complain about unwanted touching, he immediately began accumulating debt on behalf of the state. As his term went on, he most often commuted to Sacramento from Brentwood in his Gulfstream.
In 2009, the state faced a nearly $25 billion budget gap. When he left office at the end of last year, the state of California had nearly $78 billion in outstanding bonds, and its debt payments are now more than $6 billion a year. Now, with California under new management that is currently attempting to close a $15 billion budget shortfall, Schwarzenegger's marriage is ending.
The former governor is currently committed to three film productions. He is 63.