The Best Turkey Sandwich In The World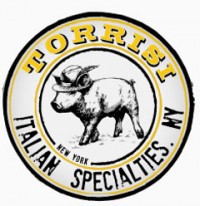 "They weren't thinking about fusion per se. They were thinking about New York and approaching terroir, a French concept usually applied to the climate and natural harvest of a given area, in a new way. What ethnic foods had come to co-exist in, and define, the terroir of this city? The answer: Almost every kind. Their take on chicken fra diavolo gets some of its heat from sriracha, an Asian pepper blend. It sits on a slick of un-Italian yogurt."
 — Frank Bruni's article about Torrisi Italian Specialties in this weekend's Times Magazine starts out seeming like a profiley thing about a hit restaurant, but gets into a more interesting discussion of fusion cooking and the essential differences between Italian and French cuisines. I've never been able to go to Torrisi's for dinner, because they don't take reservations and people are lining up outside two hours ahead of time. (I'm hoping the wait might be alleviated when they expand, come September, but it probably won't be.) I do go there for lunch sometimes, though, and while the picture of Billy Joel on the wall is best not to look while eating, their turkey sandwich is the no. 1 best turkey sandwich I've ever had in my life. They put this tomato/pepper sauce on it that mixes with the mayonnaise to make heroin.