If you are an old person who takes drugs, or a preschool age child who doesn't take drugs, or anybody else, really, you might enjoy this video for a song from J Mascis' new, mostly-acoustic solo album. I've been enjoying the video, the song and the rest of the album a lot lately. J Mascis is a longtime favorite of mine, and I've been fairly stunned by how excellent he and his band Dinosaur Jr. have been since the original line-up reunited in 2007 — nineteen years after recording the classic Bug, which was the first album of theirs that I got. It's just been announced that they'll be performing Bug in its entirety on their tour this summer. I actually don't much like the classic-album-in-its-entirety thing that has so overtaken the concert scene of late. I miss the expectant tension that comes with not knowing a set list. But I still think I want to see this. Bug is just too awesome. Here's the band playing its first song, "Freak Scene," in 1988.
Here's a video about the letter 'E' from Sesame Street that's a lot like J's new video.
J's video was animated and directed by Chad Vangaalen, who is from Canada, and who is also a musician. My favorite part in the video is when a donkey or rabbit eats J alive, along with a bag of peanuts, and J has to use a toothbrush he finds in the animal's stomach to make it puke him up like Jonah and Pinocchio did with whales. And then J turns into a mushroom and then like a jellyfish-squid creature and then he flies away on the toothbrush like Harry Potter on his broom. This reminds me a lot of the cover of Neil Young's 1975 album, Zuma, drawn by the artist Mazzeo, where Danger Bird rides on the woman's back.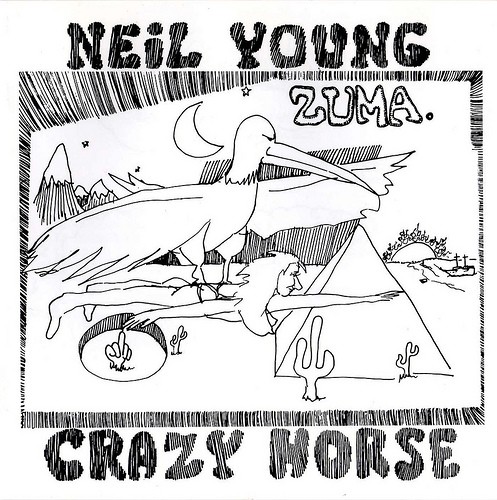 Neil Young is from Canada like Chad Vangaalen. If I had to guess what one single album J Mascis has listened to more than any other in his whole life, I might guess Zuma. Funny, though, that Vangaalen's drawings of him in the animation have him looking as much like Jerry Garcia as Neil Young. Who would have thought, so many years ago, that J Mascis would be like the 21st Century Jerry Garcia?