A Guide to American Majority's Plan to Dismantle Public Schools
by Abe Sauer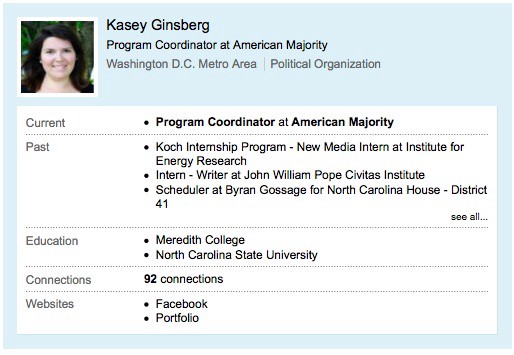 On Tuesday we published an in-depth look at how Republican representatives running for office lied to union reps during the vetting process — lies which directly led to those Republican candidates receiving union endorsements. We also looked at how American Majority, a far right conservative organization founded by the Sam Adams Alliance, had become active in Wisconsin. Their goal: training candidates to take over school boards and city council seats to better use the "tools" in Governor Scott Walker's budget "repair" bill.
A very polite person named Kasey Ginsberg identified herself in the comments of that piece as an American Majority employee and offered some "corrections."
One of the details that Ginsberg saw as being in need of "correction" was the statement that, in cases of think tanks and the media, "Virgina-based" means "Washington D.C." Ginsberg's correction stated:
"Not that it matters, but we are based in the town of Purcellville, in western Loudon County, Virginia. In 2006 the population was just 6,200. We're at least an hour and $5 in tolls away from D.C., so we might as well be based in Florida for as often as we're seen inside the beltway. Check it out for yourself here. So, being identified as "Virginia-based," means "Virginia-based."
Though to be fair, on her own Linkedin profile, Ginsberg's employer, American Majority, is identified as being in the "Washington D.C. Metro Area."
But that's just a petty squabble and just a programming detail of Linkedin, which also apparently needs a "correction."
Far more interesting is that Ginsberg's Linkedin profile reveals that, in the four months before taking her job at American Majority last August, she was a "Koch Internship Program" intern at the Institute for Energy Research, a climate change denial think tank that has received hundreds of thousands of dollars from, yes, Koch Industries.
What a coincidence. Ginsberg told me as much: "To my knowledge, I am the only member of AM's staff to have participated in a Koch program."
Except the others. American Majority's North Texas field representative, Raz Shafer, was a Koch Summer Fellow at the Texas Public Policy Foundation, an organization, which, in addition to being another climate change denial think tank, received hundreds of thousands of dollars from the Kochs.
A bulleted accomplishment from Shafer's resume regarding his Koch fellowship: "Published in multiple media sources including 5 of the nation's top 10 newspapers."
To be fair, she did say "to my knowledge." And anyway, a Koch internship program is completely different from the Koch fellowship program.
Let's be even more fair to those complaining about a "Koch conspiracy." There are other wealthy men involved in funding "activist" training in places like Wisconsin. And they really don't get their due.
One undermentioned billionaire is Howard Rich. Rich is a Club for Growth board member, and a board chair of Americans for Limited Government. On their board you'll find Eric O'Keefe, who, as we noted earlier, is a Wisconsin resident and chairman and CEO of the Sam Adams Alliance.
But again, as American Majority would argue, this is all just a coincidence and it is "sustained through the generosity of individual donors."
Despite American Majority's claim that it is "non-partisan," nearly every American Majority employee I could find has at least one stint as a staffer in a Republican's office or his campaign. Ginsberg worked for both North Carolina Rep. Bryan Gossage and the North Carolina Republican Party. Indiana-based American Majority controller Mike Moehlenhof was director of new constituent relations for Sam Brownback's presidential campaign.
It works the other way too. Former American Majority field representative Elizabeth Patton is now the district representative for constituent services for U.S. Senator Jerry Moran. Former Norm Coleman intern and later American Majority field representative Thomas Freeman is now the Redistricting Committee administrator for the Minnesota House Republican Caucus.
American Majority's two staffers in Wisconsin, Matt Batzel and Heather Weininger, are experienced Republican strategists. Matt Batzel (American Majority-Wisconsin's Executive Director) worked for Pennsylvania Rep. Joe Pitts. Batzel was the one who arranged sponsorship for the March 6th rally in Madison for the Americans for Prosperity "Stand With Walker" bus tour. The Club for Growth paid for bus transportation (but, remember, American Majority it totally its own organization, independent of those two Koch-funded groups).
American Majority-Wisconsin's field staffer is Heather Weininger, who has a long history as a Republican strategist. She directed finance for Republican state Rep. John Gard's Congressional campaign and, according to 2010 campaign finance filings, was paid $19,375 by Republican Mark Neumann as a "fundraiser" during his Republican campaign.
Heather's husband is Wisconsin state Assembly Rep. Chad Weininger (R-4).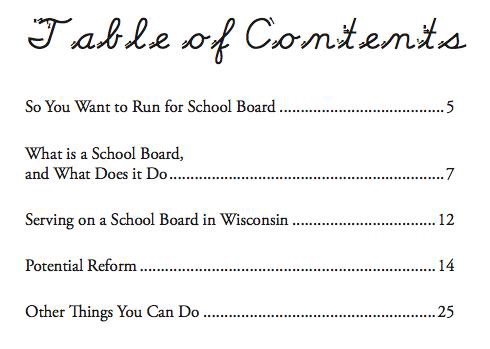 We mentioned the activist training done by American Majority, including its most recent event in Madison on March 5th. American Majority even provides "A Wisconsin School Board Primer" about what a school board is, how to run for it, and suggestions on reforming your school district. These suggestions, surprise, are carbon copies of both the education reforms introduced in Scott Walker's budget bill as well as the campaigning points for candidiates such as Sauk County Tea Party president and 2011 Baraboo school board hopeful John Meegan, who, as we pointed out, has been working closely with American Majority since last year.
Billed as a simple document to learn about how school boards work, the Wisconsin document includes statements such as "Scholar Richard Briffault has pointed out that nowhere does the U.S. Constitution mention a national education system…."
Their point is simple: "We must bring competition to American education to enact change: reforming the education system must be a priority for all people, regardless of party affiliation." This primer explains that too much money is spent on the school system, and implies that teachers are overpaid. (Though it does put this out there: "Let's face it: teachers deserve to be duly compensated for their work." Radical! But wait. "However, the entrenched system of seniority-based pay — held in place by collective bargaining agreements between school boards and teachers unions — often prevents districts from compensating teachers fairly.")
At the end, it has a short list of resources. The first on the list is the Alliance for School Choice. There's also the National Alliance for Public Charter Schools. The American Majority's "School Board Primer" is actually a guide to dismantling public schools for charter schools.
American Majority offers ten such state-focused "School Board 101" manuals, from Indiana to Minnesota.
Finally, a clip from an American Majority "grassroots" training seminar featuring Director of New Media Strategy Austin James, from the film "Astroturf Wars":
Paul Revere would be proud… if he knew what an Amazon was.
Abe Sauer can be reached at abesauer at gmail dot com.