Wisconsin Demonstrates Against Scott Walker's War on Unions
by Abe Sauer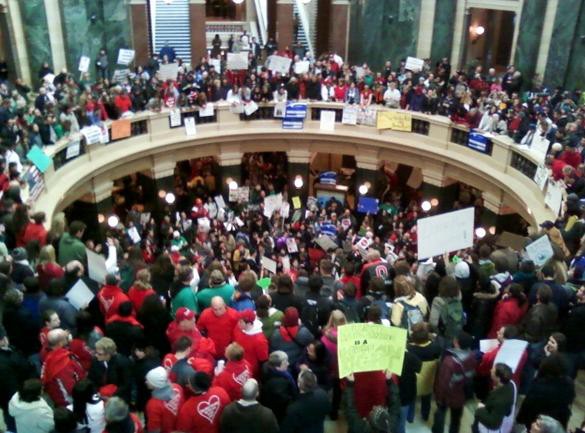 Yesterday we noted the details of a bill introduced by Wisconsin's new Tea Party Republican Governor Scott Walker that would increase payments from public sector employees while eliminating collective bargaining powers for unions (including teachers) — while also introducing unprecedented executive powers to terminate state employees with little due process. In passing, Walker mentioned plans to call in the National Guard, if necessary. It's an announcement that rankled many (maybe intentionally), including the 100,000-member "voice of America's 21st century patriots" organization VoteVets: "Veterans are strongly objecting to Governor Scott Walker's inappropriate threat…."
Today, response to Walker's bill has been… unfavorable. About ten thousand currently surround Walker's capitol office and are streaming into the dome. Walker should be extra-worried to know that the Super Bowl Champion Green Bay Packers and its former stars, the most important political lobby in the state, have come out against him.
And what is the brave Republican Governor, who calls himself "tough," doing in response? He is standing up to his critics by moving his legislative budget address to the compound of a private corporation.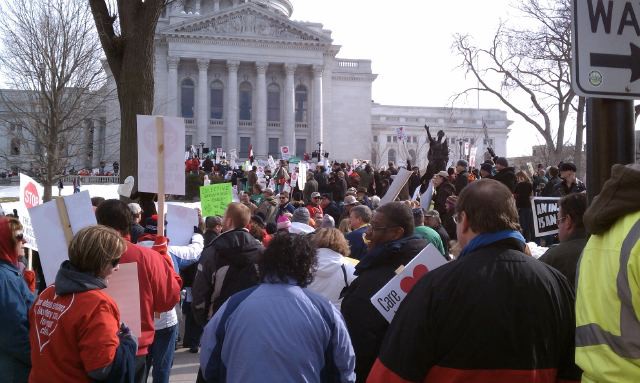 Even in biting wind, protesters are continuing to surround the capitol. Firefighters and police, whose unions are exempted from the collective bargaining elimination, have come out in support of their state colleagues. At top, a photo from inside the capitol dome. Meanwhile, the line for those waiting to speak at a an open session of the Joint Finance Committee meeting, which began today at 10 a.m., snakes through the capitol's stone corridors. All of this on a state primary day for candidates running for Madison mayor, Dane County executive and State Supreme Court.
Instead of holding the address in the state capitol, Walker has moved the event to Vita Plus, a large private manufacturer of livestock feed and supplements. Walker waited until today to announce the move. His excuse for holding a refugee session?
"I am giving my budget address outside of the Capitol to highlight the goal of my administration, ensuring Wisconsin has a business climate that allows the private sector to create 250,000 new jobs by the end of my first term."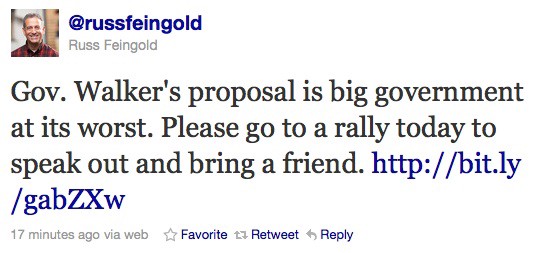 Recently unemployed Russ Feingold has joined the fray, rallying supporters to oppose the governor.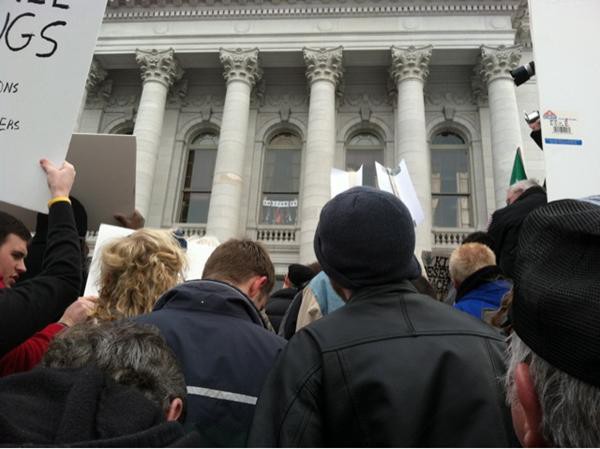 In cities all over Wisconsin, protests are popping up. In the capitol building itself, "solidarity" signs could be seen in some windows.
The bill, introduced just this week, is already up for a planned vote on Thursday. State Senator Robert Jauh (D-Poplar) asked for more time, saying "Even God took seven days."
But Walker knows time is his enemy. With opposition to his bill growing, even from inside his own party, Walker has to ram this thing through now. And ram it through he might. Word on the street is that Walker has the votes.
The unheard of move to take government functions to private industry locations could not be more perfect symbolism for what Walker and the GOP intends to accomplish over the next four years — first in Wisconsin and then in your town. With his choice of words explaining his move of the event, the governor has launched the culture war for the next political cycle, pitting publicly employed Americans against their private counterparts in a battle where the only assured outcome is losses by both sides.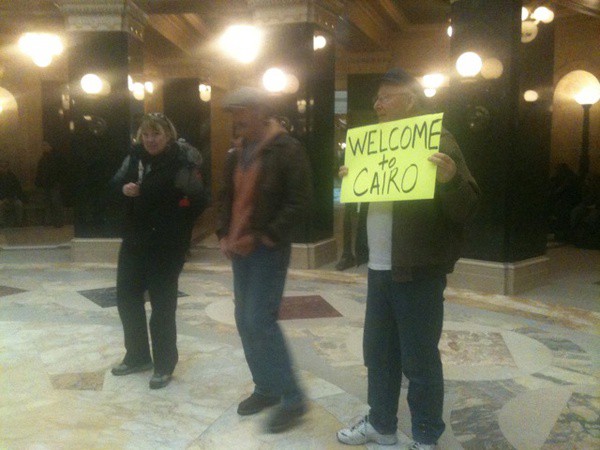 Email Abe Sauer at abesauer [at] gmail.com. And for continued coverage from the field followUppity Wisconsin and #NotMyWi and #SolidarityWI.